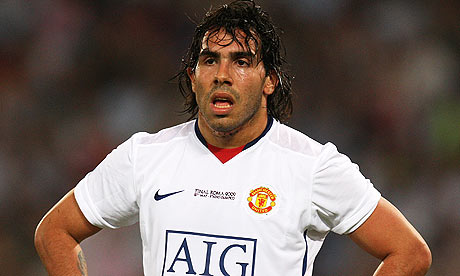 Former Manchester United forward Carlos Tevez has signed for Manchester City on a five year deal.  Tevez was left frustrated at playing second fiddle to Dimitar Berbatov and publicly criticised Sir Alex Ferguson for leaving him out of the starting lineup for the Champions League final – in which United lost 2-0 to Barcelona.  Tevez scored his last goal for United against Wigan Athletic – which helped United closer to the title in May.  He had scored the weekend previously – ironically against City – in which he proceed to cup his ears as he celebrated towards the Old Trafford management.  Tevez will wear the number 32 shirt as he did at West Ham United and Manchester United.
Former United striker Mark Hughes is 'delighted' with the transfer as expressed on the official website:
"It is terrific news.  Carlos is an international player of the highest class who possesses all the attributes that will help drive this club forward."

"He is not only outstanding technically, but he is a reliable goalscorer and someone who will contribute fully to the team ethic. He gives us another exciting, attacking dimension."

"I cannot wait to welcome him to City. This is yet another deal that shows the commitment of the owner Sheikh Mansour to make this club the very best it can possibly be. I am sure our fans will give Carlos an exceptionally warm welcome."
City have also been linked with Barcelona striker Samuel Eto'o and only this morning were linked with yet another forward – this time Arsenal forward Emmanuel Adebayor.  United have been busy in the transfer market – with the purchase of Antonio Valencia, Michael Owen and young winger Obertan.
Carlos Tevez formed a good partnership with Wayne Rooney in 2007/08 – when Tevez helped United to a double.  Tevez scored 19 goals (in all competitions) that season – but only found the net six times this term – due to the arrival of Dimitar Berbatov from Tottenham. Tevez was recently quoted with the following following the clubs defeat in the final of the Champions League:
"You cannot argue with Alex Ferguson.

He is like the president of England. It is impossible, you always lose.

But he made a mistake to leave me on the bench. That was the only final the team had  lost since I had been at Manchester United."