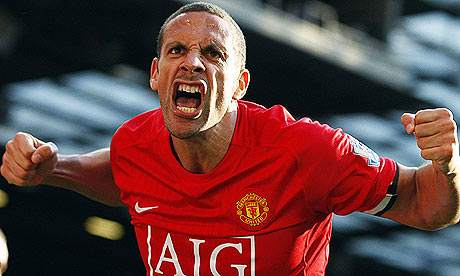 Rio Ferdinand has been one of the best defenders in Europe over the past three years – a far cry from the criticism aimed at him for failing to turn upto a drugs test and his reluctancy to sign a new contract back in 2005.  However, Ferdinand has taken a swipe of Manchester City's pursuit of Chelsea captain John Terry – questioning why the man who slipped and missed the crucial penalty in Moscow last season – would want to join a team that aren't going to win any trophies?
Ferdinand, who has made 310 appearances for United since signing from Leeds in 2003, believes it would be a wrong move for the Chelsea man to make:
"JT is his own man, he will make his own decision. For what reason he might go there will be down to him. I'm sure he'll tell everyone when he decides to come out and speak. Everyone makes their own decisions in life, but if I was leaving United, I wouldn't go to a team that I didn't feel was capable of winning trophies. That's just my feeling. I wouldn't leave here to go to a team that I didn't think would finish in the top two or three in the league and be vying for European medals. Whether that's Man City or not, I don't know. I'm not sure if they're going to be championship-winning material."
Ferdinand's quotes come in the same week that Sir Alex Ferguson also questioned whether or not Manchester City could challenge for honours this season. This follows Manchester City's acquisition of Emmanuel Adebayor, Gareth Barry, Roque Santa Cruz and former United forward Carlos Tevez.
Ferdinand also spoke of the clubs decision to sign Michael Owen from Newcastle United on a free transfer. The centre half said that he was 'surprised' when the former Liverpool hitman signed for United:
"Initially, I was surprised. I admit that. In my head I was thinking, 'Is he going to add to what we've got or not?' Just like a fan, basically. Just weighing it up. It's weird. Looking at his stats, he's actually played a lot more games than I thought he had. He has that knack of putting the ball in the back of the net and if he keeps fit this season he's got a great chance of rewriting his career. After seeing him in his first training sessions and first games for us, I'm very confident that we've signed the right type of player. He's been somewhere where they've been fighting for their lives. He just needs the ball delivered in dangerous areas."