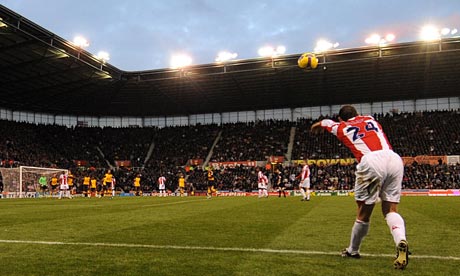 From my seat in the North Stand tomorrow I hope intently that United can defend against that long throw of Rory Delap. So far this season, Delap has produced a number of assists from his ridiculously long throw, which result in Phil Scolari claiming that 'Delap is better with his hands than feet' – two against Arsenal in the same game a fortnight ago. Should we be concerned with this not so secret weapon? Considering that Evra and Da Silva may well be our fullbacks?
Rory Delap's new DVD is sure to be a stocking filler.
Now, i'm not one of those fans that totally disregard an approach to Football thats, well….not quite football. I've heard a number of Gooners get frustrated with the amount of times sides defend, defend well might I add, against them and deny them the three points. Of course we don't like to see a side get 11 men behind the ball, but it happens in football – if less technically capabale side didn't they'd get destroyed.
Stoke City have an almighty fight on their hands as they lie two points off relegation in the Premier League and will need all the help they can get, which means utalising the resources they have at their disposal. Pulis spoke in the week about his admiration for Fergie and what a manager he is but don't expect no favours tomorrow – United need to get all three points and give a good performance. We were unlucky against Arsenal last week – regardless of what he media believe and I expect a decent performance tomorrow against a side that will make it difficult for United.
Wenger decided to take procautions the next time the two teams met….
So how do you stop it? If it were that easy and I knew the answer I wouldn't be sitting at home blogging on a Friday evening (the missus is out) however I hope to have a better solution than MOTD 'jump higher than them' advice. If Da Silva and Evra are playing tomorrow I would put them on the posts whilst still adopting a man marking system.
Lee Dixon suggested a Zonal marking setup with less players – so that teams can counter attack quicker – but to be honest, who is better at counter attacking than United? Fergie mentioned earlier in the season that counter attacking play isn't all about the speed in which you get forward, it's about how many players you can get forward at speed. So whilst Dixon has a point – I still think United should get tight and challenge for the ball. If Fuller jumps higher than Vidic, then at least we have narrowed the space in the goal that he can score with the full backs on the post – something Arsenal failed to do.
Nani tries to out muscle Fuller….
Lets be honest – this game at the start of the season, you would have expected three points, but both Stoke City and Hull City have done a great job so far this season and deserve to be in their respected positions. We have only obtained one point from a possible nine against the big four – not to worry – we got four from nine last season, although that will mean we have to beat all three at Old Trafford, something we did spectacularly last season.
I hope Fergie plays with Da Silva tomorrow, rather than Neville, who I thought was poor last weekend. I also hope that we do get a win and a good win at that. We played well against Chelsea and were unlucky not to win, we played well against Arsenal and should have got a draw – whilst we didn't deserve anything at Anfield, as much as it pains me to say it. Stoke City fans will be hoping their current crop of heroes can emulate that of the 1976 side – the last Stoke City team to win at Old Trafford and if they do get a chance from a set piece….they'll try not to 'throw' it away.