You may also find these links interesting: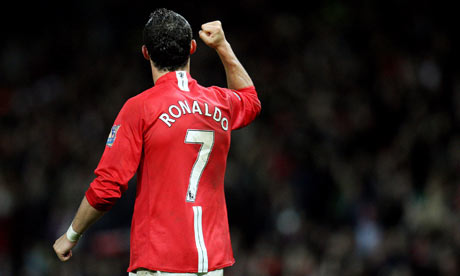 Match Report: Manchester United 5-0 Stoke City

Manchester United destroyed Stoke City 5-0 at Old Trafford after a brace from Cristiano Ronaldo, a goal a piece for Carrick and Berbatov and a first Premier League goal for Danny Welbeck.
Ronaldo notched up his 100th and 101st goal, both from set pieces, whilst putting in a man of the match performance to wipe away those post-Arsenal memories. His first goal came after a only three minutes when Carlos Tevez was fouled. Ronaldo struck a powerful shot over the wall and through the hands of Sorensen. 1-0 to the Champions and United never looked back.
Park had a good chance to put United 2-0, however Sorensen closed him down well. United deserved more from their first half performance and looked liked they would be going in at half time with only a one goal lead, however the impressive Carrick broke through to strike a left footed shot past the Danish keeper.
After the break United really started to dominate and didn't have to wait long for the third goal – which Berbatov took very smartly. United were a class apart from Stoke – whose fans were more interested in singing anti-Ronaldo songs than watching the game. Ronaldo was simply unplayable at times, weaving in and out of players and creating play – whilst Fletcher and Carrick provided the running from midfield.
Ferguson made three changes during the game, bringing on youngsters Welbeck and Gibson whilst also giving Angolan striker Manucho a Premier League debut. Welbeck usually takes up a forward role, however the lanky seventeen year old took up a right side midfield role and scored one of the goals of the season to make it 4-0 six minutes from full time. Welbeck looked really impressive and United fans will be hoping to see more of him over the course of the season.
Stoke were now in damage limitation mode – although that didn't stop Ronaldo creating a number of chances that should have been put away. Ronaldo then got his second, after a foul on Carrick on the edge of the box. The Portuguese winger then struck the ball to the left of the wall and into the bottom left hand corner – which had the Stretford End going wild. United fully deserved the win and the scoreline was totally justified.
On the day that Sir Alex Ferguson celebrated his fiftieth year in football he will not have been involved in an easier game. United dominated from start to finish and were well worth the points. United travel to Villa Park next Saturday and will be hoping to continue the good results achieved over the years against the midlands club.