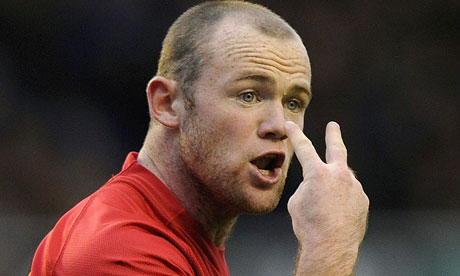 The Sunday Mirror has revealed that Barcelona are monitoring Wayne Rooney's situation at Manchester United following the revelations of the striker private life. Rooney was exceptional last season, scoring 34 goals in all competitions, but has suffered a loss of form since his injury against Bayern Munich back in March. Rooney's World Cup performances can under much scrutiny, however the allegations of an affair with a prostitute earlier this month must have played some part in Rooney's poor form this summer. Now it is being reported that the Spanish champions will want to bolster their already impressive strike force of Villa, Messi and Pedro – could it be a reality?

The Mirror claim that a well placed Barcelona source claims that if his problems increase they will make their interest known. Other than the laughable photoshop image on their piece, I can't see this move going through. Wayne Rooney is obviously hurting following his alleged affair and it will take time for him to build bridges in his private life and rediscover his form on the pitch. He is still our best player, but will need time to recapture his form. The quotes from the Barcelona source are below:
"Rooney's position is worth monitoring if things become ­increasingly difficult for him in England. There is no move imminent but, if his problems increase, and he looks to get away from England, we'd certainly make our interest known."
Ferguson has also been critical of the media treatment Rooney has received since the story broke. Some have claimed that due to the player's past privacy history (selling wedding snaps to a glossy magazine), the media coverage is 'fair game'. I do understand that theory, however I only really care what Wayne Rooney does on a football pitch, not whether he receives good or bad press for his off field actions. I have blogged about Wayne Rooney and our celebrity obsessed culture recently – something I think is now ingrained into our society. Fergie's comments on the tabloids having an impact on Rooney's state of mind are below:
"He is realising what it means to be at the centre of media attention for non-football related questions. I don't think the boy can turn a corner at the moment without a camera on him."
So is Fergie right? Is there far too much media attention on Rooney or is it fair game? Lastly, can you see Rooney moving to Spain if the pressure gets too much – I can't what so ever to be perfectly honest.