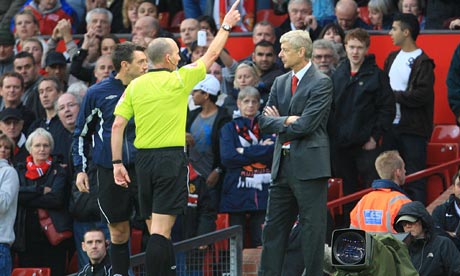 Arsene Wenger is the headlines again; weeks after pointlessly targeting one of the games best ever players, he is quoted in the Guardian (and Arsenal.com) as saying "nobody else in the world" matches him when it comes to developing players. In a swipe at Sir Alex Ferguson, he dismissed the "Fledglings" as it was "before he started", and says "no-one has come through recently".
One of the highlights of Wenger's Sam Allarydce-esque latest breakdown was citing Cesc Fabregas and Abou Diaby as examples of his self proclaimed unparalleled group. I happen to think that Cristiano Ronaldo is probably worthy of a bit more than "no-one", but read on for a full breakdown of the lot.
The Arsenal manager says, "Nobody else in the world [brings through as many young players]. I'll give you one day the list of those at the top level who have made careers with me and you will see. You will be absolutely astonished.
 
"Take the list of the players who started here, for example Djourou, Senderos, Clichy, Gibbs, Fabregas and Song. Diaby is another who had basically never played before at the top level. Ashley Cole too."
Does he have a point? Ashley Cole, despite being a total disgrace of a human, is one of the best two left backs in the world, but only really achieved that level after learning defensive qualities from Jose Mourinho. Cesc Fabregas is one of the most highly hyped players in the league. I still firmly believe that for the last few years he's done nothing in a big game when it mattered and that his stellar performances only come against substandard or out of form opposition when he is the attacker in a midfield three. But, for the sake of argument, I will give him Cole and Fabregas.
Djourou, Senderos… really? Djourou has been injured so often that it would be unfair of me to properly point the finger at his lack of any imposing displays that last in the memory. Senderos became a laughing stock at Arsenal before he was shipped off to Milan on loan, then failed to make an impression at Everton and getting injured before he'd played a competitive minute for Fulham. It's fair to say the jury is out on this pair and they could well come good; however, based on their performances so far, I'd hardly be excited to put them forward as a case for this particular argument.
Gael Clichy? Because he's at Arsenal, the guy has escaped a huge amount of criticsm, but his form over the last 2 seasons was so poor – even in Arsenal supporters eyes – that some were wanting him replaced by Gibbs anyway! And Gibbs himself – yet to make an impression on a big game other than falling on his arse – again, good potential, but nothing to write home about, yet.
Abou Diaby; goes from cruel joke to frustrating potential, but that's as good as it gets. Alex Song had an impressive year carrying Fabregas' water last season, but in the Spaniard's absence, can't be counted on at this level to run a game. Jack Wilshere is the name not mentioned on the list though he was mentioned before in the piece by Wenger when he said "You need to be strong (to) do this. If you reproach me for not buying players, well if I buy players, Jack Wilshere doesn't come out, so you cannot have everything."
These are the words of a man who has been cuddled by the English press far too much. Reproached? I wouldn't be so quick to demand a pat on the back for simply giving someone just over half a dozen starts just yet. But, regardless of development, Wilshere's place as a "superstar" in the English press will be protected, just as it has been – ridiculously – for Walcott. I for one hope that Jack Wilshere does go on to be the midfield answer to a question that Gerrard and Lampard have comprehensively failed to answer either between them or individually. But after 7 starts? I'm not quite sure I would put him in the Hall of Fame, just yet.
This isn't meant to be Arsenal bashing, it's setting the stage for the next part. The Guardian quotes Wenger as saying, in response to the inevitable question about Ferguson : "When I arrived [as Arsenal manager in September 1996] nearly all their team had started [at United]. Not recently."
Rather dismissive, wouldn't you say? Conveniently dismissive yet ridiculously arrogant and spoken with the fundamental delusion that the London Media have lovingly encouraged.
I wouldn't even have the need to go back to 1992 had Wenger himself not gone back to a similar stage to further justify his record – "When I go back to Monaco, the number of players that started with me, (for example) Emmanuel Petit and Lilian Thuram."
O….k. Ryan Giggs and Paul Scholes – the automatic choices as examples of players that were better than his equivalent in 1996 and are still better now. The discussion should rightly end at this point, with Wenger waving the white flag, but we need to drum the point in a similar fashion. Gary Neville, the domestic game's best ever right back (arguably). David Beckham, you might have heard of him. Nicky Butt, who had a club career that ANY Arsenal player would swap with in an instant. Phil Neville, who, after a trophy laden spell at United, moved to Everton where he was made club captain for a number of years.
These are the most high profile cases from that era. There are countless Ronnie Wallwork's who went on to forge a good, steady, Philipe Senderos-esque career.
Wenger surprisingly didn't mention Kolo Toure, Nicolas Anelka and Adebayor as players he "plucked" from relative obscurity (though Anelka was touted as "the new Maradona" before becoming a higher class of journeyman Steve Claridge, and Adebayor had played in a Champions League Final prior to his switch), so it's only fair that we don't mention the likes of Ole Solskjaer and Peter Schmeichel, too.
That Wenger was dismissive of Fergie's achievements prior to his arrival was one thing, and is easily dismissed itself as being idiotic. There is of course the argument that he didn't say that in so many words – however, I'm almost getting tired of letting people into the dirty secret that Wenger actually knows the media and how they will report things.
He did, however, say "not recently" with regards players brought through at United.
I'm unsure on what the barometer here is for "bringing players through". It seems as if, from Wenger's list, you would say that they started at the club at 17/18 or younger.
Darren Fletcher, John O'Shea and Jonny Evans might not be the most fashionable of names.
Fletcher made 24 appearances in the 2006/7 league winning campaign, 16 in 2007/08 and 26 in 2008/09. The 16 in 2007/08 is still an impressive figure considering United had signed Anderson and Owen Hargreaves to add to Michael Carrick and Paul Scholes (oh yeah, he was and is still around). Fletcher has an impressive trophy count of 8 (12 including Community Shield).
John O'Shea has played 365 times for United in a squad where, fitness permitting, he would never have been first choice. This isn't a slight on him when you consider the talent he has had to compete against has invariably been one of, if not THE, world's elite. O'Shea has 9 trophies, not including the CS.
Jonny Evans, in his first full season in contention at United after a successful loan at Sunderland, made 35 appearances in all competitions in 2008/09 (trophy wise, United's second most successful season in history). Darren Fletcher has developed into one of the best midfielders in Europe while John O'Shea and Jonny Evans can count themselves as key members of a record breaking defensive unit in the 2008/09 season.
Wes Brown, too. With 348 career games for United, it's a pointer to his unfortunate battle with injury that O'Shea has now surpassed him. Nonetheless, with a good run of games, there are fewer better natural defenders than Brown – and like O'Shea, he was the first choice right back in one of our most recent successful seasons.
As I said, these players may not be the most fashionable, but their attributes are. If trophies don't count as the ultimate proof, then setting domestic records – as they have done – and dishing out masterclasses in head to heads – as they have done, all impressing as individuals never mind as a team – ought to be conclusive. Darren Fletcher has often shone against Arsenal, John O'Shea scored the winner in the Champions League semi final first leg between the sides and Jonny Evans was United's best player in a pitch full of stunning attacking performances when we won at the Emirates most recently.
More importantly, they have the credentials to back it up. There is no substantial argument to add to the hot air about any player Wenger has listed, save for the two exceptions.
Who am I forgetting? Well, a certain 18 year old who arrived at Old Trafford called Cristiano Ronaldo. This, as with Giggs and Scholes, doesn't really need speaking of. Suffice to say I will put my money on Mr. Wenger not bringing through a player that comes anywhere near to matching Ronaldo in terms of ability or achievement. It can't be understated though that even neglecting to mention Ronaldo is a monumental act of stupidity. Are we really expected to believe that he can mention Diaby (nicknamed among Arsenal fans as "diabolical") and disregard a player better than ANY he has ever managed as "nothing"?
It's only fair, too, that we look at Wayne Rooney and Anderson. Again, Rooney's accomplishments mean that I don't need to point out the painful flaw in the Arsenal managers' reference.
Some might say that Anderson has a lot to prove; and he does, in United's terms. But let's take a look back – 5 trophies at United already, with some huge contributions in those successes. Some massive performances in big games and all this with a couple of major injuries. Had he been at Arsenal he'd be a club legend already, but yes, at United we want to see him unleash his full potential and become one of the best in the world on a consistent basis, not just look the part against the best teams in England. Regardless of where you place him in terms of his progress at United, his achievements dwarf those of his Arsenal peers, even Fabregas – even if injury and a lack of a defined position has meant he has yet to enjoy the media spotlight as much as Cesc, his potential is still incredible. In a 4-4-2, I hasten to add, too. And regardless of that, too, he is twice the player of Song or Diaby.
If Wenger is to really use Wilshere as an example – a player who has made an impression against Blackburn and Blackpool in the league – then what of Federico Macheda, he of a full TEN league starts, two vital goals in a league winning season and one on the big stage, when a goal was NEEDED, against Chelsea? What of Gibson, a player who has come through the club and scored a very respectable 9 goals in 41 games to add to two league cup wins and a World Club Cup win? And Danny Welbeck, a fantastically talented young player?
Rafael has his inexperienced flaws to address but still dealt – for the most part – admirably against Franck Ribery in the Champions League. He still has 3 trophies (not including the CS) to his name and at this point is a far more exciting and far more established prospect than Gibbs. Rafael's twin, Fabio, has seen Patrice Evra's excellent form restrict his own opportunities but still has played 15 games in seasons where United's performance in every competition has been better than that of Arsenals.
And therein lies the crux. Wenger's roll of honour may look good for Arsenal. And it may look good when comparing to other teams. But, it doesn't look good in comparison to Manchester United – if I can quickly provide twice as many names who are better and have had more success and have only "recently" broken through, then why isn't he being treated as the royal jester he appears to have become? It can't just be because of the protection he is afforded by the media (by the way, his numerous targeted comments, that hands on with the official last week, accompanied by his physical scuffle with Pardew moons ago, doesn't seem to have landed him with a "bully" persona..). Even United supporters I spoke to about it on Twitter seemed to concur with Wenger's assessment that we haven't brought anyone through recently. But, we have, especially when comparing our players to the ones that Wenger has named. It's just that the players we've brought through haven't matched a Giggs or a Scholes – but how unfair is that? These are two of the best players to have ever played the game. The youngsters we have brought through in the last 5 years have been enough to keep us on top – or an offside goal away from the top. In comparison with their peers – and this is where any comparison can only be fairly summarised – they are exceptional, certainly, they have been a huge class apart from Arsenal.
Wenger went as far as to name Senderos, a player now departed whose very destiny is Premier League or European journeyman. Our departures (save for Ronaldo)? Gerard Pique, a player who has gone to become arguably the finest ball playing centre half in world football? A man described by Gabriele Marcotti as exactly that when I talked to him? Giuseppe Rossi, who goes from strength to strength in Spanish football and has started this La Liga season on form too?
And, domestically, what about Jonathan Greening who captained West Brom for many years and now shares the same dressing room as Senderos? David Jones, of Wolves, who scored that brilliant free kick a couple of weeks ago and is part of a Wolves team beginning to impose itself? Kieran Richardson, who is first choice at Sunderland and has played nearly 100 games there? Danny's Higginbotham and Pugh, playing alongside Ryan Shawcross at Stoke, destined for an England call before Wenger cut that down? There are more examples. 
I'm not saying all of these players are the crème de la crème, but compared to the list Wenger himself put together, before outrageously dismissing our recent production as "nothing", they nearly, to a man, make a favourable comparison. Even when moving the goalposts to try and suit his own argument, Wenger has made himself look an absolute classless idiot, desperate to try and glean some more favourable attention from the press to deflect from his teams lack of trophies.
A man who is, curiously, widely regarded as the "smartest man in football" has demonstrated a staggering lack of intelligence or maybe is just displaying the counter effects of believing the press hype. By disregarding Ronaldo and Rooney as "nothing", though, it's idiocy that deserved to see him reduced to a caricature in this mornings press; preferably in Graham Taylor, vegetable style.