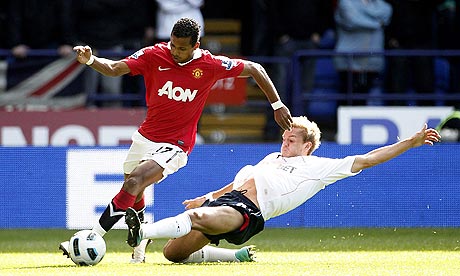 Premier League away-day frustration continued for Manchester United as they failed to take advantage of defeats to Chelsea and Arsenal yesterday. Worse still, their 2-2 draw at the Reebok against Bolton was played out in limp fashion, with Ryan Giggs and Wayne Rooney coming off with knocks. Dimitar Berbatov was virtually anonymous; Nani and substitute Michael Owen twice brought the visitors level, but this come from behind result was anything but heroic.
The worrying trend from United away games in the league this season is their terrible defensive record. It was even apparent at Scunthorpe in the league cup but with a regular back line in the league, alarm bells must be ringing for Sir Alex Ferguson. The switch to captaincy for Nemanja Vidic was supposed to inspire the supposed want away Serbian defender, but the lack of organisation that has been clear to see on the road this season is certainly a cause for concern.
Bolton took an early lead from a set piece – South Korean midfielder Lee won a corner, and former City winger Martin Petrov swung it in towards Zat Knight. The huge defender didn't even need to use his height and Jonny Evans' positioning was awry – Knight cut in front of the out of form defender to flick cleverly with the side of his foot into the corner, beating even Patrice Evra's attempt to clear it from the line.
United were, in the final third at least, looking good. A chance was squandered by Berbatov before the Bolton goal, before several end to end surges from midfield from both sides threatened to change the scoreline – notably, Darren Fletcher's unchallenged run that drew a smart save from Jussi Jaaskelainen, and then defender Sam Ricketts was allowed to carry the ball for an obscene amount of time before testing van der Sar. The Red Devils' equaliser followed the trend, with Nani picking up a Rooney pass in the centre circle, then breaking over halfway and beating 2 men before lashing into the corner from 20 yards.
The 15 minutes before halftime saw the game played almost entirely in the hosts' half as United peppered a series of corners and exerted territorial dominance; that quickly evaporated in the second half when the shape of the game was altered, following Ryan Giggs' injury. He was brought off for Ji Sung Park; a player, who with the best of will, is not a game changer, and was never going to change that reputation in this game. Wayne Rooney's knock a few minutes later – which saw Federico Macheda come onto replace him – was almost a blessing in disguise. The England striker had admittedly had a smart shot just over and did assist the opening goal, but was clearly out of sorts and not enjoying his football.
The substitutes meant that any creative responsibility was placed on Scholes and the inconsistent Nani, who – maybe after already believing his own hype – seems to be going backwards after a thrilling end to last season. Bolton had an easy answer to that, by marking Scholes and simply relying on Nani to screw up his crosses. The Trotters took a lead midway through the second half when Petrov finished a move he had started, on the break. His crossfield path found Lee, who fed it into Elmander. The Swedish forward had, bizarrely, attracted the attention of O'Shea in the middle, which meant Petrov had the relatively simple task of cutting inside Park – and the Bulgarian's shot deflected off Darren Fletcher to restore the advantage for Bolton.
A 2-1 lead for Bolton was probably against the run of play but only in the respect that they were happy to patiently wait for a chance that would inevitably pop up – with an unsure back line to run against, they were certain to cash in.
Fletcher was replaced by Michael Owen who followed up his two goals in the League Cup with a goal scored with his first touch here, flicking a Nani free kick in off the post with his head. This was very much the exception to the rule from here on as the Red Devils failed to push any kind of momentum and looked desperately unrecognisable in formation. Indeed, no concerted effort towards the end of the game and worse, the late Bolton pressure, were indicative of the lack of incisive ability from the players that ended the game for United. Scholes apart, the visitors had little that was likely to create anything, and highlighting Nani as the best player for United after such infuriating inconsistency only exacerbates the problems.
This isn't meant as a scathing attack; Park is an effective player when dealing with a team who are dangerous all over the pitch, such as Milan, or Chelsea, where his deployment can be considered a tactical decision. Berbatov is showing signs that he can run a game but against Fulham and again today he was, for the most part, almost completely ineffectual. Jonny Evans' lack of form is surely only being saved by Sir Alex's lack of faith in Rio Ferdinand's fitness, or Chris' Smalling's ability to step straight in. Rafael's progress is not being helped by his spell on the bench and John O'Shea has not really put a compelling argument across for his continued selection. The lack of options in central midfield don't immediately strike concern but it should, Fletcher and Scholes can run a game but with Nani reverting to type and our other wingers dropping like flies to leave an energetic but ineffectual Park? Macheda's introduction seemed promising but when he was shifted to the wing to accommodate for Owen up front, with Park moved central after Fletcher's removal, a look at the bench to see Anderson as an unused option could only have provoked a scratched head.
Worse, still, was the fact that United's inability to win this game was evident as soon as Rooney left the pitch, even despite his own clearly below par form. Chelsea's own below par display is enough to not throw in the towel in our title challenge, but at this stage, with 3 away games thrown away that should have seen maximum points, the only saving grace is that a late goal to lose this game wasn't conceded.
Ratings : van der Sar 6, O'Shea 5, Vidic 6, Evans 5, Evra 6, *Nani 7, Scholes 7, Fletcher 7 (Owen), Giggs 7 (Park 5), Berbatov 5, Rooney 5 (Macheda 6)