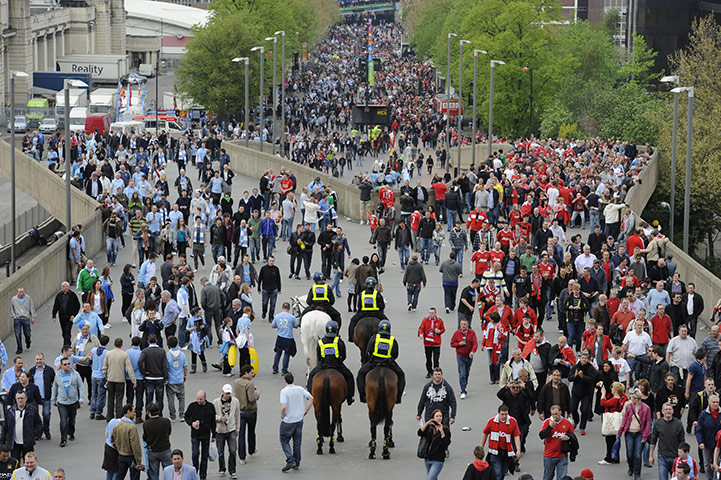 AUTHOR: – Nik
In an ever shortening of the summer break its Community Shield time again, and that familiar conundrum of a game which isn't quite a friendly against our blue rivals from Manchester, and isn't quite a 'must-win'. Fergie will approach this with typical pragmatism, and will more than likely set his team out to win, whilst at the same time, continue to offer the chance for 2-3 of the lesser tried players to state their case for the season ahead.
Player focus: Welbeck
One of those players will surely be Danny Welbeck (certainly at some point in the game), a player who has suddenly come of age in the last six months or so, and who has looked mightily impressive in the pre-season games he has been involved in. Welbeck will fight it out with Berbatov for the chance to partner Rooney up front, with the added benefit of the youngster's inclusion being the ability to play in a variety of forward positions; he has proved to be effective this past season starting from a deep right position, narrowing his angled runs the closer he gets to the penalty area. In the US, he found joy between the lines and played just off the front man, picking up the ball from deep and seeking to involve Nani and Young at every opportunity. If he starts then, we can expect something of a collaboration of 4-2-3-1 and the standard 4-4-1-1 approach (Fergie often prefers a 3-man middle against City), with Rooney slightly further ahead playing in direct opposition to Lescott and Kompany and Welbeck exchanging positions with Young at frequent intervals during the game. This will also release Rooney from defensive duties (with De Jong), having struggled positionally without the ball in the Champions League Final versus Busquets.
Tactics:
For this is what Sir Alex is trying to achieve; a fluid and dynamic system, with players that are able to adapt to the pattern and flow of the game with ease; Young can play left, right or in central forward areas, so too can Nani, Hernandez and Rooney; as with the signing of Young, Jones is equally able to play a variety of positions – though he excels at centre half, he may well see more minutes in a deep lying midfielder or fullback role this term.
In goal, David De Gea should be selected and the Spaniard has started his career at United with aplomb for such a young talent – being alert to danger, quick and accurate in his distribution, and vocal at all times, despite the obvious language barrier. At the back, Smalling and Rafael seem to be leading contenders to play alongside the effervescent trio of Vidic Ferdinand and Evra, and perhaps Smalling will be given further opportunity to state his case in a wide role, impressing going forward of late, as well as providing that crucial height in defensive positions. In front of them, Carrick is likely to anchor the midfield alongside Anderson if fit, with the promising Cleverley, as well as the adaptable Giggs and Park able to slot into a midfield triumvirate if required. Nani and Young should start the game, continuing their great understanding seen thus far, joining Welbeck in a fluid trio behind Rooney, if as mentioned, the latter gets the chance to impress in front of Dimitar Berbatov. There are still doubts over the fitness of Hernandez and Valencia, whilst Fletcher trained today but is still thought to be lacking match fitness.
Fergie will want to ensure Silva isn't given time on the ball in his usual trequartista berth, and Toure's powerful runs from deep will have to be curbed if United are not to suffer a similar fate to that of the F.A. Cup semi-final back in April.
With Tevez still troubled and given extra time away with his family, Aguero lacking match fitness, Mancini will probably prefer the erratic Baolotelli to the still rusty and ill-fitting Dzeko. Ferdinand and Vidic will work in tandem to ensure the Italian keeps his back to goal as much as possible, and Evra and Smalling will have to be aware of the overlapping runs from wide; a key tenet to Mancini's philosophy this past season has been the 'inverted winger' system, allowing the fullbacks to influence proceedings in the final third. Zabeleta is rightly in the frame again at right back, and the acquisition of Gael Clichy, whilst not a signing to set the pulse racing (he has failed to live up to the high standards he set early on in his early Arsenal career), could be an astute addition to the squad, where the inability of Kolarov to call the left back his own due to palpable defensive deficiencies has seen him drop down the pecking order; Clichy's opportunism in the final third could provide City with a more fluid attacking approach, again, especially if the likes of Silva and Milner are tasked with coming inside with the ball on a narrow rather than wide, approach. As per Fergie's approach, it is highly probable that Mancini will experiment with one or two adaptations to his 4-3-3, whilst also giving new signings such as Aguero (arguable signing of the summer) and Savic crucial minutes on the pitch.
Summary:
United will use this fixture to rotate and Fergie's selection will undoubtedly hinge on the individual fitness levels and the completion of the pre-season programme for the squad. He is likely to give chances to the three new signings and will potentially explore a fluid front 4 system, involving Nani, Young, Rooney and Welbeck. Keeping a line of 4 and a line of 5 when without the ball will be essential, especially given City's strength in the middle, and the attacking acumen of the likes of Johnson, Milner and Silva from wide positions. City will be seeking to outline their intent and will enjoy the novelty and the limelight of a first Community Shield in quite some time; Mancini's side is still a few seasons off a potential League trophy in this author's opinion, but if he can control the egos whilst applying the finesse to a complex squad rotation system his team can certainly finish in the top 3 again. Overall, the game should be a competitive one, but one in which both managers will seek to apply the finishing touches to those pre-season experiments which haven't quite yet come to fruition despite both teams experiencing some very positive results.
Prediction: 1-0 United, Young
Referee: Phil Dowd
AUTHOR: – Nik