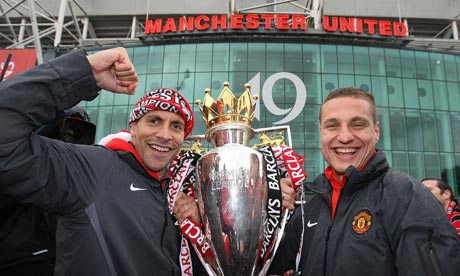 AUTHOR: – Doron
The fixtures for the new league season have been released today and United start away to West Brom.
It's less than a month since the 2010/11 season finished and already the new set of league fixtures have been released. Swansea City, QPR and Norwich City came up to the top flight, replacing Blackpool, West Ham United and Birmingham City. United haven't faced QPR in the league since the 1995/96 season whilst they've never faced Swansea City in the top flight at all since the Premier League was formed in 1992. They last met in the league in the 1982/83 season.
United kick off their opening game away to West Brom on the 13th August, and finish the season away to Sunderland on the 13th May. They face a newly promoted team for the first time on the 1st October when they play Norwich at home.
Fixtures against key teams:
Arsenal (h): 27th August
Arsenal (a): 21st January
Chelsea (h): 17th September
Chelsea (a): 4th February
Liverpool (h): 11th February
Liverpool (a): 15th October
Man City (h): 22nd October
Man City (a): 28th April
Spurs (h): 20th August
Spurs (a): 3rd March
There will be a potentially tricky run of games at the start of the season as United host Spurs, Arsenal and Chelsea inside the first five games. October then throws up Liverpool and Man City back to back before at the beginning of 2012 United face Arsenal, Chelsea, Liverpool and Spurs all in the space of 6 games. The run-in however looks provisionally to be good with four of the last seven games at home including facing two of the newly promoted teams.
You can view the full list of provisional dates for each fixture here.
Let the countdown to the new season begin!
AUTHOR: – Doron