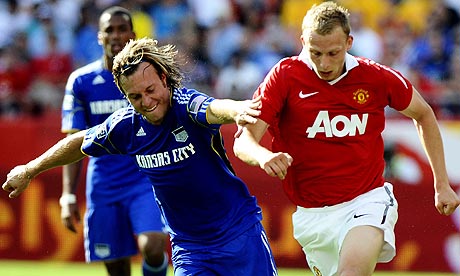 AUTHOR: – Doron
Manchester United have allowed young defender, Ritchie De Laet to leave on loan. He's joined newly promoted Norwich, becoming Paul Lambert's fourth signing of the transfer window.
De Laet joined United in January 2009 after he failed to make an impact at Stoke. Due to United's partnership with Belgian side, Royal Antwerp, the club had known about De Laet before he joined The Potters. De Laet made one first team appearance in his first season and made a further five in his second season as defensive injuries meant he was called upon at Wolves and Fulham in the league.
At the start of this most recent season he went on a month's loan to Sheffield United as they needed cover for injuries. In November he joined Preston under similar circumstances and played there for a month. In January he went on loan to Portsmouth until the end of the season, playing 22 games and impressing in various defensive positions.
For United's Reserves, De Laet has played 37 games and scored 3 goals. Ritchie is capable of playing in either full back position or at centre back – his versatility will make him an attractive capture for Norwich. He's very quick and likes to attack. Sometimes he's slow getting back and forgets his defensive responsibilities, but he's a capable defender who likes to get tight to his man and commit early to a tackle.
Paul Lambert told Norwich's website:
"He'll be great for us. He's young and one of his main strengths is pace and he comes from a great club where he's played first team football. He'll come in and help the other lads out. He's played a lot of first team games out on loan last season and I'm sure he'll do great for us."
Norwich confirmed that United have no option to recall the player from this loan spell and Ritchie himself said:
"I'm really pleased to be able to continue my development as a young player with Norwich, where the manager has given me this chance to come in and fight for a place in the Norwich team. I know it's going to be very tough because the lads there have done really really well and it's going to be a big challenge to get into a team which is really used to winning and is a great, tight-knit group. The fans there are great as well. I remember that game at Portsmouth when Norwich went up and the fans were superb. You could see how much it meant to them and to the club to get back into the Premier League after some difficult years. I took a look at the fixtures when they came out this morning and I'm sure everybody can't wait to get going. Every game will be very tough and competitive, that's what the Premier League is all about. I'm looking forward to joining in with pre-season training and getting to know the rest of the lads as we all start getting down to some serious work and then the friendlies before the Premier League starts."
Hopefully Ritchie can become first choice at Norwich and gain valuable top-flight experience whilst helping them to attempt to stay up. We'll watch his progress and form closely, bringing regular updates on all the players who leave the club on loan.
AUTHOR: – Doron