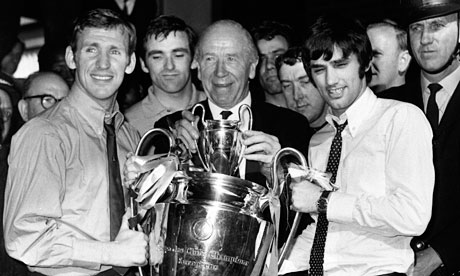 AUTHOR: – Herzog's Child
Well, then: let the gulps billow loudly. Defeatist? Not so. Realistic? More so. After all, there is no shame in recoiling a little when faced with the unerring prospect of facing the beast of Catalonia. They are, after all, one of the finest institutions the beautiful – sometimes ugly – game has churned out. United, having jousted an admirable fight to the final, are no chumps themselves, but there will be a merited hesitancy for all reds as they waltz Wembley Way. Having succumbed to the all-consuming beauty of Barca's force in '09 with a sad whimper, the wearisome among United's red army will journey with squeaking bums and trepidation. For two reasons alone: United have slightly regressed since that night, and Barcelona – having soared beyond the perimeters of brilliance – has improved immeasurably. Yet, having looked a more potent force as the season's end has trickled out, a renewed optimism has reigned freely amongst many. It being London, and all, coupled with the bearing of scars of times old, maybe, just maybe, our odd tag of underdogs will serve us well. This is United, after all, and we are, if nothing, the crowned-princes of surprise. A 4th European cup, at a time when many have heralded decline, would potentially be the greatest surprise of all.
It'll be a one of either two nights: lessons learned, or lessons unlearned. The former is the imperative element where our hopes will lay. The latter, which we can only fear, will send us only one place: out, and early. No such troubles worry Sir Alex, mind. He did, after all, stumble coldly out in the aftermath of the Rome ruin and propose that, if faced with them again, he'd know what to do. What that is, or if it exists at all, is anyone's guess. Superb manager though he is, reds will be ill at ease until the final whistle, having witnessed both club's respective transformations from that stark night. Glazernomics can be apportioned to some of the nausea that has putrefied the air, but other factors rear their rotten heads: chiefly, Barca's brilliance, and how they expose with ease the frailties United so nakedly harbour. Expounded gripes from reds encircle one key shortcoming: the midfield. It also just so happens to be the one area where a team needs to be at its peak to stave off the relentless waves of Barca's attacking drive. Space cannot be given. Neither can seconds be doled out. The armament which sluices such vortexes is stored and stacked high within Barca's middle. Xavi and Iniesta's weaponry – to hold, to shift, to always find their man – is one of world football's starkest sights. In Leo Messi, they have a player so brilliant it could be comedy.
There is, however, a respectable amount of hope. Reward, if I dare call it that, can at last be salvaged from that run-around, if lessons – oh, so many lessons – have been learned in the meantime. Fergie's espousings post-Schalke affirmed as much, whilst lending weight to the theory that Barca's inflictions of fear are not to be wagged at. 'A solution,' as he wearily proposed the need for is in literal terms: the act of solving a problem. Accurately put, Fergie. In a season too often defined by short-comings performance-wise, where efficiency has trumped quality too many times, he will know the measure of the bestial task that awaits. Selections were misjudged last time around. Wembley's eleven will need to be precisely without fault. Simply put: any errors, in both selections and performance, will be punished brutally, ending the final before the opening ceremony's bunting has hit the ground. It may all sound a little too cautious, and perhaps that's one of the long-term wounds that has yet to vanish. But the scale of the challenge, when it's just one game, has rarely been greater before. Like '09, we will know the dangers which we are guaranteed to face. Unlike then, it is imperative our plan does not dissolve – ensuring Barca's route to glory is easily accessible. In the two years that have amounted, Fergie, deep-down, will have known another stab, another chance – a chance to right the wrongs, banish the demons – would come his way. This is it.
Since landing our final-berth, across a swathe of United-related messageboards a litany of could-be managers – or, ahem, Football Manager freaks – are beginning to concoct genial master-plans to oust the tide of Catalonia. Virtual chalkboards are propping up with illimitable markings; tactics are being relayed, condemned, and relayed again; player-picks are outnumbering global tweets. Elsewhere, another frenzy is ensuing, as caterwauls for tickets soar high and loud. This is the fun before the inevitable – the stomach-churning, jaw-chattering, brouhaha. And somewhere, in a darkened Manchester room, an old Scot will be privately formatting his own prized route to glory. In his battalion – if fully fit – he possesses an admirable ensemble of ready charges, who will savour their jaunt to the capital and the challenge. Returning to the scene where the Promised Land was first reached in '68, the occasion, supplanted with the idealist of locations, will be a red-fest: United's numbers will win the first battle. It was in 1968, a mere decade after fate took a team of would-be greats, that United achieved their first European triumph, gunning down Benfica 4-1 in extra-time. It is with the same spirit, invoked from the ashes of Munich, to the first Euro crown, that United will attempt to spurn Barcelona with. It worked in Camp Nou in '99, again in Moscow '08.
Whilst not one to normally lend credibility to the possibility of curses, football, as all who have had their heart shredded and pumped by the game will understand, is different. It would therefore be unwise to pluck and proffer both names and, well, solutions. But there is some comfort, at least, in the knowledge that hope, even in its smallest terms, exists. Two years ago, United didn't fall so much as plunder at the most crucial of times: the last hurdle. Missing that night was Darren Fletcher, cruelly – and wrongly- banned. Wayne Rooney struggled in a wide role, having to accommodate for a lonesome Ronaldo up front. Anderson, Paul Scholes and Michael Carrick found the pitch had converted to sand, such was the midfield triumvirate's collective immobility. An early push aside, aimless puffing ensued. Legs, dynamism, and – so blatantly lacking then – a plethora of balls needs to be provided now, as evidenced on the night they all went missing. Reversion is the antidote. Having secured a supreme 19th, confidence will be at its peak come Saturday. The season gone may have been too ugly at times, but ultimately, when needed more than ever, the truest sense of United – the one that the purists bow in adoration to – came to the fore. Like at West Ham, or Blackpool, when we were out for the count but arose once more to fling blow after killer blow; or our last three jabs at Chelsea, where, rather than fear the opponent, we instilled fear in others and launched devastating blitzkriegs as only we know how. The United way, that is.
In the meantime between now and Saturday, hordes of reds will clasp charms, engage lost faiths, make promises to the devil, and, while suffering the unrelenting throes of well-placed fear, be a little excited, too. Gulp and smile, as football – the bastard – teases as it does. Of course, for those among us who view this all as a nice bonus, and the league title a necessity, it'll be nothing shy of impossible to view the season without glee. A devilishly nice perch-knocking aside, Fergie, whilst saluting the achievement, was accurate in his final conclusion: it wasn't, and never will be, solely about outscoring the miseries from Merseyside; it's chiefly to do with being the best. We are. Again. A monumental win on Saturday would unquestionably further beautify a season that, at times, has been almost perplexing in its oddities. Many have quite rightly refuted the notion that this United side has been the worst in quite some time, but it's a feeling stemmed from an undeniable digression in recent times. Even Fergie, the unmoveable squire, has conceded as much. Whatever Saturday's outcome, summer's movements will need to be busy, and address the naked areas. That we've come here, with this team, is a remarkable achievement in itself. What could be done with a few – and just a few – changes is a frightening prospect, as Fergie will know.
What will transpire on Saturday night will inspire intrigue, regardless of whether it's coupled with hurt or delirium. For once, all are in agreement that they know one thing for sure: nothing. Guesses can be made, based on all manner of things, but certainty is lost for now. Cynics purport that a reversion back to the unsuccessful attempts of '09 will return. Pessimists, of which there are many, suggest that we could erect a wall instead of a goal and still lose. Optimists – those serial loons who predict every game will be a 10 goal stroll – roll out their much-used war-crying, with guarantees of being the best, and, thus, easing our way to victory. When gathered together, all will fall silent and conclude it's simply unknowable. In truth, these lead-ups to finals are tedious starters, scored by the dulling jingles of Sky's merry-wagon. Clichés spill, unintelligible bores pertaining to be experts provoke fury, and rather than focusing on the match, we're proffered inane player v player comparisons, as if they're in any way relevant to the occasion. The game's attachments leave many purists stale. Indeed, if there's any ideal preparation for Saturday, self-reflection would perhaps be the most rewarding course of action. Until that devastatingly gorgeous night in '99, we had reached just one final; 11 years on, we've reached 5 – 3 times in the last 4 seasons. Past near-misses have been replaced with regular outings with destiny. If Rafael had stayed on the pith last season, we would have reached the final 4 years in a row: a remarkable stat in itself. Fergie often laments the fact that, when compared to the giants of history, United's record falls short. A club of United's stature, he proposes, should be up there. A win on Saturday against Barcelona – this Barcelona – would ensure that. More records need to be broken.
Come what may, try, if you can, to savour the moment. Lost in the labyrinth of panic, dismay, trepidation, glee, rapture and all-out chaos, we forget we've been spoilt in recent years. If United's quality has receded somewhat since '09, there is a case that it has been replaced by a stubborn efficiency which ensures that, whilst it may not always be pretty, it usually gets done. We didn't have Darren Fletcher on that night, we didn't have Antonio Valencia, and Javier Hernandez – unheard of then – was considering retirement. After a bright start, we fell apart after conceding, and shambled through the rest of the game. United were bullied, a rarefied and, to all reds, immensely upsetting sight. What was horrid then can turn to beauty now. Memories of hurt need to be dug out and used positively to affect. Our chances lie in the learning of old lessons and ensuring that what went wrong then won't now. Luck, too, will play its part – but as history has proven, you need the spirit to make your own. United have it in abundance. From 1878's inception of Newton Heath, to the present day's team, it has over 130 years of spirit, quality, and uniqueness coursing through its blood. That, you feel, will all need to be on show on Saturday evening. With it, history can be made again.
AUTHOR: – Herzog's Child