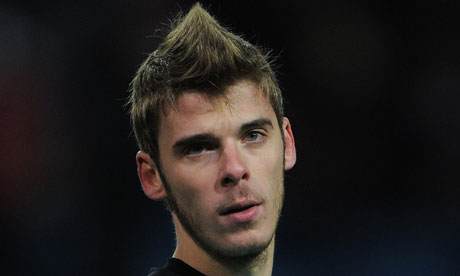 AUTHOR: – Doron
Manchester United are all but able to confirm that David De Gea is the man they've chosen to replace Edwin van der Sar at Old Trafford.
With Edwin retiring, who should replace him has been an ongoing debate for some time now amongst United fans and the press. It seems almost certain that David De Gea is the one they've gone for though. United's interest in the 20 year old has long been known of and a couple of months ago United made their first foray into the transfer market with a bid for him.
In the time since rumours of a bid, there have been concerns over whether his heart was in a potential move to United given how long it had taken him to agree personal terms however it seems he's now accepted a move and is set to move to Manchester with his girlfriend and parents. United's goalkeeping coach, Eric Steele, has been taking Spanish lessons for some time now in order to help David settle in with his move. Interestingly, Edwin van der Sar is said to have recommended Ajax's Maarten Stekelenburg – who will now be Atletico Madrid's top target to replace De Gea.
Considering his age, he's already played 83 first team games for Atletico, been capped at every youth level for Spain and has made their senior squad too. He's credited with being a good footballer, comfortable in possession whilst he's confident, calm and widely considered to be in the mould of Edwin.
After Gary Neville's testimonial tonight, Sir Alex told Sky Sports:
"We've been working on it for quite a while. We identified him quite a while back as one we should go for. He's a young goalkeeper, very quick, good composure, presence and an oustanding replacement for van der Sar. We were looking for same type of qualities as Edwin, composure and organisational ability. De Gea is very similar that way."
I believe United have got the best young goalkeeper in world football – he's certainly always been my first choice. Do you think De Gea is the right man? What do you think his strengths are and do you have any concerns?
AUTHOR: – Doron