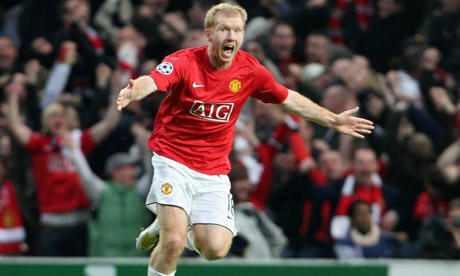 AUTHOR: – Doron
There was almost a look of relief on his face when the final whistle was blasted on Saturday. It was the end of a truly wonderful career for Paul Scholes. There was no pompous fanfare and guard of honour, a simple wave to the crowd said it all. His 17th season as a first team squad player ended with his lowest goals return but his quality has still shone through. This though, is seemingly the right time for him to retire from the game that he loves.
A simple announcement on the club website was exactly the way Scholes would have wanted his retirement announced. He's amassed 676 games for the club, scoring a round 150 goals. His career has seen him shift from a centre forward to an attacking midfielder, to a box-box player and more recently to a quarter-back. Goals may have slowed for him as he's got ever deeper on the pitch but his passing, particularly over a long distance is still second to none. It would be criminal to not mention his ability to mistime a tackle, referees will certainly have an easier job now!
Scholes is of course one of our own. He was part of the phenomenal group of youngsters to come through the club in the mid-90s and he once again lined up alongside Butt, Beckham and Giggs last week in Gary Neville's testimonial. Who he supports doesn't matter – Oldham or United – he clearly loves the club and has agreed to take on a coaching role as of next season. No doubt his career was prolonged by international retirement aged just 29 – he'd rarely been able to replicate his best form in an England shirt, often through the misuse of various coaches. However, even as recent as last summer, Capello did try and get him to reverse his decision. In total he scored 14 goals in 66 games over a seven year period for England.
Here's what Scholes, Ferguson and Gill have had to say on the club website:
Scholes: "I am not a man of many words but I can honestly say that playing football is all I have ever wanted to do and to have had such a long and successful career at Manchester United has been a real honour. This was not a decision that I have taken lightly but I feel now is the right time for me to stop playing. To have been part of the team that helped the club reach that 19th title is a great privilege."
"I would like to thank the fans for their tremendous support throughout my career, I would also like to thank all the coaches and players that I have worked with over the years, but most of all I would like to thank Sir Alex for being such a great manager, from the day I joined the club his door has always been open and I know this team will go on to win many more trophies under his leadership."
Ferguson: "What more can I say about Paul Scholes that I haven't said before. We are going to miss a truly unbelievable player. Paul has always been fully committed to this club and I am delighted he will be joining the coaching staff from next season. Paul has always been inspirational to players of all ages and we know that will continue in his new role."
Gill: It is very sad day for Manchester United fans around the world. We all know that Paul was one of the players that came through the ranks of the academy system in the 1990's and has established himself as one of the greatest players to ever wear the United shirt. It is very important that the club keeps its association with these great players and we are delighted that Paul will join the coaching staff.
The debate will rage over whether Scholes is this generation's greatest midfielder. The Barcelona players all believe he is their blueprint and his list of admirers is endless. The words of his fellow professionals go to show just how admired and brilliant he was. Here are a few of those quotes:
Quieroz: "When Scholes is in the team, it's like playing with the lights switched on"
Nasri: "Sad to hear Paul Scholes is retiring, great player, world class player, the English Zizou"
Zidane: "My toughest opponent? Scholes of Manchester. He is the complete midfielder"
Davids: "I'm not the best, Paul Scholes is."
Xavi: "In the last 15 to 20 years the best central midfielder that I have seen — the most complete — is Scholes. I have spoken with Xabi Alonso about this many times. Scholes is a spectacular player who has everything. He can play the final pass, he can score, he is strong, he never gets knocked off the ball and he doesn't give possession away. If he had been Spanish then maybe he would have been valued more."
Iniesta: "Rooney is one of the best players in the world and I love watching him play. But if you had to pick out only one, then for their history and for all that they have achieved it would have to be Paul Scholes or Ryan Giggs. They are two shining examples for any player."
Sir Bobby Charlton: "I have no hesitation in putting a name to the embodiment of all that I think is best about football. It's Paul Scholes. Players like Denis Law and George Best who I enjoyed so much as team-mates and now, finally, players I have watched closely in the Alex Ferguson era. And in so many ways Scholes is my favourite. I love his nous and conviction that he will find a way to win, to make the killer pass or produce the decisive volley."
Vieira: "The player in the Premiership I admire most? Easy – Scholes."
Roy Keane: "An amazingly gifted player who remained an unaffected human being."
Fabregas: "He is the one whose level I aspire to. He is the best player in the Premier League."
Mourinho: "Why isn't he playing for England? It is crazy. Only in England. Scholes is a great, great player. So experienced and still, for me, one of the best in the world in midfield. Manchester United are lucky to have him."
Zidane: "Scholes is undoubtedly the best midfielder of his generation."
Lippi: "Paul Scholes would have been one of my first choices for putting together a great team – that goes to show how highly I have always rated him. He would have been one of the first players I'd have bought, given the chance."
Ferdinand: "For me, it's Paul Scholes. He'll do ridiculous things in training like say, "You see that tree over there?" – it'll be 40 yards away – "I'm going to hit it". And he'll do it. Everyone at the club considers him the best."
G Neville: "I wouldn't swap Paul Scholes for anybody. He is quite simply the most complete footballer I have ever played with. He is the best."
Blanc: "I tell anyone who asks me – Scholes is the best English player."
Xavi: "A role model. For me, and I really mean this, he's the best central midfielder I've seen in the last 15, 20 years"
A fuller, more emotional tribute no doubt, will come from this blog at a later date. But for now, with those quotes from some of the greats ringing fresh in the memory, thank you Paul Scholes. Thank you Ginger Prince.
AUTHOR: – Doron