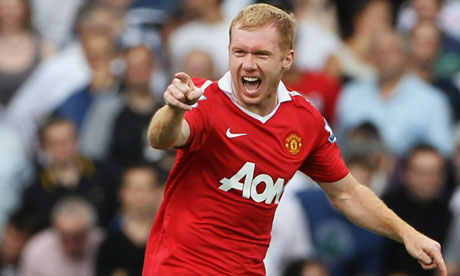 Author: Herzog's Child
Follow Herzog's Child on Twitter
Paul Scholes, as cliché imbues, spoke not with words, but with his feet. In a game too often rendered turgid by sloppiness and hoof-ball merchants, the shyster from Middleton reversed the trend, splaying balls far and wide with the ferocious precision of a sharking torpedo. He beautified and devastated, and – with recent news – saddened all who were enraptured by his 17 years of pure class. Distinctly un-English in style, the scale of loss born out of Scholes' departure can be measured by the eulogies which followed. It evidenced, perhaps, the man as much as the player; unassuming, reserved. Zidane, one of the very few who edged past the standards set by the ginger-prince, marked him down as the greatest midfielder of his generation. He was – and still is – revered beyond adulation in Spain. Garnered respect has transcended beyond anything that rivalry can impede; in a week where F.I.F.A. continued to putrefy a game that is on its knees in too many places, those who ensure it can never die united to eulogise a small, ginger, asthmatic with a soft spot for lowly Oldham Athletic. Roy Keane, in a rarefied moment, spoke of an unaffected human. Alex Ferguson entitled his star pupil incredible. Scholes, almost reclusive in his introversion, would unquestionably grimace in return, but naked truth refuses concealment. Perhaps the greatest midfielder to have ever worn red, Bobby Charlton has more than once stated Scholes is his favourite player to have ever done so. It is Scholes' character, he has said, and ability to churn out illimitable moments of beauty that marks him as a player he 'loves'.
Typically, there was no last hurrah, or sentimentalised final outing. Indeed, it was almost apt – as bemusing as it now sounds – for him to bow out in a game where United had already been lanced brutally. Largely anonymous, as many of United's players were, it was only at full-time that he got close to Catalonia's troops, as the stars of the modern era converged on Scholes for his shirt – a prize, it would seem, only trumped by the trophy itself. The procession that will surround his August testimonial will pain him – not for the goodbye, but for the embarrassment that comes with jubilation. The last lap around the pitch, as thousands clap and expound his name, will be one of the most excruciating moments of his largely illustrious career. Later, the hesitantly-penned autobiography will hit the shelves, bereft of prolonged insight or thought, smeared with glossed photos to hide the lack of words. Somehow, one gets the impression that Scholes would have been appeased if the contract had stipulated it be penned on a matchbox, with a simple message: 'It was all right, yeah. The end.' His leaving will be the second in the unique trinity, which started with Neville and will end with Giggs; a startling triumvirate, whose loss will not only bring an end to another chapter in football, but also to a United team which will never be the same again. The climate of transformation, particularly now, is difficult to bear. And it is Scholes, the wizard of manipulating the ball, who'll be most sorely missed.
Videoed tributes deceive. Static-snowed footage of the latest Ivorian wunderkind can elevate a windy trickster into a new-found God. Usually, all players, via heavily-edited montages, are reduced to goals. This past week, Paul Scholes' career has verged down a similar path by Sky and Youtube fantasists. The wonderment of Valley Parade and Villa Park has been relayed and relayed again. The now tiresome exercise of reducing a career to mere mathematics, via statistics, wheeled into motion. The 150 goals collection, suitably readied on the eve of Scholes' announcement, was reeled and aired. The message-boards and twitter timelines spoke of bullet-shots and votes of favourite goals. Barca '08, such was the occasion; Villa '06, such was the almost fictional effect; Panathinaikos '00, for its sheer completion. Yet, somehow, it all appeared to miss the point. As purists will always testify, Paul Scholes' style, his ownership of which ensured forever greatness, cannot be entombed in a litany of fleeting snapshots. For every thunderbolt, there was an equally exquisite pass to accompany the goal. His entitling of 'Satnav' by his colleagues holds merit; as does Rafael's assertion that, whilst quiet, Scholes sees everything. Scholes' game was never solely about aesthetics, and the grace of his play. His awareness, the ability to find space, turn and fire, was as intrinsic to his style of play as much as anything else. Rarely sloppy, the diminutive ginge may have looked like a timid loner, but he played with the otherworldly precision of a continental supremo. Always keen to near-deflate the ball with power, he was also a cherisher of the ball – someone capable of nurturing it with deft touches, before seeing to it as he wished, either with lofted balls to feet, or paced pinged flights into empty spaces. Pep Guardiola, pre-Wembley's slaying, took a millisecond to pronounce Scholes as the one he'd take into his team, even now. Even now, you'd think, Scholes could shine in such a late role. Given the consummate ease which seems to feed Barca's fluidity, he would find himself among others of his ilk. But no – just the one club for dear Paul; ever the homer, settlement and family is all he requires now.
Typically, as news filtered through that he was retiring, Scholes was holidaying abroad. Only days before, he had joked to a journalist that rather than turn up for his testimonial, he'd appear via video-feed. In a game laden with idiots, spoofers, bad attitudes, and treacherous money-hoarders, Paul Scholes ascended all stereotypes attached to the game, becoming, as a result, an enigma of the modern game. Never one to come to grips with the media-circus that follows, Scholes strived to shirk away from the spotlight. To many it's a perk-filled career with incalculable platforms to stardom; to Scholes simply doing what he always dreamt of doing was enough in itself. Stardom was shunned for seclusion. The impression has always been there that, whilst United's squad grows younger and more diverse, Paul grew further away from it. Today's game is saturated by all manners of tokenisms and absurdities. To a player – to a person – like Paul Scholes, the game is lowering itself to depths often too deranged to begin to comprehend. For many players, their newly-found fiefdom is twitter. To Paul Scholes, it was only ever the football pitch. When players play, we're prone to either overhyping or underrating. And when they retire, we transform even further. But with Scholes, he will be remembered as he was: an oddity, of sorts, who so happened to be one of the greatest midfielders England has ever produced. The revisionists will point to an international career enshrouded in failure and early retirement. Purists will put forward the motion that a player of his calibre should never have come close to a shambolic gathering. Either way, Scholes' early parting from the national side was to United's utmost gain. His disregard for the mass-media has stretched to a carefree attitude towards criticism from the rare quarters who spoke out. He was, in many ways, the man on the street who got to play his dreams out.
In order to fully appreciate the type of service Paul Scholes provided, put aside the tribute videos. Instead, select one of the many full matches where he dominated, mastered and lolled with an almost surreal ease, plucking and picking out balls and players with a precision that at times defied comprehension. Juxtaposed with the gloriousness of his arced passing, was the reckless abandon that accompanied his attempts to tackle. Scholes, as Wenger contemplated, had a dark side; a viciousness in the 50-50, where the size of the opposition was irrelevant – there was always one winner: the ginge. In truth, it was the equivalent of getting the first hard jab towards the bully's mouth. Short, and not particularly stocky, Scholes was rarely, if ever, toyed with on the pitch. His presence on the ball and away from it could not have been more paradoxical, yet the attitude – of never hiding – was always evident. If Scholes' character off the pitch bordered on reclusive, his willingness to express himself on the field – when it mattered most – was the perfect antidote for those perplexed by such a rare personality. A gem in a terrain often too turgid, his ability, coupled with an odd shyness, will now be missed forever- for two reasons: he was a throwback to the unassuming footballers of old, and in a game inundated with mouthy pretenders lacking the attitude to succeed, he had just about everything. His new role, which will see him tutor the dreamers who wish to emulate him, tells its own story; if United's youngsters needed anyone to replicate, both in life, and on the field, Paul Scholes is it. From teaching how to ignite a boot with your toe, to simply being one of a now sad, select few who didn't destroy their personal lives, Scholes will be a near-flawless character to be schooled by day to day.
This summer, if you can, dust off the videos of old. The games you taped. The ones you hoarded for reasons only you will know. The score, or result, will not matter. Just ensure Paul Scholes is in the eleven that starts. Study the movement, the almost machine-like awareness as he looks, receives and slides, drills, lofts and pings to his heart's content. Embrace the cherishment of the ball, how the foot cradles it like a lover, before discarding it like an enemy. The greatest players rarely looked as they levelled off a pass; for most, they had their desired route of play chosen before they received the ball. To recount specific individual passes would do the player, and us, the observers, a disservice. The game is beautified by a host of moments: there is no finer sight than a graceful winger weaving by a phalanx of helpless defenders, or a arrowed pass sluicing a whole defence, into the feet of a predator. In the 17 years of Paul Scholes' career – spanning 675 matches, 10 league titles, two European Cups, 3 F.A. Cups, and a battalion of more silverware – it is probable we never got to know the real man. There is no twitter account reeling off indecipherable jargon; there has never been a misplaced quote. Aptly, his retirement press-briefing began with an honest admission of being without words – a deeper insight into his psyche, you will not get. It was a quiet, typical, parting: as only he would do. All told, the type of player that he was and the person he is was a marriage blended by the footballing Gods. He became a favourite not solely for his class on the pitch, but also for the way in which he carried himself off it. It is improbable his ilk will ever been seen again – not for a long time, anyway. The famous chant spoke, and will continue to speak of, Paul Scholes scoring goals galore. That was merely the half of it. There was the ranged passes, the bullets from boot and head, the wild lunges, the deft and defying touches. And the man he was, the man who still remains: a world class normal guy.