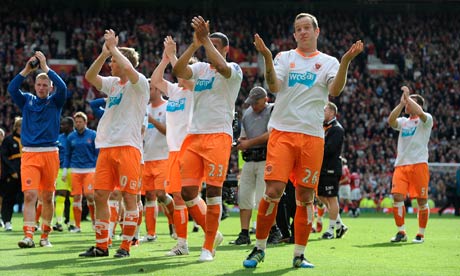 AUTHOR: – Doron
Contrasting emotions were felt by those at Old Trafford as the final whistle blasted out on Sunday afternoon. The league season was brought to a close and enabled United players, staff and fans to celebrate a record 19th title whilst their Orange counterparts had to face the reality of a heartbreaking relegation. Here we discuss the talking points of the match and welcome both sets of fans to contribute to the events.
Talking Points
Berbatov misses out on the Golden Boot despite plenty of chances
The FA's Dubious Goals Committee reduced Berbatov's tally from 21 to 20 league goals for the season (his second against Sunderland has gone down as an Own Goal). His selection therefore in this game presented the opportunity to finish the season as the league's outright top scorer. By the end of January he was already on 19 goals however the form of Chicharito and Rooney have seen him forced into a back-seat role and he's only managed two more since then.
Berbatov's selection wasn't surprising. Ferguson had said on Friday in his pre-match press conference that he, like some of the other players needed minutes ahead of the Champions League final against Barcelona this coming weekend. Evra had even joked in the build-up to the game that he'd look to give the ball to Berbatov whenever possible so he could finish as the number one striker for the season.
Click on images to enlarge
Berbatov shots vs. Blackpool
As the game actually panned out, Berbatov had more chances to score than any other player. He had 43% off United's shots in the game yet didn't score once. Only three of his nine shots hit the target – all three forcing Gilks into very good saves. However some 'easier' chances were missed. Berbatov has stated he wishes to see out the last career of his contract and he hopes for an extension. However coupling his demotion to third choice striker with misses such as Saturday's begs whether he will even truly want to remain at United next year. His second half to the season has been in many ways a polar opposite to his first half and he continues to split many fans. It was a shame he couldn't round off the league campaign in style though, he's been one of the most important players in the title win and his goals earlier on in the season when other strikers weren't scoring so freely have been vital.
Anderson
Like Berbatov, Anderson also needed minutes in case he's called upon for the Champions League final. Despite there being little attached to the game, his role came with responsibility. Scholes, sitting deep needs people to do his running for him and Fletcher still isn't fully fit. It was therefore down to Anderson to set the midfield tempo for the game.
Anderson passing vs. Blackpool
Anderson showed a nice range of passes throughout the game. He was involved in some neat intricate short passing with Scholes in the middle as well as trying some longer more ambitious balls. His success rate of 89% is very tidy considering Blackpool were pressing United hard – the game was far from a leisurely end of season stroll. He also assisted the fourth goal for Owen – the pass was weighted well and timed perfectly. Performances such as this from Anderson have often been too infrequent however every time a good shift is put in, it serves as a reminder of what he can do.
As well as being an important player on the ball, he showed he's retaining some of the bite that he so often had in his first year. His five successful tackles was more than any other United player made in the game (see below).
Anderson tackles vs. Blackpool
Anderson's performance even included a first league goal at Old Trafford. On 36 minutes he had a woeful shot (see chalkboard below) that nearly went for a corner.
Anderson shots vs. Blackpool
However his goal, when it came, in the 62nd minute showed everything that Anderson is capable of doing:
1. Getting forward into the penalty area
2. Finishing well without hesitation
The question now, would you start Anderson at Wembley on Saturday? I think if Ferguson decides to go 4-5-1 with just Rooney up front I would start him alongside Carrick and Giggs – although that's dependent on whether the boss feels Fletcher is ready or not. In a 4-4-1-1 with both Rooney and Chicharito, he'd only make my bench!
Blackpool
The flip side to winning and equalling Chelsea's record tally of 55 points from 57 home games was that Blackpool were relegated. As results panned out, even a draw would have seen them down, only a win was enough to save them. Incredibly, the 39 points they amassed would have been enough to keep them up for the previous 7 seasons.
Their style of football has been welcomed by fans of the Premier League – it's been a season of attacking with little caution taken. Ian Holloway, an entertainer himself, admitted that the early season 4-0 loss at Chelsea proved they didn't stand a chance if they attempted to be restrictive in games. So much so that the 55 goals they've scored means they've easily outscored the teams around them (although 78 conceded is the most by any one side). This attitude to football meant that they became the first opposition side in over 13 months to score a league goal in the first half of a game at Old Trafford. Additionally, by going 2-1 up, it was the first time that any opposition side had lead a league game at United this season.
It was unsurprising to see that their goals were applauded by large sections of Old Trafford, lots of fans wanted them to stay up. Their supporters were some of the best to visit Old Trafford this year, choosing to focus on their own side rather than attempting to taunt United. It's best that the final word on their season though comes from the excellent Blackpool blog, Tangerine Dreaming. Taken from their match review piece:
"Having a final game against Manchester United was perfect in so many ways, a contrast on many levels and in so many ways (too many for this post). After the Blackpool squad trudged with dejection towards the tunnel, the preparations for a party were just beginning and not long after, came the procession. It was led by a celebration of the Manchester United backroom staff and after all twenty-something of their coaches came on to the pitch it was apparent that football at this level needs structures around the first team that nurtures and supports each player week in week out. Before the season started Ian Holloway had an assistant, a physio and a part time goalkeeping coach. Last minute shuffling and recruitment upped those numbers marginally so that another coach came in, someone could offer guidance around fitness, analyse performance and train goalkeepers on a full time basis. It was breathtaking to see Manchester United's troupe of coaches walking out on to the pitch, to the casual observer you'd have thought it was their first team. They were professional and they were bristling with pride, content and satisfied with a season of work. It's a testament to the work that Ferguson puts in, team talks and tactics are a fraction of what he has built and listening to Holloway's press conference afterwards, you can see that he has aspirations to build Blackpool back up, but build them as a club to sustain Premier League football."
Goodbye Edwin
The game was of course Edwin's last at Old Trafford for United. His retirement was announced a few months back and despite calls from fans and his fellow players to reconsider his decision, he has decided to call it a day. Whilst he could do little about either Blackpool goal, there was still time for him to pull out a couple of fantastic saves, well beyond the reflexes of any normal 40 year old. It even prompted Evra to get down and bow to him in the middle of the match – one of the most surreal moments Old Trafford has surely ever seen.
Arguably Edwin has changed the role of the goalkeeper at the club – certainly, it's changed how many fans will look at it, and the attributes that fans consider a suitable replacement should have. That replacement now seems almost certain to be David De Gea – he'll be under an incredible amount of scrutiny and pressure knowing that he's replaced arguably the club's finest ever goalkeeper.
Edwin isn't quite finished yet though. He'll be attempting to replicate Peter Schmeichel's exit in 1999 with a European Cup win.
Match Conclusion
With the league already sewn up and without wanting to risk any injuries ahead of the Champions League final, United were expected to name a much changed side for the game against Blackpool. The starting line up still featured Edwin, Evra, Vidic, Scholes, Anderson, Fletcher, Nani, Park and Berbatov whilst the likes of Rooney and Ferdinand were on the bench. Blackpool had one aim – to attack and win the match.
It very nearly started perfectly for the Tangerines; inside the first minute Charlie Adam's excellent cross was turned wide by Southern. Adam certainly seemed determined to make sure Blackpool wouldn't go down without a fight but no one could convert a series of good crosses in the early exchanges. Blackpool looked shaky at the back though, Rafael saw his effort well saved before a clever turn and shot from Berbatov was also kept out.
In the 22nd minute though Blackpool fell a goal behind. Berbatov pulled out wide and a delicate ball forward found the run of Park; Evatt's challenge was half-hearted and Park was just able to cleverly lift the ball over Gilks. One was nearly two as Berbatov's latest effort was again well kept out. United were set to head in ahead at half time but Vidic was penalised for a foul (dodgy call seeing as Taylor-Fletcher had been flagged offside) and the resulting free kick was superbly scored by Adam.
The second half started as the first had ended, Adam with another free kick yet this one was kept out by Edwin. However just 10 minutes later, Blackpool were ahead and heading to safety. Vaughan's run and cross was expertly flicked in by Taylor-Fletcher and it sent the away fans into delirium. Any celebrations were silenced less than five minutes later though. Anderson's flick found an unmarked Park who picked out the Brazilian with a return pass and he finished well by side-footing a curling effort past Gilks to score his first league goal at Old Trafford.
This seemed to inspire United into making sure they ended their campaign with a win – if results went Blackpool's way they could have lost and still stayed up. Berbatov had another good chance that was acrobatically kept out by Gilks and then Nani somehow missed a header from yards out. However with just over 15 minutes left to play, Chris Smalling, who'd come on at right back put in an inviting cross that Evatt could only turn into his own net. It only got worse for Blackpool – into the last ten minutes and Anderson's well weighted through ball found Owen who finished clinically, reminiscent of times gone by.
Blackpool though, lost the game and went out of the Premier League in the style that they've played all season. Van der Sar was forced into a brilliant late save that had Evra bowing down to him on the pitch; and Varney hit the bar just before the full time whistle went. United ended up winning the league by 9 points whilst Blackpool finished 19th.
United's next game is in the final of the Champions League against Barcelona at Wembley on Saturday 28th May.
You can see Stretford-End's photos from the game including pictures of the trophy being presented on our Facebook page or by clicking here.
AUTHOR: – Doron