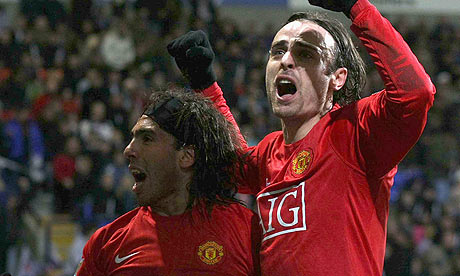 The international break is nearly over (at last!) and with little to talk about, a popular discussion on Twitter between Reds has been: "who would you rather have for your MUFC team, Berbatov or Tevez?". Upon this question first being asked, I decided Tevez was the player I wanted; however, Sean decided his was Berbatov. Therefore we've decided to put it in a Stretty Debate! We're judging the players purely on ability and how they'd fit a team, so with Tevez in particular, try to put some of the hatred to one side for a moment and enjoy the debate…
The case for Berbatov, by Sean:
Forget the Glazers. Forget no.19. The no.1 most debated topic in United's recent history has probably been: "who's better – Berbatov or Tévez?". As the two currently sit at the top of the Premier League goalscoring charts, a full nine and eight goals respectively ahead of their closest competitors, I feel it an apt moment to rekindle the discussion. As those of you who know me will probably guess, I shall be fighting the Berbatov corner.
I shall start by discussing the question in a bit more detail, and which areas I believe should be focused on. For anyone who studies the game in a bit more detail than your average "I enjoy the punditry on ITV" fan, you will know that a lot of the time, there isn't a simple answer to the question of who is "better" when comparing two players. One should dig a little deeper than simply who they think is the better footballer, and discuss things such as effect on the team, effectiveness in a team (two different things), dressing room presence, and other, possibly less important things.
In discussing the case of Berbatov v Tévez, I believe the discussion should largely concern both of their respective times at United. Not that the rest of their careers are irrelevant, but the role of a United player, and particularly that of a second striker, is much different to the role most strikers will take, and indeed Berbatov and Tévez have taken at different points in their careers.
I feel it necessary to straight away post the bare facts of Berbatov and Tévez at United in terms of direct effectiveness, something which a lot of people seem to assume the advantage would lie with Tévez, describing Berba as a pretty but not effective footballer.
In Berbatov's almost three seasons at the club, he has made 120 appearances, and scored 47 goals. This statistic, which doesn't take account of the fairly large amount of substitute appearances, puts him on a goal every 2.55 appearances, ahead of recent United strikers such as Sheringham, Solskjaer, Saha and… Carlos Tévez (goal every 3.31 appearances). Obviously, appearance stats can be misleading as 1 minute played is represented the same as 90, so we must delve into actual minutes played. In the league, Berbatov has played 6,631 minutes for United, scoring 41 goals – a goal every 161 minutes. He has also assisted 19 league goals in that time, meaning that overall he created or scored a goal every 110.5 minutes in the league.
Tévez meanwhile, aside from the aforementioned appearance stat, played 4,535 minutes for United in the league, scoring 19 goals – a goal every 238 minutes, with 9 assists as well meaning a goal scored or created in the league every 161.9 minutes.
The contrast here is fairly stark. Berbatov has scored for United in the league on average every 161 minutes, and Tévez every 238. Berbatov has scored or created a goal every 110 minutes, and Tévez every 162. Berba has actually scored for United in the league at a quicker rate than Tévez scored and created.
A common criticism of Berbatov amongst United fans is that his arrival unfairly led to Tévez being completely cast aside, who then had little or no chance to prove himself. Again, the statistics would seem to dismiss this notion. Berba only played a little over 700 minutes more league football than Tévez in 08/09 – or a little over 7.5 full matches. Despite having just 27.5% more playing time , Berbatov managed to notch almost twice as many goals in the league (9 to 5), and over three times as many assists (10 to 3).
His first season at United disappointed those who quivered at his YouTube highlights, marvelled at the stories of his enigma and cultured personality and whispered "Cantona?". However, was it really that bad? Nine Premier League goals was doubtless disappointing compared to his 15 the previous season for Spurs, but 10 assists left him as the second top assister in the league. It must also be noted that he played 500 less minutes at United, as well as playing in a more withdrawn second striker role with Rooney at the centre of most United attacks.
Crucial contributions such as winners against Newcastle, Spurs, Middlesborough (70th minute, only goal), Bolton (90th minute, only goal), assists away to Liverpool and Chelsea, a goal and an assist at home to Chelsea, an assist at home to City, and 4 goals in 9 Champions League appearances demonstrated how important he could be, as well as moments of genius like that piece of skill at home to West Ham to assist Ronaldo, the sort of stuff you pay in to see.
All told, he scored or created a goal in the league every 135 minutes in 08/09, compared to Tévez's 134 mins in 07/08 and 232 mins in 08/09.
So essentially, Berba's worst season in the league was about as good as Tévez's best in terms of creativity, and his best (this season, with a goal scored or created every 86 mins) is significantly better than anything Tévez has produced at any club.
At the moment, there's no availability for minutes played in the domestic cups and in Europe, which was touched on in the overall appearances and goals posted above. If these were included, Tévez's ratio would likely improve, as he had good success in the Carling Cup, and a relatively good record in Europe, including important goals against Lyon and Roma the year of our European success. But this would not close the gap significantly – after all Tévez has an advantage of merely 9-6 in terms of goals scored outside the league for United in comparison to Berba.
Berbatov's second season at United has become one of the most underrated season of recent times. Despite spending two months out with injuries, Berbatov managed 12 Premier League goals – the highest of any second striker in the league. Crucial and brilliant goals against Sunderland and Blackburn led to fans and commentators alike proclaiming "now we are seeing the real Berbatov".
However, injury to Wayne Rooney in March against Bayern Munich killed Berbatov. He was often placed up front on his own, or else with a clearly unfit Rooney, and United missed their up-to-then brilliant partnership, crashing out of Europe and blowing the Premier League. In addition to the affect of Rooney's injury, a long-term niggle in Berba's knee clearly disturbed him, a problem so concerned that Ferguson twice considered sending him for surgery. Berbatov played through the pain, took the brunt of the blame for the late disappointments and suddenly his season had been a disaster, and he had to be sold.
Ferguson, once again proving himself to be wiser than the baying mob, kept faith in the Bulgarian, and Berbatov started this season like a house on fire. An excellent pre-season, followed by nothing short of magnificence against Chelsea, Newcastle, Fulham, West Ham, Everton and Liverpool saw Berbatov shoot to the top of the goalscoring charts and back into the hearts of the United fans. However, Rooney's ankle flared up again and the goals dried up for Berbatov. Not necessarily performance though, in seven of his ten goal-free games he was very good – only playing poorly against Tottenham and Bursaspor – and largely anonymous against Valencia through not much fault of his own.
But suddenly due to his lack of goals he was 'Lazy Berbatov' instead. Again, an unfair stigma – he has tracked back well this season, and covered good distance in most matches. Against Rangers in the Champions League he sprinted back to win two challenges deep in his own half. He started and finished the move for the fourth goal against Blackburn, covering a good 90 yards in the process. Against Blackpool he made 10 tackles and 3 clearances, both more than Carlos Tévez has made all season, and this on top of 2 goals. He may still be no Tevéz in playing style, but then again, should United fans really want him to be?
Tevéz for all the plaudits he is rightly getting these days, was an average second striker at United, often lacking the quality or the nous to play in this position. He would frequently misplace passes, fluff great scoring chances, or be out of position due to chasing the ball – all traits which could be said to be more annoying than not covering marathon distances during games.
He has improved no end at City, primarily because he's playing in a different position, which he's better at, and also is the main man – as a confidence player this is important for him. However pining for the player he is now is no good – he was never that player at United and was never going to be. Berbatov is having the season now that Tévez never had at United, and is a more harmonious dressing room presence to boot – with Alex Ferguson cryptically referencing Tévez's moaning in the dressing room when placed on the bench.
There's no doubting that he had his plus points – and these should not be forgotten in spite of what happened. He scored some important goals, and his energy was at times useful – but ultimately he failed to make the grade at Old Trafford, and the cold, hard facts, particularly of his second season, back this up.
Comparisons still get drawn to this day to Tévez's City form versus Berbatov's United form, with a lot contending that Berbatov is having the better season. Even though how Tévez plays at City doesn't particularly concern me, as I feel the debate should be focused on suitability for Manchester United, I don't agree with this. Not to mention the fact that Berbatov has outscored Tévez in total, 4 of Tévez's haul have come from the penalty spot, something which greatly boosts his stats. Of course they still have to be scored, but City have other players, such as James Milner who have a broadly similar record from the spot, leading one to assume that City wouldn't suffer at all if Tévez was on penalty duties – however his stats would – fairly significantly.
In terms of goals from open play in the league this season, Berbatov has scored every 98.7 minutes, compared to Tévez's 158.8. This is particularly interesting given how, especially in the latter parts of the season, Berbatov has been in and out of the United team – something you feel Tévez wouldn't have stood for, given his quite remarkable record of upping and leaving from clubs.
In fact, to touch on this comparison further, I don't think it would be too dramatic to say that Dimitar is pretty much a model pro, and Carlos a nightmare. There's only so much one can touch on his harrying of players on the ball. Tévez has forced his way out of every club he has been with, staying for a maximum of 2.5 years, normally just the 2. His time at each club has been typified by arguments, storm outs and threats. Berbatov couldn't be much more of an opposite. Even when abuse was raining down from most in OT, he had this to say:
"I was disappointed with myself that I could not please all the supporters. I have said before the people of Manchester United are the judges and that is the way it should be. It is their team. I am a guest. A privileged guest.
I have always said I am so lucky to play here. For these people. For this manager. For this club. With these players. I can't describe it man."

Even this season, the criticisms keep rolling in – in stranger and stranger forms. "Doesn't score enough" has changed to "doesn't score consistently". Goalposts are changed so frequently with Berbatov you begin to wonder whether some have a pre-conceived notion of the Berb, and nothing he does on the pitch can change this.
True, 11 of his 21 Premier League goals have come from three games, but it must be said that three of these sunk Liverpool in a thriller that will live long in the United memory, and five destroyed Blackburn in a performance that gave Ferguson's men much-needed confidence as they kick into a tough December schedule. "When was the last time United really put a team to the sword – when Tevéz was in the team" was a refrain form Berbatov's detractors. The performance against Blackburn – with Berbatov at the fulcrum – shows us that United can kill teams with Berbatov. In September, Berbatov was magnificent against West Ham, however others around him were not on his sparkling wavelength, and so a potential 'Blackburn' became simply a 3-0 stroll.
In fact, with all the talk of consistency, Tévez has scored in just one more Premier League game this season than Berbatov, and that including games where a penalty was his only scoring contribution.
It's not just a red-tinted viewpoint either – the statisticians agree: Berbatov is currently the best player in the league according to the Official Player Performance Index (with Tévez ranked 4th – Official Site of the Premier League | Statistics | EA SPORTS Index), a ranking system collated based on detailed player performance statistics. The 10th best player in the world over the past year according to the Castrol Football Rankings (and he was 5th until his recent spell in and out of the team with the emergence of Hernández, Tévez incidentally is ranked 18th – FULL CASTROL RANKINGS | Castrol Football | Official Sponsor UEFA EURO 2012™).
Dimitar Berbatov has this season cast off the shackles in several ways, and now it's time he cast off the shackles of the comparisons to Carlos Tévez – an inferior man, and footballer.
The case for Tevez, by Doron:
I have chosen the somewhat unenviable task of writing about Carlos Tevez in a positive light. Despite who he plays for now and how he left United, purely as a player to play in a team, I'd pick him over Berbatov. So I urge you to try and put aside the hatred for the man for a few minutes and think about him as a footballer.
For starters, I like Berbatov. I think he's a genius capable of Cantona-esqe moments of unpredictability and magic but without the consistency that The King had. The best players are able to pull a team through in the big games or perform when those around him are sub-par. I don't think Berbatov or Tevez ever had that but I think Tevez's performance in big games were better than Berbatov has produced to date and so that's a good place to start.
It's one of the things that's truly baffled me with Berbatov, why has he not 'done it' in Europe? Neither Berbatov or Tevez ever took Europe by storm but Tevez did score some important goals and helped the team to Champions League success in 2007/08. Berbatov on the other hand hasn't scored in the Champions League for nearly two and a half years:
Berbatov has 4 goals in 20 (11 starts 9 sub) CL games for United – his goals came in only 2 matches (Celtic and Aalborg) with his last CL goal coming on 21/8/08
Tevez had 6 goals in 21 CL games (10 starts 11 sub)
Neither has a stellar record in front of goal but Tevez started 3 of the 4 semi-finals in Europe and one of the two finals. By contrast, so far, Berbatov has only managed 1 start in a quarter-final let alone a semi-final the same competition.
In the league's big games (against Chelsea, Arsenal, City, Spurs and Liverpool) as well, when comparing Berbatov to Tevez as a goalscorer, the main function of a forward, Tevez comes out on top too:
Berbatov has 5 goals in 18 starts against Liverpool, Chelsea, Arsenal, City and Spurs in the league, with 6 sub appearances and no goals from the bench (3 of the 5 goals were the hat-trick vs. Liverpool this year)
Tevez had 5 goals in 12 starts against Liverpool, Chelsea, Arsenal, City and Spurs in the league with 4 sub appearances and 1 goal from the bench
Neither Berbatov in his first two years nor Tevez in his time at United were regular scorers. This year Berbatov has started to score, but still not consistently. Even with Berbatov's good return this season, their goals to games ratio is remarkably similar – Berbatov 1:2.6 vs. Tevez 1:2.9 (in Berbatov's first two seasons his was 1:3.3). Looking at goals for either player is maybe poor on my part – Berbatov isn't a goalscorer but more of a creator, often indirectly (dropping off and creating space for others) whereas Tevez's time at United was played often out of position/role as I'll later explain.
However, Tevez did have a knack of scoring important goals – at Anfield, home to Birmingham and away to Blackburn, Spurs and the genius back-flick away at Wigan. The Wigan game in his final season represents another advantage Tevez has over Berbatov – he's a good impact substitute. Berbatov is a great footballer but more often than not, coming off the bench he fails to ignite United. Yes, he adds calmness and assurance but as an impact substitute chasing a win often a driver is needed, something that Tevez suits much better.
Berbatov's lack of inclusion in Europe in particular isn't without reason. I refuse to go down the route of calling him lazy, because I don't think he is. His languid style gives that perception but actually not only is he surprisingly fast but he works harder than most think. However, I think he's always struggled to fit into the various systems at United. That's not to say he's never worked in any system – against Blackburn when he scored 5 goals this year he worked well in a deeper creative role, rotating with Rooney.
With many of the continental teams and big English teams playing a variation of 4-3-3 United tend to match them when facing them, a system that Berbatov really tends not to excel in (despite a good effort away at Man City as a lone striker this season). Tevez however was able to fit in. Like Rooney, he was often deployed wide or rotated with who'd ever be through the middle in-game, usually Rooney.
His style is bulldoggish, he hunts and chases everyone down. Some will say that's because his touch is poor and he gives the ball away but I think that's doing a disservice to the amount of off-the-ball work he'd do for the team. He's better than just 'running and hounding' though – he is a skilful, inventive player who plays facing goals in a direct manner
The idea of team-play is something one should associate with Tevez. He spent his two years at United whilst Ronaldo was at his peak; during that time the team was built around Ronaldo, for Ronaldo. Tevez and Rooney in particular were sacrificed into playing roles for the sake of the team. The fact that Tevez seemed to lose the ability to score once in the final third therefore becomes somewhat insignificant as he was rarely played as a proper striker, and as we've seen, since being at City there's no doubting he's been not just their best player but their most dangerous goalscorer (as his instinctive flick in the Carling Cup at Old Trafford last year shows).
Ronaldo's departure would go on to see Rooney deployed as a proper out-and-out striker and the results were stunning. Meanwhile, Tevez has gone to Man City and played as a proper striker there with a team built for him and similarly he's done very well. Potentially had Tevez remained at United and played as part of a team in 09/10 that was set up for strikers with old fashioned wing-play, there could have been similar results for him too. That's exemplified in the fact that Rooney had a 66% chance of scoring last year when he started with Berbatov – a naturally deep striker (14 goals in 21). Yet when Berbatov didn't play, Rooney had an 87% chance of scoring (20 in 23). Rooney often played as a lone striker, something Tevez can do and has done a lot of this year very successfully. Put two forwards together who both thrive on a team who play for the strikers and hypothetically it could have been stunning. It would have even allowed Ferguson to rotate the two strikers in the lone role, something he doesn't really have the option of doing now.
Whilst Tevez's departure was messy, there's little to suggest the majority of United fans didn't want him to stay. Chants of "Fergie sign him up" would ring round Old Trafford for the last couple of months of the 08/09 season. Whilst the player may have had his say off the pitch, he played like a professional on it, always giving his all for United right up to his last game and that has to be massively credited. In a way one can feel some sympathy towards the way the club treated him – yes Fergie always said he'd only offer a deal at the end of the two years but Tevez probably deserved it sooner than that. That said, it was a hideous departure that leaves a sour taste in the mouth.
Many Reds like me feel a lot of bitterness and anger towards Tevez but there's no denying he's a very good footballer who did suit United even in a role that didn't suit him. In my opinion, and this is ultimately what swings the debate towards Tevez, he suits United much more than the elusive Berbatov who to date still doesn't quite 'fit' hence his non-inclusion in big games where a change of system is required. Tevez was a consistent performer, Berbatov provides bigger highs than maybe Tevez did but also many more lows than Tevez.
It's important to point out I do like Berbatov as a player. I like that he offers variation to what we have. I just feel the team tend to play better without him – not always but certainly recently we've been playing our best football with the Rooney/Chicharito pairing. My opinion on Berbatov changed actually – I used to almost dislike him and would continually be frustrated by him until I read this superb thesis by Nik – do have a read of it, it dispels many a myth about Berbatov.
However on this debate, I think Oliver Kay from The Times hit the nail on the head. I put the Tevez vs. Berbatov question to him, explained my choice of Tevez and asked who he'd choose:
"Good question. Tevez for exactly the reasons you mention. Berbatov's best contributions have been fantastic, but they are too infrequent, which suggests he doesn't fit the overall team plan anything like as well as was hoped. Ferguson must agree on Berbatov, otherwise he wouldn't leave him out of the big games so often. I'm sure he'll play in the odd big game in the final weeks of the season and make the odd big contribution, but overall he hasn't quite fitted in at United in the way the club would hope/expect."
Personally I think Tevez would have been a big success in the post-Ronaldo era at United either playing with Rooney or rotating the lone striker role with Rooney in a team built for forward play. That's a style that suits United, having out-and-out forwards. Regardless of every statistic I've provided, it's that reason why I'd choose Tevez over Berbatov for my team.
——————————————
Having read the debate, who do you agree with? It was never a case of one or the other to stay at United, but it makes for an interesting discussion. Do share your thought with us in the comments section below – any abusive comments will be deleted.