Manchester City vs. Manchester United FA Cup Match Preview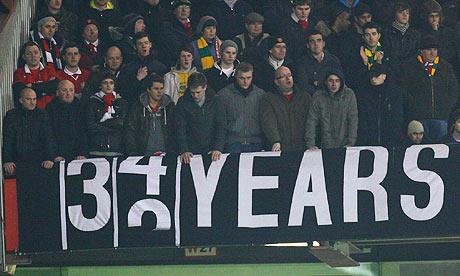 AUTHOR: – Doron
It's 56 years since Man City beat United in the FA Cup, that was only a 4th round tie though. You have to go back 85 years to find the only previous meeting in the semi-final of this competition between these two side – City were victorious, winning 3-0 at Bramall Lane that day. Sticking with the years theme, City will be looking to reach their first FA Cup final since 1981 to give themselves a chance of ending the 35 year barren spell; whereas for United, the competition's most successful side, a 4 year absence from the final would be ended. Oh, and these two sides happen to be pretty big rivals…
It's hard to analyse City's season so far, but I think it has to be deemed a success. More than £150m has been spent on new players over the duration of the past 9-10 months, it's impossible to make that work straight away – a squad needs time to gel. Therefore I think any expectations associated with winning the league this year would have been a bit premature. The aim was surely Champions League qualification which they have a real chance of achieving (so long as they play like they want it(!), themselves and Spurs seem to be doing everything possible to not get 4th spot).
The disappointing thing in my opinion was the Europa League campaign – obviously for United fans it was a source of amusement – but in truth it probably represented a great chance to win a trophy. That said if you focus on Europe, the league form may suffer.
There are plenty of individual positives – players who have stood out and shone; yet also plenty who haven't. It's the team, not so much individuals where frustration must lie for Blues. There have been too many silly defeats (particularly away from home) and 14 points from 48 dropped at home is just too many to be challenging right at the very top for now, especially given how tight the league is. Similarly City's results in the 'big' games haven't been up to scratch – I can understand that setting up not to lose can see 1 point won rather than 3 lost but sometimes you have to take the gamble and go for a win. I think part of that ties in with a lack of ability to be flexible in a system – it's the same criticism I've made of Wenger and Arsenal – they only really play one way… there isn't a plan B.
It's incredibly hard to judge the mentality at City at the moment. The news that Carlos Tevez would miss this tie and the next few weeks was met with an almighty grown and thoughts about this game immediately became pessimistic from their fans. Yet, this game should (and I don't mean this sarcastically) be massive for City fans; there should be sheer excitement about the prospect of potentially beating their rivals and making a cup final.
City themselves must be given some respect. Despite losing their talisman, top scorer and hated former Red Carlos Tevez, they have some players who have had very good seasons. Vincent Kompany has arguably been the league's second best centre back behind Vidic. Whilst in the midfield Yaya Toure has adapted to English football and is an important part of the team after a shaky start. David Silva in many ways has been one of the underrated buys of the season – he's looked an exceptional footballer and is often at the heart of City's best attacking moves. Silva's ability to float anywhere across the pitch is something United will have to pay close attention to, certainly for the first 30 minutes of the recent derby match at Old Trafford, he was allowed way too much freedom. Although Adam Johnson isn't likely to start I think he's an exciting young footballer and certainly would provide an interesting challenge for whoever plays right back should he come on.
The Blues have few new injuries ahead of this game; missing are – Given, K Toure, M Johnson, Tevez and Boateng. Micah Richards should be fit for his first game in three weeks whilst De Jong and Silva will be fresh having been rested for the 3-0 defeat at Anfield on Monday night. Who replaces Tevez will be key, Dzeko has struggled to regularly find the net since his move yet Balotelli has a short fuse but scores goals.
City will no doubt stick to the 4-5-1 formation that they've played all year. Having been so defence in that system at Eastlands earlier in the season it was a surprise to see them play that same way yet look positive and attacking a couple of months ago at Old Trafford. It goes to show the flexibility of the formation and Mancini will have a big decision to make in how he tells his team to play.
Monday was when City last played, so they will be one day fresher than United. They lost their last game, a crushing defeat away at Anfield and incredibly they haven't won away from home since Boxing Day. City's record against fellow Premier League teams in the FA Cup is not good, they've only won 2 of their last 7. To get this far they've beaten Reading, Aston Villa, Leicester and Notts County – they needed a replay to beat Leicester and Notts County though. Impressively, City have won 8 of their 10 previous FA Cup semi finals.
As form goes – City have been erratic, in the league it's only 7 points taken from a last possible 18, away from home in the league incredibly that becomes 2 from a last possible 18. In all competitions their form becomes 3 wins and 3 defeats in their last six games.
Enough on City though…onto United and my predicted line up:
What a time to be a United fan eh!? The club reached the semi-finals of the Champions League this past week and are 7 points clear at the top of the league. There are even mutterings of a potential treble – but before dreams can become a hopeful reality, this semi-final needs to be addressed. United are due some FA Cup success – it's 7 years and two unsuccessful finals since the last cup-final win, a victory over Millwall.
The problem with team selection ahead of this one is firstly the absence of Rooney (suspension) and secondly the matter of a tough away game on Tuesday against Newcastle. Firstly, the missing men: Amos, Lindegaard, Evans (suspension), Fletcher, Hargreaves and Rooney (suspension). Considering I expect City to play a 4-5-1, I think United will match them in a a fluid system. Ahead of Edwin, I've gone for the 'first choice' back four with the fit again Rafael replacing O'Shea – the only concern is that City have some big players so O'Shea's extra height could be needed. Rio said he'd be fit having shaken off a knock to the knee he picked up on Tuesday. Vidic and Evra are mainstays of the team.
The area up for most debate will be the midfield. I've picked a midfield capable of defending as a solid 5, but able to attack with men forward to support the lone striker. Valencia is fresh having not started on Tuesday and his battle with either Zabaleta or Kolarov could be key for both sides. In the middle, Scholes should start, he tends to play well against City, controlling the game. Alongside Scholes, the in-form Carrick I should imagine will be tasked with protecting Scholes and getting the ball to him at every possible occasion. On the left – Park – his energy and tactical discipline will go a long way to helping the midfield out. Ahead of the midfield, linking them to the striker, I've picked Anderson. He played this role against Arsenal and City this year and did well both times – he likes big games, so this could be right for him. It seems harsh to leave out Giggs and Nani but they'll provide great options on the bench.
Up front, I've selected Berbatov. He can do the lone strikers role – he lead the line well away at City in the league this year. His selection will be key to keeping possession but will also rely on the midfield to supply and help him. Chicharito may struggle on his own against a strong City defence and off the bench would be a dangerous option. One shouldn't totally rule out the possibility of a 4-4-2 and therefore a start for Chicharito or maybe even Owen.
United are on a run of 7 games won in a row and appear to have hit form at the perfect time. They are in fact only the 4th most in-form side in the league but the third most in-form away from home. So far to reach this stage in the cup, United have seen off Arsenal, Liverpool, Southampton and Crawley Town. It's a competition that has alluded the club since 2004 when a record 11th FA Cup was won. A win would see United make a 19th final in the competition – this is a record 27th semi-final appearance. If Giggs plays he may be a lucky omen, he's played in 7 previous FA Cup semi finals and never lost.
This will be the 8th meeting between the sides in the FA Cup. United hold a 5-2 advantage in the win column however, they have never scored away against City or at a neutral ground against City in this tournament. The most recent Cup meeting came in 2004 when United ran out 4-2 victors. In both 2004 and 1996, having knocked City out the cup, United went on to win it.
United have struggled for goals in the cup this year, just six in four games. However, they are 4 games unbeaten vs. their rivals and have only lost once (in the League Cup) since City were taken-over. This season United have drawn 0-0 at City but beat them 2-1 at Old Trafford and therefore have the edge in the head-to-head record. I believe that Tevez will be missed more than Rooney will be and that could be key. Both sides will be hungry to reach the final and 'get one over' their rivals. Therefore I shall predict a nervy 2-1 United win.
You can share with us your thoughts ahead of the match and your favourite moments from FA Cup games against Man City on our forum. You can read the City perspective on the game from our friends over at View From A Blue by clicking here.
These weren't FA Cup moments, but I doubt anyone will complain…
AUTHOR: – Doron
Further Reading:
– Manchester City's emphasis on a flat back four & getting the early goal