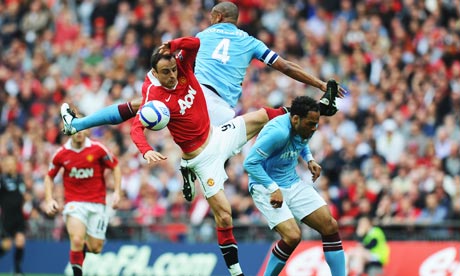 AUTHOR: – Doron
Manchester City took a step closer to ending their 35 year barren spell as they defeated United 1-0 at Wembley. Both teams were missing key strikers but the game was won in the midfield with an error from United, pounced upon by City. Here we discuss the Talking Points of the game and encourage both United and City fans to leave their thoughts on an intense game.
Talking Points
Small margins
The build-up to the game was all fairly odd. There was pessimism amongst City fans, nervous confidence amongst United fans, and the media had United down as favourites given form and the loss of Tevez. Form aside, it was always going to be tight. There was little doubt that Fergie would match City's 4-5-1 and given the games between the two sides already this year, this was hardly going to be romp for either team.
Games between United and City recently are seldom won by anything other than a moment of magic or an error. These fine margins are the difference between success and failure, today was no different. It was a shame that it was the combination of Edwin and Carrick – arguably two of United's two best performers both up to that point in the game and in recent weeks, that were at fault for the City goal.
The goal came shortly after half time yet United could have, and should have gone in ahead at the break. Fine margins again came into play as Berbatov missed two glorious chances – the second being pretty much an open goal. City ended up scoring the only goal after a poor kick from Edwin was badly controlled by Carrick. Yaya Toure pounced and finished well – from then on City were able to defend somewhat comfortably without truly looking threatening as their 2 shots on target suggests.
Paul Scholes
As Ferguson put it post-match: "he has these red mist moments and this was another one". Few will doubt Paul Scholes is one of the finest midfielders to play for United and England but he has moments of madness that seem to take over him.
Actually, Scholes had started well. His radar was very much 'on' and unsurprisingly United players were seeking him out at every opportunity. Similarly, Carrick was looking comfortable – a reassurance given that in the absence of Scholes lately, Carrick had stepped up giving the perception that he's better without Scholes. The problem in playing both Scholes and Carrick was a lack of thrust in the middle – until Anderson came on, this didn't exist.
Already a goal down, the game became even tougher with Scholes being shown a straight red card. Scholes may have had eyes for the ball but he was late, he was high and he caught Zabaleta flush on the thigh with his boot. It didn't really seem to change the pattern of the second half though – City were more than content to allow United to have possession in the centre of the pitch knowing that they had plenty of blue shirts back to defend.
The question now is, what next for Scholes? His suspension means he can't play in the league again until the 8th May when United host Chelsea. With one goal, this is Scholes's worst goalscoring season so far and as it stands would be only the 3rd time in 17 years that he's played less than 30 games a season (currently on 27). In a frank interview with the newspapers, Scholes hinted he's considering retirement with a testimonial game pencilled in for August. I don't doubt that Scholes is one of the finest players I've ever seen but he's often looked off the pace this year, if he did decide to retire he'd go out with his head held very high.
Berbatov, Chicharito and Rooney
Rooney's unavailability gave Fergie a selection issue. He was always going to match City's 4-5-1 so it was down to who was the '1' and who'd play behind him. He chose Berbatov with Park behind him. The problems with this were two-fold – when Berbatov held a high line no one really got up to support him and Park was dragged about by Toure and Silva hence not providing a link; however when Berbatov dropped deep, United's play became too cramped.
Berbatov, whilst guilty of missing excellent chances and fading in and out of the game, did little wrong. The issue lay behind him. This was shown when Chicharito came on – he held a high line, playing off the last defender, but like Berbatov, he had no link man close enough behind him.
What this highlighted was just how important Rooney is to United when they want to play a system with one striker. If Rooney plays behind the striker, like he recently did against Chelsea in the Champions League, he's unplayable. If Rooney plays upfront as a lone striker – he combines the best assets of both Berbatov and Chicharito to cause trouble and hassle the defenders throughout the game.
Against Man City, the best option may well have been a bold 4-4-2, against a physically strong defence a lone striker didn't seem enough. Going 4-4-2 would have meant being outnumbered in the middle though – a gamble, but maybe one worth taking.
Match Conclusion
Both sides had key selection decisions to make ahead of this game – Manchester City chose Balotelli ahead of Dzeko to fill the void left by Carlos Tevez's injury, whilst United went for Berbatov to replace Rooney. Berbatov nearly put United ahead early on – first he saw a one on one saved by Hart and then could only shoot over after Nani's cross saw him with a near enough open goal just 2 yards out. United seemed to be comfortable and dominant in possession with Vidic and Ferdinand comfortably able to deal with anything City threw at them. However as half time loomed, City had chances through Barry, Balotelli, Lescott and then Kompany as they finished the game on the up.
City started the second half as they finished the first – on the front food. Their dominance was rewarded after 52 minutes – the goal came from a United error. Van der Sar cleared the ball only as far as Carrick (25 yards out) whose touch was poor, allowing Yaya Toure to pick up on the mis-control and he steamrollered past Vidic before slotting the ball under the on-rushing Van der Sar.
United's response to the goal was somewhat anonymous. City seemed invigorated by their goal and lead by the outstanding David Silva, they could have scored two more soon after. Having fallen behind, United finally went to a 4-4-2 with Chicharito on for Valencia – he came on to see Nani's free kick hit the crossbar. United were then reduced to 10 men as Scholes went in high and late on Zabaleta's thigh – few could complain he deserved red. Despite further possession from United and only restricting City to two shots on target all game, United couldn't come close to an equaliser and it's City who progress to play either Bolton or Stoke in the final.
United now travel to Newcastle on Tuesday night in a must-win league game.
AUTHOR: – Doron