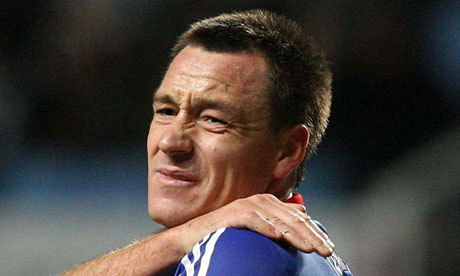 AUTHORS: – Bricki & Stretford-end
Every now and then we get involved in a Stretty debate where we look at a particular subject and offer counter arguments. This blog looks at the current England captain John Terry and whether or not Manchester United could use such a player in the side. Both arguments are honest and thought provoking and we welcome your comments on whether 'Manchester United need a John Terry'.

Bricki Says:
So John Terry is the England Captain once again. Watching his press conference with the media it was like he'd never been away from the role, but then has he ever been away from the role?
I am not a fan of Terry and find his 'alleged' behaviour in certain situations to be nothing short of disgraceful, however i do feel that he has become a natural leader of both Chelsea and England. I am purely looking at him for his conduct on the pitch and nothing else. He is one of the men that the squad looks to in times of trouble on the pitch, the man who throws himself into every tackle and challenge.
Which begs the question… how many players of this ilk do Man United possess?
Our Captain, Nemanja Vidic, is a player built in a similar mindset but while his performances on the pitch lead the way, does he back it up in urging others on? Getting the best he can from the players in his team?
It is not intended as a criticism of Vidic in any way, shape or form, in my personal opinion he should be a major contender for the leagues player of the year award. His style of captaincy though appears to be of the man who does his job to the highest standard he can and this is the motivator for the rest of the team.
If you were to take a look through the last 25 years of Manchester United and its captains you invariably find there was always a man who would lead the way. A man who would talk the talk as well as walk the walk, players such as Robson,
Bruce, Ince and Keane.
Everyone one of the players mentioned above was an excellent footballer in his own right but when the team needed leadership and needed that backbone for the battle ahead they were there. In all honesty can you see any of the current squad putting in a shift and showing the 'cojones' that Keane did in Turin? Playing through the pain barrier like Robson did almost every week? Or leading the way like Bruce did with his two goals in injury time against Sheffield Wednesday in 93?
Im not attempting to lambast any of the current squad, the fact we are still fighting on three fronts (and the favourites in two) is testament to a squad unity that is unrivalled in the Premier League. I still feel though that as we get into the quarter finals of the Champions League and Semi Finals of the FA Cup the difference here can be that extra 5-10% that the great leaders on the pitch can garner from their troops.
These players who are natural leaders and also blessed with enough skill to perform at the top level are very difficult to find. The fact we have had so many in the last quarter of a century is testament to a fantastic youth set up and scouting network that pulled these players in. Now though it appears that the only real leader in the leading teams at the top of the league is John Terry.
Have a think about why Manchester City were prepared to pay Terry and Chelsea so much in order to secure his services? In terms of his ability and age they could use the cash better by buying several younger players who can develop in part of the squad. The big thing they would have buying is his leadership and to act as the head of a very quickly put together set of players, creating the 'squad' mentallity we hear is vital to winning the big trophies.
Taking a look at Chelseas sudden dip in form in the middle of this season, they were missing for long periods either Terry or just as importantly, a fit and firing Lampard who has similar qualities to Terry in leadership. It has only been the return to fitness and form of both these players (and the introduction of David Luiz) that Chelsea have been able to claw there way back into a title race they should now be well adrift.
It is interesting to look at Ferdinand as a Captain before injury problems led to Vidic getting the permenant spot. Whilst Neville and Giggs had the armband when playing it was widely seen that Ferdinand was the captain in waiting. In that time we reached two Champions League finals, won one and also won three Premier League titles. It was Ferdinand rather than Gerrard who replaced Terry as England Captain after the tabloid allegations. Picking Ferdinand over Gerrard is also a big call when you take into account that by this time, Vidic was already wearing the armband for United and Gerrard was Liverpool Skipper. Gerrard has long been viewed as the heartbeat of Liverpool and is credited in many circles as dragging them back into the Champions League final against Milan. Again though it was through his personal performance on the pitch rather than his talking to the other players or 'motivating' them to continue.
If you were to count how many times it was Ferdinand as Captain who dragged United to results its not many. Think how many times you see Ferdinand talking and pointing on the pitch at his team mates however and its a different result. With his recent injury worries though its hard to see Ferdinand lasting a tough end of season run in, let alone a full season so where is that leader now?
A lot of what makes a great leader and a great captain is the mindset, the ability to get more not just from yourself but also others.
Miyamoto Musashi, was a legendary Japanese swordsman who in an era of duels to the death won 60 such battles. He produced a book on strategy and fighting called Go Rin No Sho (The Book of Five Rings). He devoted the entirety of his energies to the study of the sword and the mindset in training/combat of kill or be killed, there was no trophy, no second place, just living to fight another day.
This is the same attitude that John Terry today and previous Manchester United Captains have displayed when stepping out onto the pitch to battle.
This season we have drawn 8 games away from home compared with 4 wins and 3 defeats. In several of these games we have conceded late and lost points we should of acquired once in a 'winning position.
Would this of occured with someone with a ' John Terry' mindset who could get that last push from the players, that last 5/10% to get the job done?
With just such a person leading the way i'm convinced that we could have turned at least 2 of those draws into victories and be well clear in this title race.
Do I want John Terry the man? No
Do I want John Terry the Footballer? No
Do I want John Terry the Leader…? Yes!
Stretford-end says:
So what is the fuss with John Terry? An overpaid, sluggish embarrassment of a captain. They love him down the Kings Road, but I wouldn't want a player of his calibre, nor would I want a player who thinks it is acceptable to have sexual relations with a former team mate's wife. You may argue the fact that his private life has nothing to do with football, and you're right – it doesn't. However, as a captain you need to show that you are a leader, be responsible and set an example for your teammates – would you not agree?
As a player, John Terry is admired by the English public for his 'never say die' attitude, blood and thunder tackling and the fact that he would 'run through walls' for the Three Lions. The same player that was pulled all over the place by the excellent German frontline last summer in what was one of the most scintillating and impressive performances (namely from Ozil and Muller).
Perhaps if we, as a nation, were more overjoyed to see an Englishman produce a breathtaking piece of skill (Gascoigne perhaps), or a glorious cross field pass (Hoddle maybe) then we wouldn't have to endure all of those 'iconic' pictures of England players coming off the pitch with blood pouring from a head wound. Italy have Tardelli scoring in the final against West Germany, Brazil have Pele 'arms aloft' having opened the scoring for Brazil in 1970 – and England have Terry Butcher walking off a pitch against Sweden, head bandaged up.
This isn't a pop at Butcher, its more of a criticism of our society and how we believe the game should be played. I think them majority of us would agree that England have always based their game on the physical side of things, something that has seen then national team shown up time and time again over the past decade. Inability to keep the ball for long periods of time, adopting a direct style of football when time is running out and quite literally looking twenty years behind the time.
England's arrogance since the mid 1800s is hopefully subsiding and replaced with a little humbleness, hopefully looking towards adopting methods that can help to produce players that are far cry from the bruisers and workhorses that we have been subjected to over the years. The FA deemed the World Cup beneath them in the early days, not even competing until the 1950 tournament, and received a hammering from the Mighty Magyars 1953 led by Ferenc Puskás, Sándor Kocsis, Nándor Hidegkuti.
Back to John Terry and England's obsession with a player that couldn't lace the boots of Fraco Baresi, Jurgen Kolher, Jaap Stam, Nemanja Vidic, Ronald Koeman, Billy Wright, Booby Moore, Daniel Passarella (I think you get the picture). So what is it with England and Chelsea's captain that warrants £150,000 per week? Tell me as i'm curious to know. Perhaps leadership skills that can help lift his side? The same leadership skills that saw him more interested in turning his captain's armband around for the cameras to see 'who won the European Cup for Chelsea in Moscow' and then crying his eyes out on the soggy Russian turf? Those leadership skills?
Terry is a good a player, but nowhere near the great player many fans make him out to be. I've mentioned before that I don't care about players private lives (although if you sell your wedding pictures to a glossy magazine – as the Rooney's did – you can't have the best of both worlds), however as captain of club and country – you don't sleep with a team mates (or ex team mates) former partner. Imagine the captain of your Sunday side doing that? Is it acceptable? Urinating at bars, mocking American tourists following 9/11 and cheating on his wife. That is off the field – what about his distinct lack of pace against top forwards? You could even argue that he needs a good organiser (like Ferdinand or Carvalho) alongside him to perform well. Sure, United definitely need a player like John Terry.