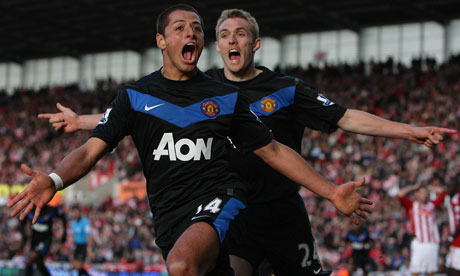 AUTHOR: – Herzog's Child
The initial disappointment was, to doomlordery's credit, quite merited. Plundering money on unknown quantities in the hope they'll somehow come good is about depressing enough, but spoiling your much-horded coins on a baby Donny Osmond was quite a new low altogether. That he couldn't play yet irked, too – how, otherwise, can minds be made up, and accusations of consistent fuckwittery be directed towards the OT hierarchy?
The impending World Cup, jutting into the horizon, would provide enough sorry material, it was explained. And so it did. Ridiculously suited – and aptly accompanied by an even more preposterous nick-name – the youngster beamed and unrolled the usual proclamations: the thing of dreams, so happy, yada. Sighs aired from the Eternal-Cynics Elitist Corp., while giddy enthusiasts infiltrated Youtube. Evidence of goals scored were produced and relayed repetitively as proof a gem was hooked. The cynics jousted back, with predictable tit-bits: shit league, he almost retired at 20, do one. Both sides, as the battle roared on, failed to be ensnared by reality; patience was a lost cause. The arguments between the fatalists and the fantasists proved dull once more. And then, of course, came the time for the World Cup. And then, of course, perspective loomed. And glee.
The acquisition of Javier Hernandez, in early April of last year, typified, in a way, United's transfer strategy. Constantly linked with scores – from the downright absurd to the absurdly delusional – unless they're linked consistently – ala Valencia, Hargreaves (*gulp*), etc., – signings often emerge out of the distance, rather than before the media's nose. United shuffle about their business with an odd, admirable silence, acquiring names they've often never been associated with. Ronaldo arrived after giving the United backline a run-around a week previous. Smalling was snipped from under Wenger's radar. Nani and Anderson both signed up in the space of a few hours, to the mass amazement of all. Ditto Vidic and Evra. And Bebe, a surreal catch – and a darkly suspicious one, if – *ahem* – rumours are to be believed – was pilfered not only on the sly, but from the streets also. Well, not quite. Nearly. For many, it's a risky, too risky, course of action, especially now given the financial restraints the club is so clearly under. Squandering large sums for pitiful returns is not an option. Reassuringly, the club has got many – most of whom are mentioned above – quite bang on. However, for a Ronaldo, there's a Bebe. Or a Tosic. Or Obertan. Or, perhaps, a Mame Diouf. So, therein lay the issue with the Mexican's signing: a suspiciousness, coupled with impatience, tags all new signings these days. An inexorable practise perhaps, but reality nonetheless. Patience fails to reign, so only true summations can be garnered over time. By then, of course, many a face becomes tinted in rouge. But everyone will bare a wide smile.
And smiles were, of course, bared – and still are, to United and Hernandez's credit, no less. Thanks to the advent of time, a true reflection on the little nipper's impact can be made. His cameos in South Africa, where he scored 2 expert goals, ensured pulses surged pre-season. Goals in America and Dublin continued to further the belief something was afoot, but it was in sunny August, as United eased past Chelsea, that something looked, well, right. The fact that it was his face – scuffed at from a stumbled toe – and not his foot that scored was of little consequence. It was the darting run, the ability to get the space – and, even, make light of the sheer hilarity of the goal which marked him down as a likely gem. Further acrobatics followed: namely, the deft header away to Stoke; a rarefied moment of opportunism which appeared, briefly, to transcend the laws of physics. And biology. Other moments – moments only the truly spectacular can produce – have followed. The swift trick and shimmy before finishing neatly against Wolves late on in the cup; that Sharpe-esque faint backheel against Stoke – all nurtured products possessed by football's dying breed: the predatory goalscorer. Ruud was our last, and only now do we come to realise how we've lacked once since.
Entrenched in all articles on Hernandez, the usual stories lie, none of which are needed to be relayed once again – at length, anyway. Most now know the stories: ponderings on an early-retirement; a hereditary profession, finally making his way, United's scouts feathering. Often, lazy assertions are branded on new talents, put there by those too reliant on cliché, too scared of originality. Parallels – another sorry bane – are consistently drawn with old players. Likening Hernandez to Ole Solskjaer does a disservice to both players in equal measure, even if it's just a compliment intended to highlight both player's much cherished labour to the red cause. Solskjaer – particularly outside the box – was a technically superior player. Hernandez, as exemplified in the examples above, appears more intuitive, a poacher who'll use every inch of skin to ensure a goal is scored. Comparisons are natural, of course – and will continue to be unreeled as Hernandez does what Ole so often done: win games, late on, particularly off the bench. But he's a new man, and thus deserves praise for his endeavours. Not possessing the combative force of a Rooney, or the unnatural skill of a Berbatov, the quick-fire little Mexican embodies, in his own way, the true United sense: pace, fearlessness, guile. And skill, too – though of a different kind: a honed ability to ghost, to reel away, to hold and fire on. His nature in the box is of a Houdini – an escape artist, primed to devastate with his final lasting trick: putting the ball in the net, from anywhere, using anything.
Footballers do not become fan favourites simply through quality. Didier Drogba, a devastatingly lethal striker, was once jeered by his own supporters for continuous cheating. Wayne Rooney, despite being one of United's integral sources of ammo, has ceased to be a favourite for many – one of the smaller prices a player will pay for flirting with the enemy. The hookers behind your wife's back won't help, too, of course, but many will bypass that. They won't, however, forgive waving your wand at City, as he did. It can't be forgotten. Indeed, it was Rooney's antics in late '10, which not only highlighted the futility of elevating rich fools into early gods, but also, too, those unlike Wayne, who slip under the radar by doing the preposterous – getting on with life privately, devoid of the shame so many bring. The only tale sourced from a sighting of Hernandez provoked a lengthy anecdote from a random poster on a non-football message-board. A quick Google of 'Hernandez supermarket' will provide one with the original story. The fact that many presumed the tale was falsified says more about them, and even more again about the reputation of footballers in general. Another poster, a fellow red, found him endearing, having met him traipsing through the Trafford centre. Accompanied by his extended family, all adorned in sombreros, the player put time aside to chat to the supporter, signing his name and posing for photographs. Securing Hernandez, from relative obscurity, for what now seems to be a miniscule fee, has turned out to be a shrewd experiment. The fact that, obscurely for a footballer, he smiles his way through his career, and appears to hold a genuine appreciation for his luck, has him down already as a contender for a United legend – a rarity now, as modern football dictates.
Crucially, Hernandez's impact on the field has been as exquisite as the manners he harbours away from it. His style is the embodiment of all potent poachers – mysteriously quiet for large proportions, and then – in a millisecond – his inevitable arrival with a goal. Such is his rare knack of finding impossible space, it's curious Hernandez doesn't appear out of a cloud of smoke when he does produce, such is the method of arrival for all magicians. His availability has provided a different outlet to what we've experienced in recent seasons. Often playing off the last defender, his astute reading of the game and hunger to shift away and provide space is a perfect compliment to both slow and quick build-ups. Strikingly nothing more than efficient outside of the box, Hernandez's fiefdom is the opposition's box; it is there, in the most key of all areas, that the touch is supreme, the space found, the finish so often on the end of a deft toe, a backward header, a heel, or – as shown – a smiley face. Our last punt on a South American striker was Diego Forlan – somehow who, despite the cat-calls for a resigning – was distinctly inept in his time at the club. Perhaps it was the scale of the mission – something which many who have the required talent undertake, but fail miserably to complete due to not possessing that other equally key necessity: the bottle to do it. Hernandez, one can already sense, relishes the grandest of all stages. A recent stat, proffered by an admiring Spurs supporter, revealed a telling tale of the youngster's imprint: he is one of only two players who have scored in the Premiership, European Cup, F.A. cup, League Cup and Community Shield in a single season. The other was a player who arrived on a huge fee with a huge reputation but failed miserably. One Andriy Shevchenko, as it goes.
During January's comeback culling of Blackpool, Hernandez skipped onto Bloomfield Road's ploughed field. Off, without even a crude verbal-expounding, came Rooney – a player who, at the time, was doing little or nothing to merit the contract he had unjustifiably earned. Played though, Hernandez missed a clear chance, shooting poorly when the need for a goal had never been direr all season. Moments later, Giggs plucked a ball and footed it forward. Hernandez, as he had done already, had created an area of space invisible to most strikers. The first touch, slight and aimed to trickle forward just far enough, was supreme. The low finish past the hapless Kingson was the kind only a confident, unfazed striker slots away. A goal, one notes, that would have been typical of our past destroyer, Van Nistelrooy. Predatory instincts rarely dissolve, as shown by Hernandez's header – albeit a futile consolation – on that grief-inducing slump at Anfield. To have such a talent at our disposal ensures that if those around him are capable of supplying the right feeds, he will, to a sound ratio, provide the last line of production – goals. His ability is the type we rooted out Michael Owen for, when we naively wagered on the notion he'd stay fit. He hasn't – and if not fully the reason, it is partially down to Hernandez's cementing of the role which will ensure our unloved one will be flogged come summer. No tears will well, of course – for the two obvious reasons.
Fergie's much espoused 'value' line has boomed badly since first ejected, and has, in some instances, been rightly subjected to derision for the fallacies behind his reasoning. However, gorgers of humble-pie as we all are, credit will rightly see its way to the boss and his team of scouts who sounded out our priceless poacher. There is a reason why cynicism prevails amongst many reds; it is simply a sad by-product of the great woes of Glazernomics. However, the shrewdness of acquiring Hernandez, sharking in before the other giants reared their heads, was an admirable and, moreover, promising piece of labour, which has paid off. In a season too often turgid, too full of shambling, puffing and chancing our luck, the sight of our little Mexican pounding the net and reeling off with a beamed smile has been one of the more pleasurable in a campaign too often tiresome. A league winner's medal would be an apt reward for someone who needed no time to adapt and adjust to the frenetic, often ugly, nature of English football. That his attitude has failed to recede into disappointment, despite having merited more starts than he's amounted thus far, speaks volumes of the kind of person, as well as player, we have within our ranks. There is an appreciation there, an understanding that it could have been so much less. It's a trait also found in our loveable Brazilian twins; those fearless whippersnappers, who play – in the most innocent sense – with no respect for any team. Hernandez is of the same blood; the opposition, in truth, is of little relevance. An abiding love for simply striding the field and playing like he's always done is his way. Our suited, babyish Donny Osmond, presented oddly last April, has done well. But he is a deceiver – for behind that beamed grin is a menace with potent weaponry. The Pea grows on.
AUTHOR: – Herzog's Child