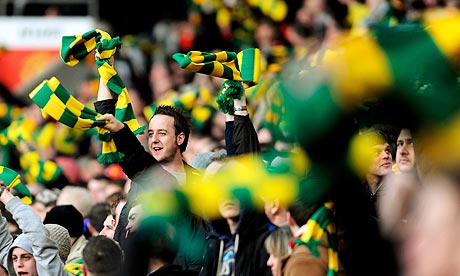 AUTHOR: – Bricki
We have again heard this week the argument about whether we can implement 'standing' sections into grounds instead of having all seater stadiums.
Both Manchester clubs have already come out against the idea and plan to keep both Old Trafford and Eastlands all seater.
However do we already in essence have 'standing' sections in Old Trafford?

I have a season ticket in the second tier of the Stretford End and i honestly cannot recall the last time i was sat during a game. It would be fair to say that the central area of the tier, front to back stands all game, every game. It used to be that stewards would tell fans to sit down and this would last until the next moment of 'excitement' which fans would use in order to stand again. This seems to have stopped all together this season and i wonder if the implementation of a standing area could be a way forward if you are having to deal with this every game.
What happens when a goal is scored or your team is on the attack? I'd wager that the stand you are in starts to rise and you end up with the vast majority of the crowd already on their feet. The only time i have sat down this season has been prematch and half time (well i am starting to get on a bit now).
I don't know if this is the norm in other grounds around the country but i would imagine most grounds have an area like this where fans are spending large parts of the game standing.
If this is the case and it is already occuring then would it be such a difficult task to tailor these areas in certain ways to allow the stewards/police to manage the fans there?
The terrible events like Hillsborough shocked the football world and should never be forgotten. The deaths of those fans have lead to better, safer grounds and also the chance for more women and children to attend games. Overcrowding, poor access and poor policing were issues that led to events like Hillsborough taking place.
With strict policing and management of numbers in the standing area is the time now right though to look at the standing issue again?
Unless we are going to see fans remain seated during games and stewards in all grounds not allowing persistant standing, would it not be wiser to provide the safest possible area for standing?
From a personal view i am happy to either sit or stand during games, i find more 'banter' between my fellow reds when we are stood but i appreciate having my own personal space as well.
If we have learnt the lessons from the disasters of years gone by though is it wise to just dismiss the notion of standing, or is it better to acknowledge that fans are standing already?
I don't think we have a 'correct' answer on this subject but the question needs asking and the debate needs having…