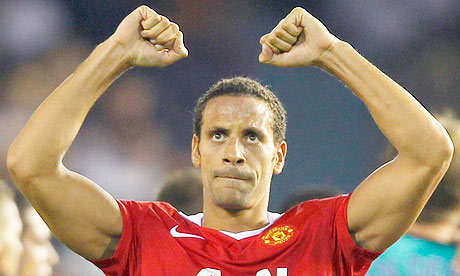 Sir Alex Ferguson once described a Paolo Maldini performance for AC Milan against Bayern Munich in the Champions League as "the perfect defensive performance" because the Italian "never once made a tackle". To carry on the Maldini reference, in 2008, Ferguson said Rio Ferdinand could learn from him and play until he is 40.
That was before Ferdinand suffered a spate of injury problems; whether he will make it to 40 is one thing, but yesterday he completed 90 minutes for the third time in a week, which is pretty remarkable for someone with his recent record. And while it's not quite true that he didn't have to make a tackle, and while it could hardly be said that Ferdinand was a colossus at the back at West Brom, his performance was quietly outstanding.
Allow me to qualify my own statement. On scoring the match ratings I gave Ferdinand a 7 – not particularly worthy of a description of "outstanding". On the face of it, there was little obvious he did to stand out. United sometimes seemed unable to cope with the pace and ingenuity of some of West Brom's lively forward play. I personally didn't think anyone was particularly culpable for their goal; maybe Patrice Evra's positioning from the initial ball could have been better, but sometimes you just have to hold your hand up and admit that the goal was a screamer and move on. Thankfully that's what United did and got three points but the stats that flesh out Ferdinand's contribution (3 "tackles", 1 lost, and 2 interceptions) are even more impressive when you take into account that covering the right hand side, Ferdinand was having to back up Gary Neville who was having a shocker.
It's how a tackle is defined that I wish to examine though. I wouldn't personally describe an aerial ball challenge as a tackle, but the Guardian chalkboards do and classify them as such. Helpfully they describe which are ground tackles and which are aerial challenges; for the purposes of clarification, I only really class those tackles made on the ground as actual "tackles", a challenge that relies more on fortune, strength and willingness to put your body on the line. Ferdinand's lack of involvement in these tackles is far from a stick to beat him with, as I'm about to explain.
Two of those three challenges were made soon after half time, (49th and 55th minutes) and were relatively high up the pitch for a centre half – a clear indication that Ferdinand was exerting his influence, doing something he wouldn't normally do to force a change in United's play.
Rio actually lost the one tackle on the ground he attempted; ironically, after Neville's withdrawal and in the deep right back position, and of course was culpable for the concession of the missed penalty – but of his other games this Christmas period, he only made one other tackle on the ground (at Birmingham, in the middle of the pitch), and won all 5 of his aerial challenges at St Andrews.
To go back to the Sunderland game, Ferdinand won 3 aerial challenges and made a very impressive 7 interceptions. If one were to summarise Ferdinand's style of defending you'd be on the money to describe him more of a reader of the game far more intelligent than he is given credit for, than a bruiser (the perfect foil for Vidic, then). He made two interceptions at the Hawthorns, high up the pitch. And interceptions, for a ball playing defender, are arguably far more impressive than a high number in the tackles column. There's a reason he rarely fouls or gets carded for challenges.
There was, of course, that late aberration, the anomaly in the argument with Ferdinand's late lost tackle (and, obviously, the surrendered penalty!) as West Brom chased the game – but "quietly outstanding" would be the perfect way to describe Rio's otherwise tackle free Christmas period.