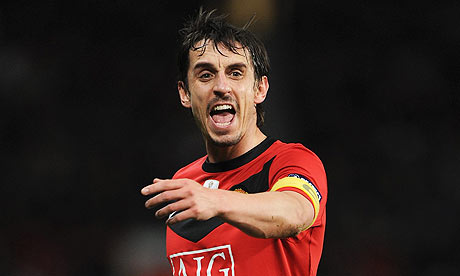 Even thinking of writing such a piece puts me in two minds. The finest right back in the country of his generation; a dedicated servant to the club who always give 100% for the shirt. Gary Neville is without question one of the finest servants in the clubs history so it is not without regret that I write this; but I believe Neville should retire so as to preserve the reputation that all his hard work through his career helped to create.
Contrary to belief it's not solely his on the pitch regression (which is saddening more than frustrating, nobody will feel that more than Neville himself) that leads me to this opinion. Neville has long since been identified as the player other clubs love to hate; but his behaviour towards the club over the last 12 months is only serving to tarnish his reputation before he's even left.
Last January Neville was outspoken regarding the Glazer ownership – making an unprovoked comment "It's nothing to do with us at all" which seemed bizarre and which we took slight umbrage with. At the time, he was club captain, which made the comment all the more strange – in our blog covering the comments we suggested he might feel it is connected to the players if, for example, Wayne Rooney left the club.
Rooney of course hasn't left – yet – but the way in which he publicly questioned the direction of the club to squeeze extra cash suggests that the financial situation is something very much to do with the players. Neville was strangely quiet over this scenario – to be fair to the defender himself, like Scholes and Giggs there has never been any real issue with contract negotiations, but he was speaking on behalf of all the players. Players who, despite the argument for "only paid what they're offered" and "they deserve what they get" (Sir Alex Ferguson himself said that the wages were deserved for the pressure the players are under at United), are still paid an obscene amount to not have any reasonable need for an extra £20,000 a WEEK when they already earn £120,000.
Away from the argument of whether players deserve the wages; Neville comes from an era where a player could be approached in a car park for an autograph and would stand for hours taking pictures and signing things. He has been viewed as the physical embodiment of the supporters' character on the pitch, a link that stood strong and had roots back to when footballers were at least in touch with the "working class roots" of the game.
Neville was seen as a sod by rival supporters; but he was OUR sod; giving Tevez the bird or "warming up" in front of rival supporters, he managed to retain the affection and high regard from supporters even as his on the pitch contribution dwindled. There was no question about retirement; much as with Scholes and Giggs, we left it to them to call it a day, grateful for their loyalty and service to the club.
The first seeds sown in the fracturing of a relationship came last January with his comments that seemed to conflict with all that we knew of him. No longer a honest voice for the supporter, more of someone out of touch. Neville's smacker for Scholesy at the end of the Manchester Derby was followed by a prolonged celebration in front of the away supporters. Neville, given a last hurrah, and having performed brilliantly, seemed to be soaking up the atmosphere one final time. It was a poignant moment.
It was a surprise that those scenes weren't followed by announcements of his retirement; but, as I've already said, there was no dissent among supporters. After all, that performance at Eastlands probably convinced Sir Alex and the player himself that he can be trusted in games of that magnitude.
Fast forward 8 months and it's probably already fair to say that it is a season too many. Rafael's emergence as the best right back in the league – arguably – has been a true highlight but only served to heighten the contrast in that ability and Neville's decline; painfully witnessed in the games at Stoke and West Brom. He wouldn't be harangued for performance alone but it becomes less forgivable when taking into account his behaviour. He's simply not the same person he was to the supporters anymore and for this he doesn't deserve the same level of unbridled support.
You might have heard the story about Neville's behaviour at the UNICEF charity auction dinner; a fan who attended approached the players and asked them if they would sign a shirt for his kid – all obliged except Neville, club captain at the time, who not only refused to sign (having been brought up by the club under the information to never refuse an autograph) but turned away as if the guy didn't exist.
In August I was told a story about Neville from a mate (season ticket holder, Rory – this is his Twitter), who flew over from Ireland for the Newcastle game. It just so happened that he was on the same flight as Neville – to not run the risk of paraphrasing, here is his first hand account of what happened.
"I have seen firsthand his dislike for signing autographs for people young and old. On the first day of the season as I waited in the departure lounge in Dublin airport with other united fans travelling to Manchester for the Newcastle game  I was aware of a bit of excitement occurring behind me.
I turned to see the reserve squad (who had played a friendly in town the night before) filtering down to where I was sat to fly home. The squad contained the likes of Fabio, Tom Cleverley and Magnus Eikrem, all young players with first team aspirations. It also contained Neville, but while the younger players posed for photos with kids and signed shirts pieces of paper, even tissues, the club captain took his blazer off and hid behind it hoping people would ignore him.
Some didn't and went over and a couple he reluctantly gave a quick scribble or a brief smile for a photo, and then returned to his financial times and coffee as if to signal that he was done for the day. This continued on the flight as well until one lady sat behind him poked him on the head and demanded he sign a sick bag. I've asked around and this has apparently been the case with Neville since his best mate David Beckham left in 03."
I'm not suggesting the damage done in the relationship between Neville and supporters is beyond re-conciliation or even that it's at the point where it's completely broken down. It is sad to see one of our legends ending his career in this manner, though, particularly when you see the likes of Scholes and Giggs and the graceful way they are seeing out their careers.
Neville may be personally frustrated with either the lack of opportunity to prove himself or his own regression; but from now until the end of the season perhaps it would be good if he was kept out of the picture altogether, given a last hurrah against Blackpool so we can say thank you and goodbye. That might be the best way to preserve his relationship with the supporters.