Manchester United vs. Birmingham City Match Preview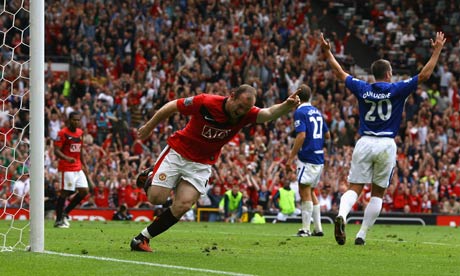 Two teams with contrasting fortunes go head to head at Old Trafford tomorrow. Birmingham are the visitors and they sit rather uncomfortably in 16th, just one point off the relegation zone and three points off the bottom of the table. This is a fixture that United should be comfortable with, it's 6 wins from 6 against Birmingham at Old Trafford in the Premier League.
After a fantastic season last year, Birmingham fans could be forgiven for feeling a bit deflated this time round. With a wealthy enough owner, the expectations pre-season were that with a bit of luck, Birmingham could kick on and secure a place in the top10. Instead, Alex McLeish's side find themselves a win away from the mid-table madness and a defeat away from potentially being bottom of the league. McLeish once played under Ferguson and he won't let the league position bother his players, a string of wins and the club will be much higher up again.
Sir Alex Ferguson was adamant he knew how Birmingham would play at Old Trafford in his press conference today, "five across the middle, hard working, they'll keep the ball well" – he might have a point. In the six Premier League ties at Old Trafford between these two sides, Birmingham have restricted United to just two goals a game, with the last two meetings both ending 1-0. This isn't a high scoring fixture at all and for Birmingham, just scoring would be a start. It's 29 years since Birmingham scored at Old Trafford, or 9 straight clean sheets for United.
As harsh as it is to say this, but Birmingham's current position reflects their current form. With only six points from their last six games, only four teams are on a worse run than Birmingham – two of whom are local rivals Aston Villa and West Brom (the other two are Bolton and Liverpool), this is not a good time for football in the Midlands. Surprisingly it's Birmingham's home form that is letting them down, their away form is above average in the league with 6 points taken from a possible 18 on the road in recent games. This undoubtedly shows the importance and the strength of playing home games. If Birmingham could improve their home form they'd shoot up the table. It's an ominous sign for Birmingham that not only are United top of the league but top of the form league and at Old Trafford they've won 10 from 11 in the league; excluding that one drawn game, United only concede once every two games. This will be every bit as tough as Birmingham suspected.
Birmingham have lost Dann for the remainder of the season – a huge blow as he'd built up a very strong partnership with Johnson. McFadden is the only other absentee. Birmingham have struggled to score goals this season so the addition of David Bentley on loan should help to create chances for their mis-firing strikers – one of whom, Cameron Jerome is returning this weekend.
Seb Larsson has been linked with a move away from the club but whilst he remains there he will be a key player for the Blues tomorrow. His inclusion is expected even though he's handed in a transfer request today. Alongside him in midfield, Birmingham will call upon Lee Bowyer who could be making his 450th career league appearance. Bowyer was lucky to not be sent off in the match at St Andrews a month ago; a game that United fans will remember for a late and very dubious equaliser that meant Birmingham got a point.
There is a chance that Alex McLeish may wish to rotate his squad a bit for this game. Birmingham have a big League Cup semi final second leg coming up on Wednesday against West Ham, a game which they trail 2-1 at the halfway point. Should McLeish consider a potential trip to Wembley more important than a league game at a ground where they have a poor record then a few surprises in the line up could be expected. Finally, Ben Foster makes his first return to Old Trafford since leaving in the summer. He's been in fine form for Birmingham but might get a rough reception after he criticised the United fans upon his departure for their anti-Glazer protests – I for one hope he gets a good reception by the home supporters.
Enough on Birmingham…onto United and my predicted line up:
In some ways this is a tough line-up to predict. Constantly in the back of my mind whilst picking it there is the awareness that we have a midweek away game at Blackpool to come on Tuesday.
Edwin in goal is simple, as is three of the back four. With Rafael missing through suspension there is a gap at right back. I've gone for his twin brother Fabio. O'Shea would maybe make more sense given his experience but we're always looking for a chance to play Fabio and being the versatile player he is, he could play easily in this position. Being at home and with the expectation that United probably will have more attacking to do than defending, this would be a good game to play him. I asked people on Twitter to send me their line ups for this game and a few hinted that they'd have Smalling over Ferdinand. Personally I think Rio will play tomorrow and on Tuesday, he has a chance for a break next weekend as I'm sure the team will be rotated for the FA Cup tie at Southampton.
The Blackpool game on Tuesday again gave me problems picking a midfield for tomorrow. Nani was poor against Spurs but came off early so I'm sure he'll start tomorrow. I can see Giggs being rested for Tuesday and maybe Obertan given another chance, especially after he scored three goals for the Reserves on Monday, albeit against Bury. The Carrick/Anderson partnership has worked well in the middle and I think that's what we'll see for this game. Anderson has been on the bench for a couple of games now and I reckon he'll come in, who partners him is the big issue. I've gone for Carrick as I can see Fletcher's energy being vital at Blackpool. The return of Paul "Sat Nav" Scholes (to take one of Rio's nicknames) is a big boost. I don't think there is a need to start him tomorrow, if we need him off the bench then fine. I do however believe he'll be important against Blackpool – his ability to control a game will be more than useful then.
Even upfront arguments can be made for starting Chicharito and Michael Owen who looked sharp against Liverpool. I can't however see Berbatov or Rooney being dropped. Certainly of the two, I'd have thought it would be Berbatov to be dropped, not Rooney, who looked our best attacking threat against Spurs last weekend.
As I've said before, in such a tight league United aren't really in the luxurious position to take risky rotations with the squad. With tough away games coming up, it's very important to get the maximum points from these games. This fixture is the start of a very busy few weeks for United. Southampton next weekend will prove to be a rare break for some players in a hectic schedule.
Recent form shows United sitting top of the form league with 14 points taken from a possible 18 in the last six games. At home, as I said before, the record is even better – played 11, won 10, drawn 1. Birmingham will of course be trying to remove the "unbeaten" tag from United – not that the players or staff seem too bothered by this unbeaten league run. Birmingham did actually win their last away game in the league and should they leave Old Trafford with maximum points it will be the first time they've beaten Man United in the Premier League era – to date they have beaten every other team currently in the Premier League since its induction in 1992.
Birmingham have never scored at Old Trafford in the Premier League – they'll try to break this duck at the 7th attempt tomorrow. It'll also be a big number 7 for Wayne Rooney should he play – Rooney has gone 6 Premier League games at home in a row without scoring now, one more will equal his worst run for three years. There is one other milestone for a United player tomorrow, Edwin Van der Sar could make his 300th Premier League appearance – good going for someone who made their first appearance in the league aged 30!
I think that regardless of which United side is picked, this is a game that should be a home victory. Birmingham's 5-man midfield will be designed to stop United rather than score and therefore I think this could potentially be a clean sheet for United. I therefore boldly predict a 4-0 win for United.
You can share with us your thoughts ahead of the match and your favourite moments from games at home to Birmingham on our forum.
Before I sign off, here is the Stretford-End.com betting info ahead of the game against Birmingham:
If you fancy a bet on this game, then with Stretford-End.com you get a special joining fee at Paddy Power:
Get a free £20 bet when you join
Man United Vs Birmingham City Betting Odds (correct at time of publishing)
Man Utd to win 2/9
Correct score markets:
1-0 is 11/2
2-0 is 9/2
2-1 is 15/2
3-0 is 6/1
or if your'e brave and are going with my prediction…
4-0 is 10/1
For United to keep a clean sheet you can get odds of 8/13
First scorer:
Rooney 13/5
Berbatov 3/1
Hernandez 7/2
Vidic 20/1
Anytime scorer:
Anderson 9/2
Fabio 11/1
If you think Berbatov may bag a hat-trick the odds are 9/1
Finally, if you think Own Goal may turn up again, the odds are 7/1