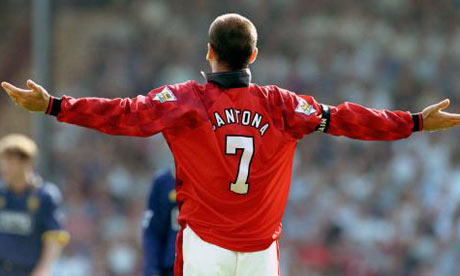 Today is the final poll for the Stretford-End XI. To complete our 4-4-2 we of course need to select two strikers. As with the recent polls, there will be two votes per person. The striker candidates are Jack Rowley, Dennis Viollet, Denis Law, Mark Hughes, Eric Cantona, Ole Gunnar Solskjaer, and Wayne Rooney.
While this is the final poll, we will continue to accept votes until 24 December 00:00 GMT. You may vote for any of the position until then. The previous positions are Goalkeeper, Right Back, Left Back, Centre Backs, Centre Midfielders, and Wingers. If you haven't voted for these positions yet, be sure to do so before the voting ends.

Jack Rowley
Third in all-time scoring for the club, Jack Rowley is one of only three players to score more than 200 goals for Manchester United. Rowley joined United in 1937 before World War II interrupted his career. During the war he was involved in the D-Day landings at Normandy, and following the war's conclusion he returned to United. In 424 appearances for the club Rowley scored an impressive 211 goals. Rowley passed away at the age of 77 in 1998.
Dennis Viollet
Just behind Jack Rowely in the scoring charts is Dennis Viollet with 179 goals in 293 appearances. Viollet was a member of the Busby Babes in the 1950s and was one of the survivors of the Munich air disaster. During the aftermath and rebuilding, Viollet managed to score 32 goals in 36 appearances in 1960. Sir Matt Busby unexpectedly sold Viollet in 1962 to Stoke. When he retired he moved to the United States and worked as a coach in Florida.
Denis Law
Few players earn the sacred "King of the Stretford End" title. In fact, Denis Law is one of only two players to be given that honour. He is the second all time top scorer with 237 goals in 404 appearances for the club. Law was named European Footballer of the Year in 1964 making him the first United player to win that award. He was a member of the 1968 European Cup-winning squad, but was unable to play in a final due to an injury. Law still holds the United record for most goals in a season with 46 in 1963-64. A statue of Law now resides in the Stretford End at Old Trafford to commemorate its first king.
Mark Hughes
During two spells with the club, Mark Hughes scored 163 goals in 467 appearances. Hughes played for United from 1980 until 1986 when he left for spells with Barcelona and Bayern Munich. He returned to Old Trafford in 1988 where he remained until 1995. In the 1990-91 European Cup Winners' Cup, Hughes scored twice as United claimed the trophy. Besides this trophy his honours with the club include two Premier League titles, three FA Cup titles, and one Football League Cup. Hughes is currently serving as the manager at Fulham.
Eric Cantona
The second "King of the Stretford End" is none other than Eric Cantona. He was an artist on the field and a philosopher off it. His charisma endeared him to the United faithful and he remains an icon in the club's history. Cantona was an important part of United's return to glory in the 1990s with 82 goals in 185 appearances. The quality of his goals was far more impressive than the quantity. His chip against Sunderland in 1996 was a stunning goal, and the celebration perfectly illustrated the aura he had. In the 1996 FA Cup Final, Cantona scored a spectacular volley against arch-rivals Liverpool which won the title. His honours include four Premier League titles and two FA Cup victories. Cantona said in 2004, "I'm so proud the fans still sing my name, but I fear tomorrow they will stop. I fear it because I love it. And everything you love, you fear you will lose." The fans continue to sing his name to this day.
Ole Gunnar Solskjaer
"And Solskjaer has won it!" It is a phrase that sends chills down the spine of any Manchester United fan. It was the 1999 Champions League final when Ole Gunnar Solskjaer achieved legendary status among the United faithful. In the dying seconds of the game with the Treble on the line, Solskjaer scored the winner after coming off the bench. He was one of the best super subs to play the game with a club record 28 goals off the bench. Overall, Solskjaer managed to score 126 goals in 366 appearances for the club. In the 2007, he announced his retirement and joined the club's coaching staff. A 14-year legacy came to a close this month when Solskjaer left United to manage Molde FK.
Ruud van Nistelrooy
The opposing 18-yard box was home for Ruud van Nistelrooy during his stay at Old Trafford. Van Nistelrooy was the perfect example of a poacher and astonishingly scored 150 goals in only 219 appearances. He currently holds the record as United's all-time top scorer in Europe. Van Nistelrooy scored more than 30 goals in three of his five seasons with the club, including 2002-03 when he scored 44 – the second most goals scored in a single season for the club. He left the club in 2006 for Real Madrid after five seasons. Van Nistelrooy is currently playing for Hamburg in Germany.
Wayne Rooney
The only current striker to be contending for a spot in the Stretford-End XI, Wayne Rooney has lived up to expectations after joining Manchester United as an 18-year-old in 2004. Rooney has represented United on 294 occasions scoring 133 goals. He has always been an important player for the club, but following Cristiano Ronaldo's departure in 2009, Rooney raised his game to a new level. In the 2009-10 campaign, Rooney scored 34 goals in 44 appearances as United came up just short in the Premier League. His honours with United include three Premier League titles, two League Cup titles, and one Champions League title. Rooney has failed to fully rediscover his form this season and has scored only twice, both from the penalty spot.
—————
Follow Kyle on Twitter at KDill_MUFC