Could Beckham return to United?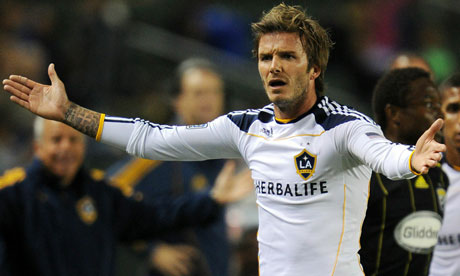 In the immediate aftermath of the Wayne Rooney fallout in October, I suggested the possibility of bringing back David Beckham in January for a variety of reasons. I'm the first to admit that the answers to some of the problems I suggested seem to have resolved themselves, so it was a great shock to see comments by the United legend today that intimated he wants to return to the club.
Oliver Kay of the Times said on his Twitter account that regarding a move back to Old Trafford, Beckham said "I am not holding my breath on that one, but we'll have to wait and see". 
Becks has had two largely successful spells at AC Milan but is unable to return to the San Siro due to roster issues. Real Madrid are unlikely to want to bring him back, which realistically leaves a move to Germany or England in keeping with his ambition to get "in with a chance of getting called up for England".
There is no public suggestion that United would move for him; but with Beckham himself re-iterating any return to the Premier League would only be for the Red Devils, it's as public a "come and get me" plea as he could have wished to have sent.
Do you think he could still do a job for the club? Discussing on Twitter, I feel the consensus is that he could – his set piece delivery is still above what we currently have, while with Valencia injured and Park due to leave on international duty, United could used a disciplined right sided player.