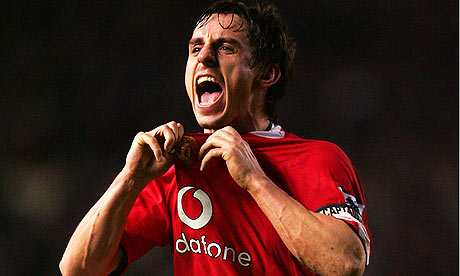 Yesterday we polled our readers for the best United goalkeeper of all time, and now we turn our attentions to the right back position for the Stretford-End XI. The four right back candidates for the Stretford-End XI are Viv Anderson, Paul Parker, Gary Neville, and Wes Brown. Some readers have called for Bill Foulkes and Denis Irwin to be included in this poll. However, Foulkes will be a contender in his favoured centre back position and Irwin will be a candidate in the left back poll.

Viv Anderson
After rising to fame with Nottingham Forest, Viv Anderson moved to Arsenal before becoming Sir Alex Ferguson's first ever signing at Manchester United in 1987. He is well known for being the first black footballer to represent England. Anderson moved on in 1991 just before United began a period of remarkable success, but there is no doubt he played a key role in the rebuilding process under Sir Alex. Despite making less than 100 appearance, Anderson still remains very involved with the club. He is still a frequent guest on MUTV and at United Nights.
Paul Parker
Following Viv Anderson's tenure at Old Trafford, Paul Parker was the next right back at Manchester United. Parker was a regular fixture at the right back spot when United won their first Premier League title under Sir Alex Ferguson in 1992-93. However, two seasons later Parker spent most of the campaign on the sideline due to injury. Sadly, that injury signalled the end of Parker's career at the top. He was replaced by Gary Neville as the first-choice right back, and failed to reclaim his spot after recovering. Parker left the club in 1996 and eventually retired in 1997 after brief stints with various clubs.
Gary Neville
Sitting at fifth place for all time appearances, Gary Neville has represented  Manchester United on 599 occasions. No right back has made more appearances in the club's illustrious history. Neville was part of the United squad during the club's most successful era, which included the 1999 Treble and 2008 Champions League. Neville was named captain of the club in 2005, and although the armband has since been handed to Nemanja Vidic, Neville remains the off-the-field captain. Neville's involvement has decreased in recent seasons, and it is widely believed that he will hang up his boots at the conclusion of this season.
Wes Brown
Though nowhere near having as many appearances as Gary Neville, Wes Brown has played an important role in the club's recent success. Also a one-club man, Brown began his career as a centre back before eventually switching to right back. He became the first-choice right back during the 2007-08 campaign when United won the European Double. It was Brown's cross that Cristiano Ronaldo headed for the opening goal in the Champions League final against Chelsea. His appearances have since been limited following an injury, and Brown has had to settle for a bit part role.
—————
Follow Kyle on Twitter at KDill_MUFC