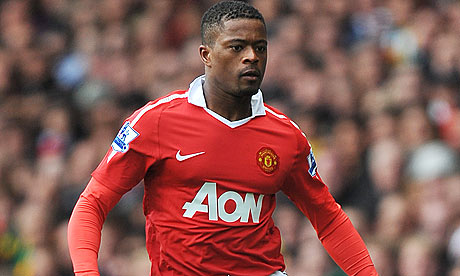 Peter Schmeichel and Gary Neville have each claimed a place in the Stretford-End XI, and now we turn our attentions to the other fullback back position. Each of our three candidates has played during a significant period in the club's history. The choices for left back are Arthur Albiston, Denis Irwin, and Patrice Evra.

Arthur Albiston
Though his accolades are dwarfed by those of other United left backs, Arthur Albiston was a loyal servant to the club from 1974 until 1988. The Scotland international represented United on 485 occasions, making him one of the top ten appearances makers in the club's history. He was part of three FA Cup-winning sides and was the left back when United won the Second Division in 1975, which was the last season the club was out of the top flight. Albiston now works for MUTV as a pundit.
Denis Irwin
Another player in the top ten for appearances, Denis Irwin played 529 matches for Manchester United. He scored 33 goals in his time at Old Trafford, which is an impressive statistic for a left back. Irwin played a crucial role in United's rise to success in the 1990s and was the club's left back when the Treble was won in 1999. Even in his mid-thirties, Irwin was the preferred left back for Sir Alex Ferguson. Irwin's honours include seven Premier League titles, three FA Cup titles, and a Champions League title. He still has close ties with the club working as a presenter for MUTV.
Patrice Evra
The club's current left back is our final contender. Patrice Evra joined the club in January 2006 for what proved to be a bargain fee, and in his first full season replaced Gabriel Heinze as the first-choice left back. A capable defender and an attacking threat from the back, Evra has become one of United's most valuable players. In his five seasons at the club Evra has been in the Premier League Team of the Year on three occasions. In the 2010 Carling Cup final, Evra captained the team to a 2-1 victory over Aston Villa.
—————
Follow Kyle on Twitter at KDill_MUFC