Birmingham 1-1 Manchester United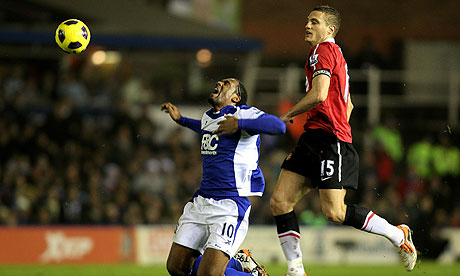 Birmingham 1-1 Manchester United
The last three days have summed up United's season – comfortable at home but edgy away. Though there were more than enough reasons to be aggrieved at this result, and though it could be argued despite a generally lacklustre display Sir Alex Ferguson's men had done enough within the laws of the game to earn three points, it was clear that the Red Devils will leave St Andrews with a lingering feeling that they could have done more.
The feeling will start with Ferguson whose selection was bizarre; just one change, enforced, Darron Gibson in for Park who had left for international duty. With Nani unavailable still, it wasn't a remarkably eye catching choice but one wondered what it would mean for the line-up. Despite United's recent good form involving a common theme – that being a Carrick/Anderson and Rooney/Berbatov axis in the front centre, Ferguson opted to shift it around, with Ryan Giggs out right, Rooney left and Anderson in an advanced support role to accommodate Gibson's inflexibility. 
This unfamiliarity clearly had an immediate adverse effect on the teams performance, though to the hosts credit it wasn't initially clear whether this was down to United's selection or Birmingham's own approach. With the hosts failing to really stamp their own mark on the game, however, it became evident that United's infrequent routine of creating half chances was probably self caused. Particularly in the first half, neither side looked like taking the impetus. Wayne Rooney, much maligned of late for a mixture of form and behaviour, looked most threatening – though that didn't say much – with a few long range testers for Ben Foster. Ryan Giggs did come close with a cross that was mis-hit and needed a touch from Foster to move to the post, but that was very much accident rather than design.
It was clearly wished among the visiting supporters – full of voice, as always – that Ferguson would say something that would cajole his troops into purposeful activity in the second period but that wasn't obvious upon re-commencement. And, in fairness, there was nothing to say it should have been. The argument for patience over urgency was put forward when Dimitar Berbatov struck on the hour to give United the lead; Craig Gardner had come close with a volley from a corner that tested – barely – van der Sar, before Berbatov struck. The Bulgarian forwarded a pass from Giggs with a classy back heel to Gibson. Gibson played it back to Berbatov, who evaded a challenge before firing in the near post. It was no coincidence, perhaps, that the goal came from a move that saw players in the positions that they maybe should have been in from the start; Giggs, from left deep, and Gibson being wide right before feeding Berbatov.
United's top scorer almost doubled his tally and the team's lead just two minutes later, when Anderson did well to play it in and Berbatov shifted his feet; 20 yards from goal, however, he could only hit the post. Birmingham's response was minimal; and Ferguson replaced Anderson for Fletcher in a clear move from urgency to containment, but there was simply no planning for the freak end to the game.
Nemanja Vidic might have secured the points from a Giggs corner had Ben Foster not spectacularly denied him, before Brum snatched an unlikely equaliser in the dying moments. It was unfortunate in both identity of the goalscorer and scenario of the event; the scorer being Lee Bowyer, who possibly shouldn't have even been on the pitch after a dangerous first half tackle on Gibson, and the actual goal having up to 3 causes for complaint; first, a clear handball by Zigic who headed it down to Bowyer, second, a foul in the same move by the giant forward, and third, the possibility of Bowyer being offside, which couldn't be confirmed or denied by any camera angle.
Of the tangibles to take from the game; it was clearly an error in judgement on Ferguson's part to start with an unfamiliar system given the form of the team. That Berbatov's goal was from a brief moment of random tactical re-alignment said much, but the form of Carrick, Anderson and Rooney – endearing for effort but clearly missing the system in which the interplay has flourished – was a cry for help from Ferguson that the legendary manager never heeded. With Gibson being the only change, it would have perhaps made more sense to have forced him to play an unfamiliar role than ask the same of three far more talented and in-form players.
United were unfortunate; that much can not be denied, but there are still positives to take from the game. Birmingham, despite their current position, are not easy to beat at home, and United can take heart from not really throwing the game away so much as not settling it (whether a team should aim for a 2 goal lead before they can say they have secured a result is a argument for a different time). There's a historical quirk that no team in England's top division in over 100 years has been unbeaten at the turn of the year and not gone on to win the league; they are top, separated on goal difference in front of a team they have played 2 fewer games than. Does this tell the entire story? No, because United's form has not been sensational for half of the season. But, it is an ominous sign that Ferguson and his players can point to rotten luck in this game as opposed to the suicidal characteristic of the team away from home in the earlier part of the season.
Ratings : Van der Sar 6, Rafael 7, Ferdinand 6, Vidic 6, Evra 6, Giggs 7, Carrick 6, Gibson 5 (Chicharito) Anderson 6 (Fletcher), Rooney 6, *Berbatov 8