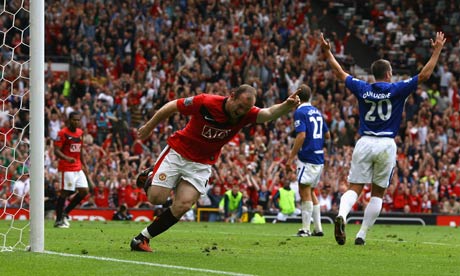 The festive program continues today with Manchester United's trip to Birmingham City. This is the second match of three in a week period, and rotation will be crucial if United are to come away with maximum points. United sit top of the table ahead of the visit to St. Andrew's and it goes without saying that three points would further secure their position in first place. Birmingham are hovering just above the relegation zone, but as with all matches this is not one to be taken lightly.

Looking at the table this should be an easy three points, but we all know that is rarely the case. Especially when there is so much fixture congestion and tired legs become a concern, no match can be guaranteed. Rotation will be necessary, but it is also hazardous to stray from a winning formula. There should be a few changes from the squad that faced Sunderland, but I wouldn't expect too many.
Ji-Sung Park has left for international duty with South Korea in the Asian Cup, so that's one enforced change. Park has been one of United's top performers this season and his absence will certainly not go unnoticed. On a more positive note, Darren Fletcher and Nani are expected to available for this fixture after missing out on Sunday. The obvious change would be Nani in for Park. I also suspect that Fletcher will come into the squad for Michael Carrick. Anderson has been the in-form midfielder of late, and his substitution against Sunderland suggests he is in Sir Alex Ferguson's plans for Birmingham. Ryan Giggs was also taken off in that match and I expect he'll also start today.
The defence has bounced back from its early-season mishaps and has been solid in recent matches. The experience of Nemanja Vidic, Rio Ferdinand, and Patrice Evra alongside the hugely-promising young Rafael has produced arguably the best back four in the Premier League. Edwin van der Sar should again be the man in goal, and should he need rest over this holiday period Anders Lindegaard should be available for the match against West Brom.
Dimitar Berbatov was substituted off against Sunderland, and with two goals in that game I suspect he'll have a big role to play in this one as well. Wayne Rooney played the full 90 minutes on Sunday, so look for him to be rested at St. Andrew's. Sir Alex has a more-than-capable replacement in Javier Hernandez, who is second on the club's goalscoring charts with seven this season.
There's no one player I can single out as a threat for Birmingham in what has been a disappointing season for that club. It will be interesting to see Ben Foster play in goal against us following his departure this summer. Foster was prone to errors last season with United and hopefully that continues today, not that I think we'll need any gifts to win this one.
While Birmingham shouldn't be underestimated, I also cannot see anything but three points for United. The squad seems to be finding their form, and recent performances have been promising. Momentum is certainly behind United going into this fixture and I think that will play a big part. As for my prediction, I'm going with 3-0 to United. Look for Berbatov to reach the 15-goal milestone today and Hernandez to bag himself a brace.
Yesterday's result at the Emirates means a win today would put United nine points ahead of Chelsea with a game in hand. Although I wouldn't completely write them off, that kind of gap could push Chelsea out of the title race. It seems Arsenal will be United's only serious contender in the Premier League, although a win today would make United the keepers of their own fate. The season is only half gone, but that record 19th title is looking more promising with each win.
—————
Follow Kyle on Twitter at KDill_MUFC