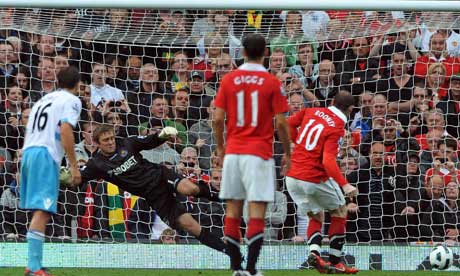 Manchester United's Carling Cup title defence continues today at Upton Park against West Ham. Only three matches stand between United and a third consecutive trip to Wembley for the League Cup final, and Sir Alex is urging his side to complete a Carling Cup hat-trick.  This will be the second time these two sides have met this season; United emerging 3-0 winners when West Ham visited Old Trafford in the Premier League.
United fans will be very familiar with West Ham manager Avram Grant. He was the manager of Chelsea when we did the Premier League/Champions League double over them in the 2007-08 campaign. His track record against United is clearly far from exemplary, and something tells me he may be slightly bitter. Ahead of the match, Grant claimed that Sir Alex Ferguson's squad was incapable of maintaining their unbeaten run. His comments come at an unusual time. United are fresh off a 7-1 demolition of Blackburn which saw them move to the top of the table. The squad is shifting up gears and show no signs of slowing down. Maybe United won't go undefeated this season, but I don't see Grant's side being the team to end the streak.
Sir Alex has set a precedent for using fringe and youth players in the Carling Cup, and I don't expect that will change against a struggling West Ham side. My predicted XI reflects exactly that. Rather than mention every player, I'm just going to focus some important players to watch. The first of which is Jonny Evans. The young defender has come under scrutiny for poor form this season. In fact, United's failure to keep a clean sheet against Blackburn was blamed on Evans being brought on for Nemanja Vidic. This is an important game for Evans to get his season back on track and win over the fans.
Two others in the predicted defence also deserve mention, but for a completely opposite reason. While Evans has struggled at the back, Chris Smalling and Fabio have been revelations. Smalling has been proving why Sir Alex was willing to spend so much on a young unknown, and should he continue to perform at this level that fee may very well prove a bargain. He truly appears to be Rio Ferdinand's heir-in-the-making. As for Fabio, he certainly was the unlucky twin. Rafael came in at a time when the right back slot was up for grabs, and he's taken his chances well becoming the first-choice. Unfortunately for Fabio, he had the world-class Patrice Evra in front of him in the pecking order. He's been getting more chances this season, and Fabio is showing us what a fantastic talent he is. Look for those two to continue staking their claim for more chances in the United back four.
The final two players to keep an eye on: Darron Gibson and Anderson. Most fans believe Gibson is quickly heading toward the Old Trafford exit. The Irish midfielder is running out of opportunities, so he needs to make the most of moments like this. The Carling Cup is a fantastic tournament for these fringe players to stake their claim for bigger games and Gibson is in serious need of a big performance. Speaking of taking your chances, that's exactly what Anderson did last weekend against Blackburn. The Brazilian was another midfielder that was believed to be nearing the exit, but was incredible over the weekend. It was a man of the match performance, only to be denied by the five-goal Dimitar Berbatov. Anderson may be rested after controlling the midfield on Saturday, but if he gets another opportunity today be sure to keep an eye on our Samba man.
Now we turn our attentions to the opposition. West Ham sits at the bottom of the Premier League table making them early candidates to suffer the drop in May. It comes as a bit of a shock, because their squad is better than their place in the table indicates. This team shouldn't be in the relegation battle, yet that's exactly where they are. The way this squad has underperformed is criminal. Unfortunately for West Ham, star man Scott Parker will play no part in this match as he suffers from a chest infection. A massive blow for West Ham. They've struggled with Parker in the side, so I can hardly imagine how they'll play without him.
Nevertheless, United cannot afford to relax in this fixture. We all know how the Carling Cup works; one loss and you're out. If West Ham comes out and puts in a season-best performance, that could be enough to knockout United. This happens all the time. Smaller teams raise their game in cup competitions and eliminate bigger clubs. Chelsea and Liverpool have both already been knocked out in this manner. Our players still have to be on edge and remain completely motivated to assure we advance to the semi-finals.
All things considered, I simply can't see past a United win. It may be a stressful encounter (honestly, what cup game isn't?), but in the end I expect United to emerge victorious. We've already beaten West Ham this season and I predict United to win 3-0 once again. Just for fun I'll also predict the goalscorers. This one may be a bit bold, but I'm going with Chicharito, Darron Gibson and Chris Smalling to get on the score sheet for United.
May our march to Wembley continue today at Upton Park!
Discuss this match in the forum
Follow Kyle on Twitter at KDill_MUFC