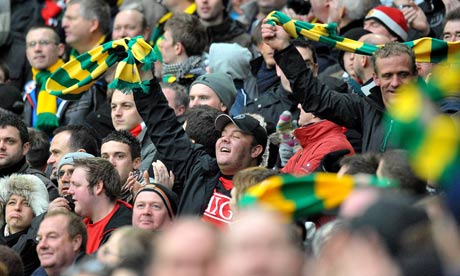 Before we play today, down the East Lancs one way and down the M62 in the other direction are two clubs all United fans should look at and take note. What's happened over the last few weeks in Liverpool shows no one is immune to financial pressures. Back in 2005 when the anti-glazer protests began and back in January 2010 when it kicked up again, shows fans of all types inside and outside of Old Trafford want the Glazers to move on. Its not just United with problems, many lower league sides have been struggling.

Top Football is generally run by Corrupt Owners, a Lazy Football Association and Greedy Premier League. The Premier League is generally known as "the best league in the world" or "the most watched league in the world" but the way they treat it you'd think they want to lose those titles. They've allowed Portsmouth, Liverpool and United to be taken over in the last few years though this 'fit and proper persons test'. This test allowed Shinawatra to take over City, a man in exile from his home country. If they allowed him to take over a club, after 2 other failed attempts of Fulham and Liverpool, just want does this test include? Am sure they'd allow Osama Bin Laden to take over Blackpool FC if given the chance. They've also allowed clubs to be taken over by unfit people and others who have never even been see to their new team play. Lets make this clear, Malcolm Glazer has never even been to see Manchester United play. This says an awful lot about the types of owners in football.
There are still some people who say 'we won the European cup with them' and the league '3 times'. Yes United did but was that down to them (the Glazers) or the players and management? I'd say the latter. There are also some people who say these people are good business men 'without' looking at their business history. Many businesses are built on debt but not football clubs. You put debt on a football club in the wrong manner and it will struggle. In the last 2 seasons clubs have been in trouble in all leagues of English Football. Administration has been the norm. Dundee United have gone into Administration just this week. As in the MPs debate a number of weeks ago, it was clear they believe there is a clear problem and something needs to be done. For the record it was the most attended debate ever and had MPs who are supporters of all types of clubs in the room. It wasn't clear what the final solution would be and no one should expect it over night but its the first important move.
DEBT is the word and the question isn't 'How do we get the Glazers out.' That's like asking what is the meaning of life, you'll hit a dead end. Its how do we as fans rise the profile of what they are currently doing to Manchester United. It should also be how we change football for the better in general. We protect football, we protect Manchester United. Many Liverpool fans will think 'Yes we've been taken over. Problems over.' They are back to square one. They are still owned by a single owner, an American and where has the money come from? If Glazer was to go and sell up, we don't want to be sold to a Billionaire, an American or some other investment firm. When that day comes, we as fans need to have pressured our MPs and our Government to make sure reform in football has already happened. This won't happen quickly but we need to make that ball roll and not let it stop. Malcolm Glazer was 82 at the time this article was written and there are 10,000s of reds in every age bracket who want the Glazers out. We have forever to fight, he has until his next stoke and that's not meant to offend anyone. All Reds Must Unite, Put Any Factions Side And Fight Clever. Your MPs local Office is your first port of call.
This blog was written by guest writer Andrew Simpson. You can follow Andrew on Twitter at @WEWANTGLAZEROUT.