Manchester United vs. Rangers Match Preview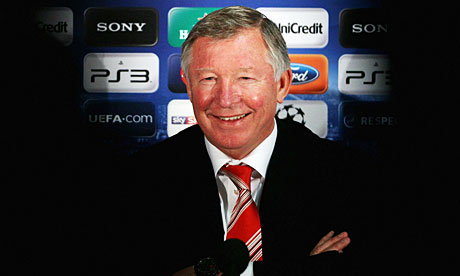 Rangers come to Old Trafford to open the Champions League campaign this year. As always being drawn with a Scottish team throws up the 'Battle of Britain' catchphrase. United will be eager to put the bitter disappointment of Goodison behind and will welcome back a fired up Wayne Rooney – Rangers have a 100% start to their own season and will have other ideas.
I find it very hard to be able to give a good assessment of Rangers. Coming to Old Trafford on a European night is a challenge much tougher than a standard game. There is always a buzz in the air that accompanies the expectations that United will put a show on. I tried earlier to pick out just a few of the exciting European games at Old Trafford from the past 15 years on our forum and it was a struggle. So I will look at who within the Rangers side could be a danger, I will assess their form and I will look at our two previous Champions League meetings. After that I will briefly assess where Man United are at and I'll have a go at predicting our line up and the score.
Rangers are currently lead by a former No.2 at United – Walter Smith. At present their Champions League squad is comprised mainly of Scottish players however of the four players I'm going to single out only one is Scottish. Kenny Miller has averaged nearly a goal every other game in his second spell with the Glasgow club. His reputation as an instinctive finisher is very apt this year. His league form has seen him start the season with 6 goals in 4 league games. He comes to Old Trafford having got a last minute winner at Hamilton last weekend.
Miller is likely to be partnered up front with a familiar face, James Beattie, providing they start with two up top. He joined this summer from Stoke and although he is yet to score in four games he'll no doubt put in a physical performance. Beattie's unpredictable nature in front of goal means that all it takes is one good cross and a giant leap for Rangers to snatch a goal. There is a chance that cross could be provided by someone who'll no doubt get a cold reception – Vladimir Weiss.
Currently on loan from Manchester City, Weiss has a growing reputation as a quick and tricky winger. He impressed when on loan at Bolton last year as he used his searing pace to trouble defenders. Add to that some skills and there is a raw talent. Should he start he'll provide a direct threat. In some ways he reminds me a little of Milos Krasic – the Serbian winger who now plays for Juventus but visited Old Trafford last year playing for CSKA. I thought he was the best player to come to Old Trafford all season, the directness of his running caused us problems all night. Weiss may not have that same impact but certainly he has the potential to excite the neutral.
The final player I'd like to single out is American, Maurice Edu. He's now starting his third year at Rangers and although not always a certainty to start he's had a very positive impact. He's a tough tackling, hard working midfielder. I wouldn't be surprised if it is his job to keep Paul Scholes or whoever our playmaker is, quiet. As a result we may well see a lot of Edu in the game as he chases our midfielders. He's solid on the ball and whilst he isn't a renowned goal scorer he endeared himself to the Rangers fans by scoring the wining goal deep in injury time in the Old Firm match last February – think Michael Owen against Manchester City – the Rangers equivalent of that.
As I said before, Rangers are unbeaten this year with four wins from four. They have however only kept a clean sheet on one occasion – they surprisingly conceded at home to both Kilmarnock and St. Johnstone. Their form though, has not been particularly good yet, they were lucky to get a win at Hamilton in the last game as they dropped deeper as the game went on. Certainly I feel that in order to try and get anything at Old Trafford they'll need to be bold – they won't be able to defend deep for 90 minutes.
The two previous meetings have both ended up as wins for United. At Ibrox a rare Phil Neville goal was enough for a tight win but at Old Trafford United ran out comfortable 3-0 winners. That game lives in my memory because of a brilliant Diego Forlan volley. United played a 4-4-1-1 away from home with Giggs tucked in behind Van Nistelrooy but went for a 4-4-2 at home in a game that gave Cristiano Ronaldo his first home European start.
This game provides Ferguson with the chance to rotate the squad again after the draw at Everton. A recall is expect for Wayne Rooney who will certainly be invigorated by a very vocal and supportive home crowd. Rio Ferdinand is in line to make his first start of the season too. As you shall see in a second I'm going to suggest a few interesting selections throughout the team. I will explain why but first, here is my predicted line up in a 4-4-2 formation:
I've put Kuszczak in as a surprise starter as I read somewhere recently that Ferguson was going to use the European group games to give him a run out and Edwin a rest. Whilst this may not be true, thinking ahead to Scunthorpe in the League Cup next week, I'd quite like Ben Amos to get a game and if Kuszczak doesn't play against Rangers he may well do at Scunthorpe.
In defence I've gone for Rio to partner Vidic as he appears for the first time this year. I believe Rafael may also get a look in. United tend to play offensive football at home in the group stages and this often suits Rafael. I expected him to be pushing for first choice this year and this game may provide a first opportunity for him this season.
The midfield I've chosen shows four changes from the Everton game. Ahead of such a heated game against Liverpool at the weekend and without Carrick this is a chance to rest Fletcher and Scholes who have been performing so well. Gibson needs minutes and Anderson fresh from two reserve games will be keen to return for the first team. The intensity of a European night however may prevent them being selected together but I'm prepared to suggest there is that chance. Finally I think Park and Valencia will play in the wide positions. Both had a rest at the weekend and might be given the chance to stake a claim for inclusion from the start against Liverpool.
I totally expect Rooney to return. He will be fired, pumped and focussed. Whilst Berbatov's form has been excellent, there is a chance for one of our other strikers here. I'd like to see Chicharito given a go with Rooney but Owen was often selected last year in European games and my gut just says he'll start.
Strangely and slightly out of character, United's early season form has been very good. Whilst there have been points stupidly dropped away from home many goalscoring opportunities have been created. I think Rangers may be in for a backlash after the weekend draw and the circumstances in which it occurred.
So I've gone for a strange United line up and have suggested that we face a Rangers team on a hot streak but not necessarily in-form. I think it will be tight for the first half tomorrow but with some game-changing substitutions I predict a Manchester United win by a 3-0 margin.
To read an interview with seasoned match goer, Dan Burdett, and see what he thinks about facing Rangers again, follow this link.
Discuss all the latest Manchester United news on our forum