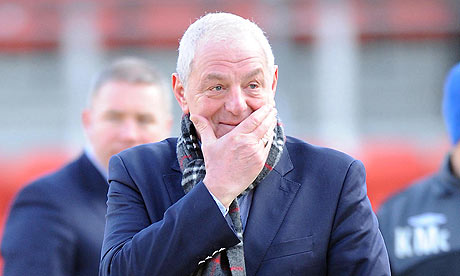 The last time Manchester United wrestled the title away from Chelsea, they opened their Champions League campaign against the Scottish champions at Old Trafford. Four years have passed since that last England/Scotland clash and identity of the opponents are the other of the Old Firm – the behaviour of the Rangers supporters in Manchester city centre in 2008 means that they will not exactly be welcome visitors on Tuesday evening.
In the second of our Euro Trips blogs, I caught up with Dan Burdett again to discuss his thoughts on our Scottish rivals.
Yolkie : So, Rangers. Having spoken to you during the draw I knew how disappointed you were with it. I saw a few United fans on Twitter quite happy with the draw but I instantly thought of the late spring of 2008 and how their supporters behaviour in Manchester City Centre. That must have been annoying for yourself, having seen the full journey of that season… how gutted were you about the draw overall?
Dan : Yes, I wasn't happy with the draw. I expect the club to progress to the knockout stages, but from my point of view they were not good away trips for United fans that travel around Europe watching the club. Our supporters have faced trouble in Valencia, Glasgow and Turkey on previous occasions. Also, visiting Rangers fans at Old Trafford won't be welcome either, after what happened when they trashed our City in 2008 when they were here for the UEFA Cup Final. Not only did they do this, but it also led to the victory parade through the City after our Champions League victory in Moscow being cancelled. Although I was lucky enough to be there in Moscow, it wasn't fair that those who couldn't afford to travel to Moscow weren't able to welcome the team back into the city as Champions of Europe the next day. No surprise then, that Gary Neville's planned testimonial against Rangers this summer wasn't allowed to take place, due to fears of more trouble, with thousands of Rangers travelling down here again 
Yolkie : You've previously been to Glasgow watching United. How did you find their supporters and how did you feel they were at Old Trafford in 2003?
Dan : I've been to matches at both Celtic and Rangers and there is no question that Ibrox is far and away the most hostile place to watch United play in. Until recently – Manchester United and Celtic were seen as having a good relationship, which clearly angered a lot of the Rangers fans. I'm, personally, not a fan of either team – so have no allegiance to either team. Celtic fans at recent testimonial matches for Ryan Giggs and Roy Keane were not particularly well behaved, due to their excessive alcohol consumption – not nice witnessing large numbers of their fans vomiting, urinating and collapsing in the street. The Rangers fans weren't as bad at Old Trafford I think – mainly due to the amount of tickets they were allocated (4000 approx) – which meant that the police were able to control their behaviour. A lot of their fans are genuine, loyal and clued-up fans – as is the same with Celtic fans – so it is unfair to label all of their fans. We've seen some complete idiots 'supporting' United on European aways, but Rangers and Celtic seem to have a higher proportion of these.
Yolkie : What memories do you have of our encounters in Scotland?
 Dan : My 1st visit to Celtic Park was in a Friendly Match in 1992 – to commemorate the 25th Anniversary of Celtic winning the European Cup – it was a Pre-Season match and the atmosphere was good and United fans were more positive again after blowing the league to Leeds United a few months previously. There were no problems with the Celtic fans that night – I remember I had my new United shirt with the lace-up collar on and didn't get any abuse. Subsequent visits there have been fine too, but the relationship between United and Celtic fans has cooled – playing against them in the Champions League in competitive matches will have added to this edginess too. 
By comparison, my 1st visit to Rangers was very different. It was in a pre-season tournament there in the summer of 1994 -featuring Rangers, Manchester United, Newcastle United and Sampdoria. It was played over 2 nights. The 1st night, Rangers lost to Newcastle United and United lost to Sampdoria on penalties. We stayed over for the tournament in Erskine, just outside Glasgow, getting the bus to the stadium. Once we got off the bus which stopped at Govan (where Sir Alex Ferguson was born) it was a short walk to the stadium. Straight away the atmosphere didn't seem right and we were getting funny looks (I had a United pin badge on – no shirt or scarf, but this was quickly taken off) from the Rangers fans. The idea of going into a pub for a drink was a definite non-starter.
The surprising thing was that there were loads of Newcastle fans there, with their replica shirts on, singing 'There's only one Kevin Keegan…' but the Rangers fans didn't see to mind them at all. It was United fans that they hated. Inside the ground the United section was nowhere near full – probably 300 of us there I think, so we would be outnumbered and not really heard. The Rangers vs Newcastle match on the first night ended, and next up was United vs Sampdoria. Virtually all the Rangers fans stayed in the stadium and the reason for this was clearly to abuse us and abuse our players. The match ended level and it went to penalties – which we lost – I remember Brian McClair (ex-Celtic player) missing a penalty and the abuse he got was shocking.
After the match we waited behind in the stadium for a bit, then kept our heads down. The next day, the abuse was even worse when we faced Rangers there – plus it was a bad match which we lost and Eric Cantona got sent off, after Steven Pressley wound him up. Bad trip and we were relieved just to get away from there afterwards.
Yolkie : Rangers are, of course, Fergie's boyhood club. United's Scottish cousins – as you indicated, probably due to the perceived goodwill between the clubs – would be Celtic given the number of testimonials shared between the clubs over the years, though, and we've faced both clubs in Europe's Premier competition this century. How would you compare the two clubs and in particular their supporters?
Dan : As I've said, the relationship between United and Celtic is in decline. No testimonial matches or friendlies have been arranged since Roy Keane's in 2006. Religion clearly still plays a part in the support of those two teams – no question. At matches you see loads of Irish tri-colour flags amongst Celtic fans and Union Jacks amongst Rangers fans. Although United sing songs about Liverpool, Leeds and Man City they are not on the scale of hatred and controversy as what Rangers and Celtic fans sing about each other. For me and a lot of United fans we do not look at Celtic as our cousins, although there are links between the 2 clubs. If I was to look out for any Scottish team (which I don't) it would be Aberdeen, with the links of Sir Alex Ferguson plus players like Martin Buchan, Gordon Strachan and a certain Jim Leighton too! The club have played friendlies up there in 1991, 1999 and 2008 too.
Yolkie : Aside from it being the "Battle of Britain" it's also the opening group game .. I've obviously attended my fair share, but you've attended the lot. Do you have any memorable opening group game experiences? I imagine Barcelona in 98/99 must be pretty special, unfortunately that's one I wasn't able to attend.
Dan : My favourite opening group game has to be Kosice away in 1997 – as it was a place we'd never been to before. If you count qualifiers for Champions League too – the all-time best trip has to be Dinamo Bucharest away in 2004 – we had a really brilliant time there, very different to some of the other European away trips we've done. Barcelona 3-3 in 1998 was a great match too. So many great memories – so fortunate to be able to watch a team like United.
Yolkie : Sure. I look forward to having a more in-depth chat with you regarding the Kosice and Bucharest trips. But, moving away from that; how do you feel about United being in the Champions League at all? I know we benefitted from entering despite not being champions of England in 1998 but I can't help but just feel the value of the competition is degraded a bit.
Dan : Yes, the competition has been devalued but that is how modern football has evolved, unfortunately. However, it's a compromise between that and a European Super League, which some of the biggest teams wanted, especially AC Milan and Silvio Berlusconi. I'd much rather have a Champions League in it's current format that the alternative Super League. TV Revenue, Advertising and Matchday Revenue are huge business and teams want to be a part of this. European club football has changed a lot – The European Cup Winner's Cup was cancelled and more recently the UEFA Cup was renamed as the Europa League, but is seen as much inferior to the Champions League. This is seen with our fans mocking Liverpool's participation in it – singing 'Thursday nights on Channel 5'.
Beyond all this big business and hype, what the fans want to see is great football matches and there is no doubt that United fans have seen some really great ones. The devaluation of the competition is the price we have to pay for this.  
Yolkie : And, despite my feeling of degradation of it, the expansion of the competition (and United's 90's performance in it) led to England getting more and more entrants. Chelsea were taken over in 2003 because of a last day qualification for the tournament and that changed the landscape of football; whatever rival fans say about United, the success has never been artificial. The sport may be "better" as a spectacle but in my opinion detracts from the value of it. People abuse the World Club Cup because it "lacks quality" but it's the truest, most pure test of its kind. Arguably more pure than the Champions League.. 
Dan : The World Club Cup has also undergone big changes, since it took over from the Intercontinental Cup – played between the Champions of Europe and South America. The current format of this has improved greatly from the one-off world Club Championship which United took part in, in 2000. That was not a success, especially for United. 
This is a test, but so far, the Final has always been between the European and South American Champions (a replay of the Intercontinental Cup). So, in one way I agree with you – the Final is a true test at the moment. If the other continents can become more competitive and reach the final in future years, then the tournament as a whole will be a true test. No disrespect to the other nations though, especially the Asian teams who have shown great improvement in their standards of football in the last 10 years.
—-
Thanks again to Dan for sharing his experience. You can follow Dan on Twitter.