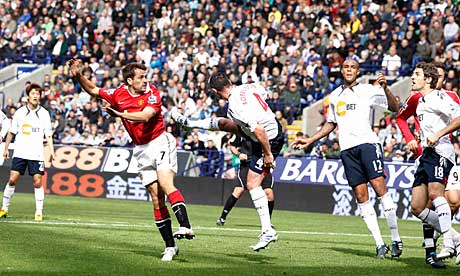 The trauma of being three points off the leader in the race for the Premier League is just too much for some Reds, especially given the below par performance of the side away at Bolton today. United looked nervy at the back, with Elmander and Davies causing problems for both Nemanja Vidic and Jonny Evans – a far cry from the 4-0 drumming United handed out last season. Many people may point to Evans as the guilty party, however if Patrice Evra stays on the post – he clears it. The second was a quick counter attack from Bolton, a far cry from their usual direct outlet, and Fletcher was powerless to stop the ball deflecting off of him.
Although a 2-2 draw may seem a disappointing result considering our dominance last season there, previous Premier League starts compared to this term may surprise you.

Firstly, lets get onto this seasons start. It has been disappointing away from home – no doubt. We had a chance at Fulham to go 3-1 up, but missed a penalty before conceding an equalizer late on. The horrendous implosion against Everton will no doubt be a fixture we will look back on all season, considering how we could have extended the lead further and now the loss of two points when both Chelsea and Arsenal dropped points yesterday. There is no doubt that we should have accumulated more points by now, however looking back at successful seasons – we aren't doing too bad.
After six games we have twelve points from a possible eighteen – all lost away from home. Below us a list of season starts over the years that you may find interesting:
95/96 – 15 points – 3 home games 3 away games (Premier League title and FA Cup)
97/98 – 16 points – 3 home games 3 away games (Nothing)
98/99 – 11 points – 3 home games 3 away games (European Cup, Premier League title and FA Cup)
01/02 – 11 points – 3 home games 3 away games (Nothing)
02/03 – 8 points – 3 home games 3 away games (Premier League title)
03/04 – 13 points – 3 home games 3 away games (FA Cup)
06/07 – 13 points – 3 home games 3 away games (Premier League title)
07/08 – 11 points – 3 home games 3 away games (European Cup and Premier League title)
09/10 – 15 points – 3 home games 3 away games (League Cup)
Now i've picked these seasons (where we've won something) at random, as I know someone will pick me up on the order of it and I welcome any discussion on this. We've got more points that in 98/99 and 07/08 where we won both the League title and the European Cup, whilst we have less points than we had in 97/98 and 03/04 where we won the FA Cup (in the latter season). The point of this exercise is to demonstrate that although it is disappointing as on a few occasions this season it appears that we have 'thrown away' some points to teams we should beat – however football has a funny way of working out. Beckham scoring a last minute freekick in our opening fixture in 1998 is a far cry from Ole sliding on his knees in the Nou Camp ten months later isn't. Disappointing, but not all doom and gloom yet.
Bolton wanting it more
I don't know if 'wanting it more' is the right title to use, however if you compare the 'headers won' from last season compared to today – it makes some interesting reading. Below is Edwin Van Der Sar's distribution (mainly from goal kicks) last season (when we won 4-0):
If you compare the above passing stats to his stats today, you'll see that United only won a single header from his goal kicks:
So why weren't we as competitive as we were last season there? Gary Cahill was playing last season aswell, who you could argue is better in the air than Ricketts. United's setup was more 4-2-3-1 last season, however should we have competed more for headers from Van Der Sar's distribution? We won seven times more headers in 09/10 vs. Bolton than we did today. If we look at the inverse and see how we dealt with Bolton's direct setup, it shows we struggled much more than we did last term. Below are Jussi Jaaskelainen's passing stats:
The majority of his passes were won by Elmander or Davies, with Jonny Evans and Vidic losing out, although based upon the stats above, it would appear that Evans was being targeted more so than Vidic by Jaaskelainen's long balls. In comparison to last season, where Vidic and Evans both played – you'll see a much different picture:
Although Jaaskelainen did attempt more passes (all long balls) the ratio for successful to unsuccessful passes shifts dramatically. Bolton's style means that they will, or should, win more headers from their direct approach than they lose. Elmander and Davies are big strong players, who do attempt to bully defenders around – with Davies being the main focus.
This isn't a criticism of their style, it is just an observation of the two conflicting graphs above. It is perhaps ironic that both goals didn't actually come as a result of this approach, however it could well demonstrate why United failed to convert all three points. There is no doubt United played the better football (outpassed 373:181 also) and were the better team, in the first half at least, but did Ferguson's men compete enough and adapt to Bolton's style? What are your thoughts on this theory?