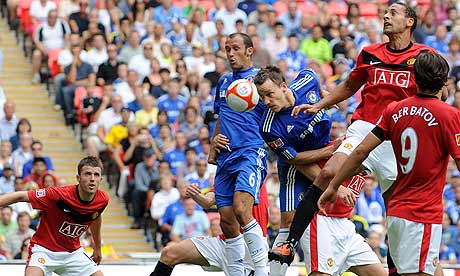 As the curtain raises on the Premier League season, Stretford-End.com takes a quick look at the correlation between our performances in the Charity/Community Shield and our fortunes in the Premier League season that followed.
1993 : Arsenal – D 1-1 (Win on penalties)
Mark Hughes scored in the first of a record four consecutive trips to Wembley; mouth of the south Ian Wright levelled before Peter Schmeichel netted the winning penalty. United went on to win their first ever league and FA Cup double, with Eric Cantona in imperious form.
93/94 trophies : Premier League, FA Cup
1994 : Blackburn – W2-0
An Eric Cantona penalty and a Paul Ince overhead kick put closest challengers Blackburn to the sword – but Cantona's suspension for the kung fu kick in January handicapped the back to back champions and Rovers, bankrolled by Jack Walker, went onto win the league by a single point. United got to another FA Cup Final but lost to Everton.
1994-95 trophies : None
1996 : Newcastle – W4-0
"Cheer up Alan Shearer" sung the United supporters, buoyed by their double success the previous season and unwavered by the Geordie's knockback in favour of his hometown club. Goals from Cantona, Butt, Beckham and Keane shattered Newcastle's pre-season confidence and United duly romped to a 4th title in 5 seasons, although the club were rocked by Eric's post-season retirement.
1996/97 trophies : Premier League
1997 : Chelsea – D1-1 (win on penalties)
Former United legend Mark Hughes put the Blues in front in the first of a series of Charity Shield encounters between the clubs, before Ronny Johnsen levelled with his first goal for the club. The Reds scored all of their 4 penalties, with Nicky Butt netting the crucial one. Injuries severely hampered trophy hopes this season as Arsenal won a domestic double.
1997/1998 trophies : None
1998 : Arsenal L0-3
United had signed Jesper Blomqvist and Jaap Stam and had their eyes on a top forward but they were hammered at Wembley by the league champions. Nicolas Anelka's pace caught Stam cold, spinning the London media into a pant-wetting frenzy, but this was to be a momentary hiccup for the colossal Dutch centre half. 1998/99 of course was the best of any club in the history of British football, as Fergie led us to a league, Champions League and FA Cup.
1998/99 Trophies : Premier League, FA Cup, Champions League
1999 : Arsenal L1-2
Dwight Yorke was credited with the goal though David Beckham's freekick crossed the line to give United the lead; but Arsenal overturned the deficit with a Ray Parlour winner late on. Yet again a Gunners success was the prelude for a United league trophy, as the Red Devils became the first ever English team to win the Intercontinental Cup.
1999/2000 trophies : Intercontinental Cup, Premier League.
2000 : Chelsea L0-2
United's third consecutive loss in as many years was, yet again, the catalyst for a Premier League success, again wrapped up by Easter.
2000/2001 trophies : Premier League
2001 : Liverpool L1-2
Unfortunately, this latest loss did not ultimately inspire a league success as United finished third – their lowest position in the Premier League years – but the game can be remembered for Ruud van Nistelrooy's 1st goal in 150 in Manchester.
2001/02 trophies : None
2003 : Arsenal D1-1 (win on penalties)
Mikael Silvestre scored with a thumping header against his future club just before Henry equalised; Tim Howard, on his debut, was impressive in the shootout and Diego Forlan netted the winner from the spotkicks. Handicapped by the FA's ridiculous decision to suspend Ferdinand later in the season, United couldn't retain the title although they did win the FA Cup.
2003/04 trophies : FA Cup
2004 : Arsenal L1-3
Very much a United side in transition – Fortune at left back, O'Shea at centre half, Djemba Djemba in midfield, David Bellion wide right and a substitute appearance from Spector among others were never going to be a match for the reigning league champions. Alan Smith's spectacular goal was the only bright spot in an otherwise bleak day which set the tone for an ultimately underwhelming season.
2004/05 trophies : None
2007 : Chelsea D1-1 (win on penalties)
Ryan Giggs' first ever Wembley goal gave Manchester United the lead; Chelsea's winger Malouda levelled. Van Der Sar was stunning from the spot as United won 3-0 against their West London rivals; the season would end in similar fashion with Giggs and van der Sar crucial in a shootout against the same rivals in Moscow to win the Champions League. Giggs also scored the goal that wrapped up the league title, in Wigan.
2007/08 trophies : Premier League, Champions League
2008 : Portsmouth D0-0 (win on penalties)
A dour game was settled by spotkicks in United's favour for the fifth time and preceded a season where the club built on the success of the previous year to win the Premier League for a record equalling 18th title as well as a League Cup and the World Club Cup. But for Dimitar Berbatov's lazy penalty and Darren Fletcher's wrongful suspension, Fergie could have been leading the club to their best ever season as defeat in the FA Cup semi final and the Champions League Final left United so close yet so far from unprecedented success.
2008/09 trophies : Premier League, World Club Cup, League Cup
2009 : Chelsea D2-2 (lose on penalties)
Shock, horror! United lost their first penalty shoot out in the curtain raiser in the Premier League era with Giggs and Evra missing from the spot. Nani had given the Champions the lead before Chelsea equalised thanks to some very generous officiating. The lead was attained in similar fashion before Wayne Rooney levelled at the death; dodgy refereeing cost United in the teams' other head to heads that season and ultimately put paid to the chances of winning a 19th league title. United did however do something they had never done in their history; retained a cup trophy by defeating Aston Villa in the final of the League Cup.
2009/10 trophies : League Cup.
So, what do we learn from this bit of fun?
Appearing in the Shield 13 times since the Premier League began, Manchester United have won trophies 9 times in seasons starting with an appearance in the Charity/Community Shield.
7 appearances in the Shield have been followed with league title wins; but we have only won trophies 5 times after winning the Shield.
Only 2 times have we lost the Community Shield and gone on to win nothing the following season; only twice, too have we won it and failed to do so.
While a little bit of interesting information can be attained from that, there is no definite indicator that success or failure in the Shield will accurately predict United's chances of winning the league. Four Shield wins have been followed with title successes; three losses (those 98-00 consecutively) were followed by successes, too.
We can probably come to the conclusion that with the last 3 winners of the Community Shield going onto win the Premier League, there is form there and a good deal of momentum and belief. Based on this recent history, too, we could reasonably come to the conclusion that a win on Sunday may inspire the team towards success later in the season.
Either way; you can take what you want, there is no definite pattern to highlight. Ultimately, it's just a bit of fun – the winners (hopefully us) can gloat, the losers can console themselves in the knowledge that it proves barely anything.
Bragging rights might count for a lot, though; and if last season's showpiece is anything to go by, the refereeing decisions (Andre Marriner, if you were wondering) might just find themselves repeated when it comes to the real business.