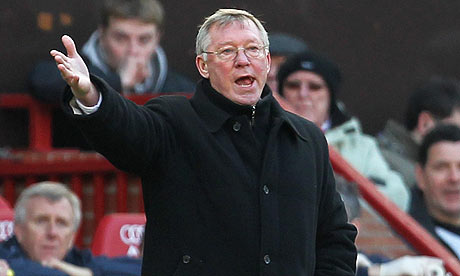 It is that time of the season again when we all get ready for a 'friendly' game that is the traditional season opener after a summer starved of Manchester United. Sure, the season doesn't really kick off until that Monday night fixture against newly promoted Newcastle United, however there isn't a Red that won't be getting excited about the new season. Sunday's fixture against Chelsea won't give an indication of who will win the league, however it will be nice to get one over the South London side who have failed to win any of their last three friendly matches.
Michael Carrick, Patrice Evra, Rio Ferdinand, Anderson and Owen Hargreaves will play no part in the fixture on Sunday, whereas Chelsea are without Petr Cech, Alex and Jose Boswinga. Chelsea's main man Didier Drogba will start on the bench – which means an attack consisting of Anelka, Kalou and Malouda, who impressed immensely last season. Sir Alex has stated that Sunday is 'all about fitness' – which of course will be very true for the likes of Wayne Rooney and Antonio Valencia, who both played in the mid week friendly. I never think that friendlies are an indicator for how a season will go. I remember United beating Celtic, Juventus and Barcelona one summer, with Ruud Van Nistelrooy scoring a beautiful volley against Juventus – but we were far from our best when it actually came to the real action and lost out to Arsenal for the title.
The opposition – Chelsea
Some fans claim that last season's champions were poor compared to the standards set by previous winners – something that I would have to argue is a tad unfair. One of Chelsea's biggest mistakes was letting Jose Mourinho depart back in 2007 and the ex-Chelsea manger came back to haunt them in the Champions League last season. However, Internazionale went onto lift the European Cup for the third time in their history and 45 years after the last victory. So defeat to the European and Italian Champions isn't something that I would consider 'poor' – just that the tactically better side won over the two legs.
Domestically, Chelsea scored 103 goals in 38 games (an average of 2.7 goals per game compared to United's 2.2 goals per game). Of course, Chelsea notched twenty one goals against Aston Villa, Stoke and Wigan but snatching maximum points over the 2008/09 "big four" in Arsenal, Liverpool and United is impressive. Didier Drogba is obviously a massive, massive player for Chelsea and his 29 domestic goals were a big factor in Chelsea's title win. His absence will of course make the jobs of Vidic and Evans (probably) very different from the strength and power they would have faced from the Ivory Coast front man. Yep, he is player that frustrates all fans (including his own) with his simulation, constant diving and petulance – but when he is on top form I think he is one of the best in the business.
When United traveled down to Stamford Bridge last November, we at the Stretty Rant were quite confident that United would compete with Chelsea and possibly snatch a win. We predicted, more or less, the line up and system that Ferguson would opt for
and if this were a league match, I think Fergie would again go for a three man midfield with two wingers pushed up to stop the galloping fullbacks – something Antonio Valencia did superbly against Ashley Cole in this fixture. New signing Ramires will not feature in the match – who is no stranger to the 4-3-3 formation that Chelsea will no doubt operate with. The Brazilian has played for Brazil on the right hand side of the three, monitoring the right hand side (with Maicon) to allow Robinho the freedom to operate on the left hand side.
United of course lost 1-0 after a John Terry header from a soft freekick and a questionable 'challenge' on Wes Brown by Didier Drogba. United for my money were well worth a point at least out of the game – but that is history now. One thing we can take from this game is that in order to stop Chelsea obtaining width from the fullbacks, most noticeably Ashley Cole, it is key to make them defend by pushing the wingers high up. The restriction on Cole meant that Chelsea were at times pegged back in their own half and United began to dominate the midfield battles, with Fletcher, Carrick and Anderson out passing (complete passes) Lampard, Essien and the now departed Ballack by 107 to 98. Not a massive amount, but it can be the finer details that make a difference. United do not possess the frailties of a naive Arsenal side, who were subject to a number of goals on the counter attack last season – most noticeably against United and Chelsea. So I would argue against the critics that will claim that ball retention in these games isn't everything, which I 100% agree with – however, United are rarely caught out on the counter attack since coming unstuck in European football back in the 1990s.
The Chelsea lineup, which Carlo Ancelotti has already revealed, will look something like this:
Not anything too dissimilar to how Chelsea lined up last season in my eyes, although when I did watch Malouda at Old Trafford last season he was very impressive from a more central left role, and was key in the first goal scored by Joe Cole. His close ball control and intelligent movement in the first half made life very difficult for Scholes and Fletcher. There is no doubt Fletcher will be one of the midfielders on Sunday as his pressing high up the pitch is key to United dominating the midfield. Michael Essien will be a worry making those explosive runs from midfield, however that battle should be extremely interesting. Lampard finished with 22 domestic goals last season, a superb return from a midfielder – even though he is deployed as an attacking midfielder rather than an old school box to box player.
Mikel will no doubt sweep up in front of the back four, allowing Essien and Lampard to push on whilst the Nigerian holds. His position is obviously vital in the way that Chelsea setup, even if he doesn't look like he does anything spectacular. Although he has inherited the 'Makelele role' – he is still some way off perfecting it. It is a shame that Michael Carrick is injured after a disappointing season last term and is a much better passer of the football than the Chelsea man. The deep lying midfielder obviously needs to be able to win back the ball, however this player also has to be able to pass the ball and spread play. Take a look at the following Guardian Chalkboard and you will be able to see the role that Mikel operated last season for Chelsea. In this example it was against Aston Villa at home:
Its quite clear to see how 'unadventurous' Mikel appears to be, with a limited number of forward passes with intent, however this role is key for any side that wants to control the midfield. Paul Scholes did this superbly against Manchester City last season in the brilliant 1-0 victory at Eastlands. We all will remember Paul Scholes as being an energetic visionary – who was one of the finest midfield players to grace any football ground. His ability to operate deep before springing up in the opposing box may be in the memory now as father time catches up with our number eighteen, however his late winner against Manchester City demonstrated that he can still ghost into unoccupied pockets of space and take advantage. His late burst into the box was a bit of a rarity in that game, with Gibson and Fletcher pushing further on. Scholes' passing range is demonstrated in the following diagram:
Scholes' natural game is to get forward, which is why he most probably appears higher up than Mikel does. However, there is no doubting the quality Scholes has over someone like Mikel – and is versatile in where he can operate. Having said that, Mikel is vital to the shape and style that Chelsea play. Michael Essien and Frank Lampard are no doubt – Chelsea's two best midfielders – but both are given license to push on with the security that someone like Mikel offers.
Manchester United lineup
Right, on to United – Ferguson opted to field both Rooney and Berbatov last season, with Nani and Park as the wide men. I think Ferguson may play two up front again in this fixture and I would start with Rooney and Berbatov. If this were a league match, there is no doubt United would start with Wayne Rooney as the lone striker. Dimitar Berbatov continues to divide the United faithful. For his wonderful touch, goals and skill there is always that niggling criticism of workrate and negative body language. I'm for one am hopeful that Berbatov will prove his critics wrong, but it is difficult to see how United (in the bigger matches) will opt to play both Rooney and Berbatov – considering how impressive Rooney was playing on his own with two wide forwards. Anyhow, this is how I would lineup on Sunday:
Of course, there has been no indication from Fergie (or none that I can find) about who will start on Sunday, so this is all just opinion. Rafael and Fabio have picked up food poisoning and are doubtful for the game – but if fit I have penciled in Fabio as a replacement for Patrice Evra. We've heard that Michael Owen will get 45 minutes (at least) playing time and i'm sure everyone is keen to see Javier Hernandez and Tom Cleverley – who impressed over the in the US recently. One player, who would have been a key performer in South Africa had he not injured himself in the build up to the World Cup, that is key to United this season is Nani. I am still bemused at the turnaround of Nani, who finished joint sixth domestically in regards to assists, and his continued progress. For two season he could prove a moment of brilliance, which was then followed by a decision that would leave me scratching my head. However, those head scratching days are now a thing of the past as our winger goes from strength to strength.
Nani finished the season as United's most impressive performer and kept the season alive with a important second goal against Tottenham Hotspur in the penultimate home game of the season. He then continued his goal scoring exploits away at Sunderland in the 1-0 victory – which took the title race to the final day. These two games, along with some moments of magic against Arsenal and Bayern Munich earlier in the second half of the season, demonstrated how far the lad has come since his disappointing displays in late autumn. The winger was substituted in the 2-0 victory over Blackburn, and looked a player low on confidence throughout. His shots were woeful as demonstrated by the following chalkboard, with one posing more of a danger to a poor Red sitting in the North stand! –
If you compare this to his shots against Tottenham (where he scored a delicate chip from the right hand side of play) and Sunderland (where he drove the ball low and hard, again from the right hand side) you can see how far he has come in terms of confidence in his own ability. I honestly never thought I would see the day that he became one of the first names on the team sheet. His performance from the left hand side in a difficult tie against Bayern Munich again outlined his quality. A superb backheel finish and coming in from the left hand side demonstrates his versatility and ability to get in front of his marker. He will be a big player for United this season.
Prediction
It is easy to sit on the fence and say a draw, which will then be decided by penalties – however I do actually believe United will win this game in normal time 2-1. It will of course be a tight affair, however United should just edge it. These games aren't classics, nor are they a preview of how the season will unfold by merely a traditional curtain raiser. What do you think the score will be? Chelsea fans we welcome you contribution also.
Further Reading:
– Zonal Marking – Centre midfield role
– Zonal Marking – Brazil lineup
– Jonathan Wilson: 4-2-1-3 the future?
– Injury Table