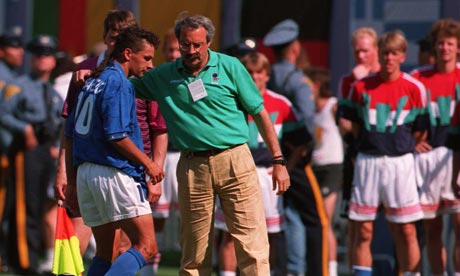 Wayne Rooney has come under harsh criticism in recent England matches after failing to find the back of the net, criticising the travelling England fans for booing, slammed for being unfit and not 'really caring' about the team.  Rather than singling out Rooney, the most talented footballer in the England squad, I would be focusing on England's poor ball retention, rigid tactics and lack of imagination.
I've kept pretty quiet recently on the events occurring down in South Africa, however I wanted to address the situation now that England have qualified for the last sixteen.  Rooney's World Cup campaign hasn't even got started yet and I would look at a certain inspirational Roberto Baggio as proof that you don't need to blow the group stages away.

As we all know from years of playing in the Champions League, the purpose of the group stage is to get through to the next round – something England have now achieved in a very favourable group it must be said.   Finishing top isn't always the desired goal, considering we ended up playing Italian Champions Internazionale in the 2008/09 season, whereas second placed Villarreal played Greek side Panathinaikos in the last sixteen.  England are there and I presume a number of the boo boys are feeling a little embarrassed now?
Wayne Rooney looked sluggish and uninterested in the Algerian game.  Stories of egos, arrogance and petulance followed after a Rooney rant aimed at the fans booing their own players after a shocker against Algeria.  Now, if you pay your money – you have a right to show your feelings, however is it the end of the world in a group game?  The problem is and will always remain that the majority of England fans believe the side is better than what it is because of all the 'world class players' in the side.  It was always Sven's fault for never being able to motivate the 'best players in the world' to World Cup glory in 2006.  Now the team have a World class coach, who won the European Cup in 1994 with AC Milan, but some things never change.
Rooney will always be targeted for the club he plays for.  You know it, I know it and the boo boys most definitely know it – but is Rooney to blame for all the woes of the England team?  Of course not!  Today against Slovenia, even though he was substituted  due to an injury, he showed his quality with some great movement, superb vision to set Gerrard up a couple of times (taking out four players with one superb pass) and a general desire to get on the scoresheet only to be denied by a great save from the Slovenia keeper to direct the ball onto the post.  This season, Rooney has played as a lone striker with two wide men and a three man midfield.  I never understand it when people say 'Rooney needs Heskey to play with' – I will give £100 to anyone who can give me the name of a player at Old Trafford who is a carbon copy of Emile Heskey.
Today, Rooney lined up with out and out striker Jermain Defoe and again showed his versatility in adapting to playing with a player that plays on the shoulder of a defender.  I don't thing Defoe touched the ball in the second half, but yet eyebrows were raised when Rooney's low shot was superb saved.  Rooney's distribution was excellent and I honestly believe he put in a great shift.  He may still be looking for his first World Cup goal unlike Messi, who the Argentina side is built around (playing a 4-3-1-2) formation and likewise former United winger Cristiano Ronaldo and Portugal, who again is the main figure in the Portuguese lineup (just to add – Ronaldo has scored two World Cup goals, a penalty against Iran and a late goal to make it 6-0 against lowly North Korea).
Will Capello built the side around Wayne Rooney because he quite clearly hasn't at the moment.  This constant debate about playing Lampard and Gerrard together or moving the Liverpool captain out to the left hand side would be made redundant if Capello started with a 4-2-3-1 formation with Gerrard just off Wayne Rooney as a lone front man.  Rooney has the ability and intelligence to play on the shoulder but also to drop extremely deep bringing the backline higher up the pitch, which if played right will exploit the space in behind as demonstrated by Rooney and Nani against Arsenal last season.  You are right, who am I to question Fabio Capello, however having watched Wayne Rooney for much of his career I know his ability and what he is capable of.  He is an honest hard working professional, but that should not deter from his God given genius.
I've always felt that England fans are more impressed with a Terry Butcher bleeding head than a breath-taking piece of skill from Gascoigne of a visionary pass from Hoddle.  This could be the reason why John "I run through brick walls I do" Terry gets so much praise.  The flaws and shortcomings of the English football players is evident for all to see, however you will get morons spouting 'lack of passion' as the main reason for the poor showing so far.  Give Wayne Rooney the freedom to operate and you'll get the best out of the players around him.
Moving onto the original divine ponytail, Roberto Baggio is an Italian legend and an iconic World Cup figure.  If the former Juventus man is always remembered for 'doing a john Terry' in the final against Brazil, Italy's number 10 dragged the Azzurri to the final that summer.  Having got off to a bad start, losing 1-0 to Ireland, beating  Norway 1-0 (with Baggio being substituted due to a sending off to goalkeeper Gianluca Pagliuca) and drawing the final game with Mexico 1-1.  Italy finished third, but amazing went through as the fourth (out of six) best third placed team – unbelievable I know.  Roberto Baggio was criticised immensely for his 'no show', however it was his goals and performances in the knockout stages that showed everyone the quality he had in those Lotto boots.  Two goals against Nigeria (in the dying minutes and then in extra time), a goal against Spain and then two goals in the semi final against Bulgaria (who were still on a high from their German scalp from the previous round) got Italy to the final against tournament favourites Brazil.
Sadly for Baggio, Sacchi and co – the Azzurri lost on penalties with Baggio, Baresi and Massaro missing their crucial spot kicks.  The moral of the story is that Baggio is remembered for being one of the best players in the tournament (which he was) even though he didn't score, perform or inspire in the group stages of the tournament.  Italy scrapped through but the magical number ten came alive and the rest is history.  Wayne Rooney is capable of this against Germany on Sunday.  He is capable of this against Messi and co the game after – however he needs to play in a system that will get the best out of him, which ironically will then get the best out of England.