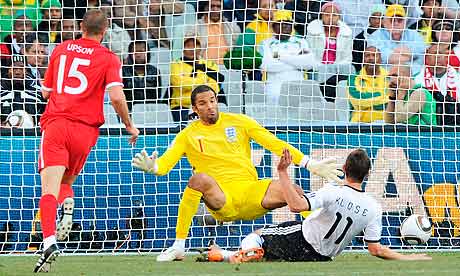 So, there you go.
Pure shambles, but if you're a Manchester United fan, short of winning the World Cup, yesterday's farce was surely the best case scenario.
No United scapegoat and even the strongest attempt to deflect attention cannot divert it away from the abject failure that was on show – chief culprits being Gerrard and Lampard, later revealed by German coach Low as being targetted due to their lack of positional discipline.

There's no blame that can be attached to Capello; he merely took on an existing set up; tinkered with it slightly to invigorating effect in the qualifiers then watched it all fall apart as it usually does when a tournament comes around. He is a world class manager with a proven track record; he must now at least be given the opportunity to do what should have been done 4 years ago and rip the bad bad heart out of this England side. Capello's "golden rule" that a player must be in his side and in form was expolited so many teams it became redundant but he has to return to it now and by doing so half of this side will be dropped.
Joe Hart needs to replace David James who did little wrong but is now simply too old to be considered – Gareth Barry was in the side purely out of being flavour of the month but has now painfully been exposed as being far out of his depth at international level. He was embarrassed for Germany's third but would not have even been in that position if not for Glen Johnson's defensive indiscipline. It would be a step backwards for England to select Wes Brown or Gary Neville but it is a necessary one for them to progress as a team. Like Barry, Upson has never been an international defender so it would be unfair to pour all the blame on him.
"We knew Gerrard and Lampard always support the forwards and their midfield would be open. Our objective was to set Terry up with Klose to force him out of defence", were the words of Low and described a gameplan that by rights should be far too simple to succeed at international level. But Low factored in the inherent "I'm the hero" personality attributes of Lampard and Gerrard and exploited it perfectly. It was fitting that Steven Gerrard should be captain to round off a 12 months where his best performance in the courtroom. Karma for him to be the on pitch ringleader of this shambles, with the post match attribution of Low making his position in the team now surely untenable.
Wayne Rooney, our darling, cannot be exempt from criticism. He too wasn't good enough but what is a man to do with the anarchy that was going on behind him? A good workman doesn't blame his tools, they say, but watch how Rooney will flourish when he returns to United. It's been a little unfair to say that the World Cup has proven that he can't be compared to the likes of Messi; the brilliant Argentine has hardly set the world alight in a team that is built around him.
The media's interpretation of this will be key to Englands development – the knives should be as sharp as they have previously. I expressed my belief that Terry, Johnson, Lampard and Gerrard should not play for England again to James Ducker of the Times and he seemed to concur that such changes were necessary. Whether or not he has the conviction to put that into print is another matter; chief idiot at the Sun, Steven Howard, predictably has painted Rooney as the focal point, laughably attributing Barry's inadequacy to his fitness.
In the Metro, perhaps taking comfort in the relative creative freedom that comes with a free publication, Matthew Nash has pinned his colours on my flag with a steady view that Gerrard and Lampard should be gone, Barry too, with Heskey, Carragher and Upson also part of the clear out. He's not wrong.
Enough of that; what we can say is that as far as Manchester United are concerned, far from having players as scapegoats, this time around we have players whose absence from the side only increased their worth. General consensus was that Michael Carrick shouldn't, on form, have even been in the squad, but after the tournament he's the only midfielder to have come out of it with credit by virtue of not playing a single minute, and further to that, can actually at least be featured in a "what if" with regards his selection. What if we'd played him instead of Barry? Sure, Carrick wasn't in form, neither has Barry been, nor for definite has Gerrard.
Owen Hargreaves, Gary Neville, Wes Brown, all players who can rightly think they deserve a starting place for the national side in the wake of the World Cup, fitness permitting. Paul Scholes was the highest profile casualty of the Gerrard and Lampard greedbath but as I've blogged before, England's huge loss has been United's huge gain. How England would have fared with Carrick and Scholes in the engine room is a question that can never be answered; their contribution to United's recent success would suggest that they would have been a comprehensively better bet than Gerrard and Lampard, and for sure, they would not have been embarrassed by a playground tactic.
It's time to gleefully wave goodbye to the likes of Gerrard, Carragher, Terry and Ashley Cole (though with Cole, admittedly this will be with age rather than quality by the time of the next World Cup), they can go and take their abhorrent, thoroughly unlikeable personalities with them, Lampard and Joe Cole can rid the team of their disruptive non-contributions that ruin every move and dominate every failed set piece. The problem wasn't that they couldn't re-create their club form; it was that they did exactly that, mix in the cocktail of greed that takes over when Gerrard and Lampard don the 3 lions then epic failure was always the inevitable outcome.
This wasn't just a bad England team; it was the worst ever, the results have proven that. They were also terrible to watch and childlike in both personality and intelligence. So giving, for example, Michael Dawson his long overdue chance, won't be a step down. We're already as down as far as possible, and at the very least, Dawson has earned his chance. In Jack Rodwell we have an admittedly very raw talent but if he brings nothing else he will bring energy; which is one more quality than the pedestrian Barry. Jack Wilshere too may be physically underdeveloped but if he's not already technically superior to Lampard, he soon will be. Hopefully Adam Johnson won't turn out to be another Stewart Downing, too.These are players who won't be saddled by the jealously and contempt that exists in the current camp from the Liverpool players to the United players (another huge contributary factor to Rooney's ineffective performances at the World Cup).
Though there is no outright United scapegoat this time around, part of me lives in hope that the nation takes up the Sun bandwagon and blames Rooney to the point that he too retires. Next season Rooney will score around 30 goals and be as brilliant as he has been over the last 4 years for us – clearly suggesting that, as Low explained, the problem lies with an undisciplined national midfield.
It's goodbye to the rotten generation; and a hearty welcome back for the real Wayne Rooney. Bring on Newcastle and the Premier League; coincidentally, Rooney's favourite opponents. And, bring on an England team we can get behind without feeling like we need a long bath to cleanse ourselves afterwards.