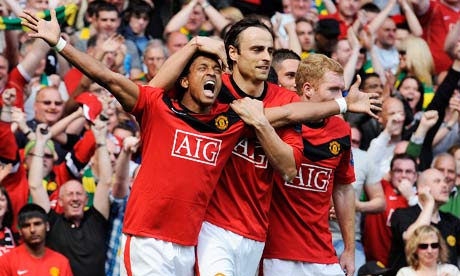 Experience was the key factor in last weeks Manchester derby; it was required here, with just a touch of youthful extravagance to decide the game in the Champions favour against a tough Tottenham Hotspur side. Ryan Giggs was coolness personified to convert two penalties while Nani produced a match winning moment of magic to return Manchester United to the top; however temporary that may be.

Harry Redknapp's team had taken 6 points from Arsenal and Chelsea and he had said prior to the game that had someone told him he'd get 5 points from this trio of fixtures he'd have snatched their hand off – Tottenham therefore were able to play with more of a nothing to lose attitude than their hosts, who had everything to lose. The visitors were boosted by the absence of Wayne Rooney and Rio Ferdinand and rightly had realistic aspirations of their first win at Old Trafford for over twenty years. There was a case to say that in addition to Rooney and Ferdinand, the absences of Gary Neville, Ji-Sung Park, Anderson and Owen Hargreaves – though the latter did make the bench for the first time in almost 2 years – left United with half a team out.
Neither side started particularly well; it took a half hearted shot from Pavlyuchenko to inject some energy, and that seemed to be hit more as a point to the rest of the players that the game was petering out as early as the 25th minute. It did spark a flurry of action in the next 10 minutes as the Red Devils really stepped up their urgency. From the resulting break; Nani and Patrice Evra worked a move brilliantly that saw the French fullback get into the area and fizz a ball across goal towards Ryan Giggs. Gareth Bale was able to temporarily disrail the ball but the loose ball fell to Dimitar Berbatov – the Bulgarian, however, saw his shot brilliantly blocked by Ledley King.
United began to work the wings with the full backs and wingers featuring prominently – it was the right hand sides turn to open up, Bale caught out by Valencia's movement chasing a Rafael pass, but the Ecuadorian equalled his Blackburn effort with a tame shot at the keeper. Gomes cleared, the ball came straight back and Dawson's header was met by a 25 yard Berbatov effort. The former Spurs man showed enough confidence to go for it but had the time really to have made something better from his shot than firing it wide.
A Gareth Bale free kick went over before Nani and Evra worked well again and the Frenchman struck his shot over on the run. With 4 minutes left until half time, Rafael's ball inside found Berbatov on the edge of the area – he made himself some space but, again having done so, hit his shot poorly.
There was certainly no question that the second half needed more impetus from the players; there seemed little to change the shape of the team from the bench, with Scholes and Giggs United's dictators in the middle but Fletcher quietly going about his business to allow them their platform. The Champions were almost caught cold though straight after half time when Jermain Defoe struggled to control a ball into the box – Evra did just enough to put both Defoe and Pavlyuchenko off.
Evra was certainly the central figure early in the second half – before the second period had even gotten to five minutes, he was doubled up being physically and violently sick. He recovered to five minutes later receive a short corner from Giggs and create the best opening yet, a header for Berbatov. He headed wide, though, with Darren Fletcher agonisingly close on the stretch to deflecting it in. Wilson Palacios bustled through on a quick break to test Edwin van der Sar, but United had begun to get to grips with the game and occasion.
Another short Giggs corner went to Nani, who was rather wasteful after beating Modric, shooting wide at the near post. A minute later though, as United were breaking again, they finally got the breakthrough. Berbatov for once ran with purpose towards goal and perhaps actually having some direction to his game took the Spurs defenders on the surprise and back foot. He ran towards goal and seemed up a blind alley, but backheeled cleverly into the path of Evra who had crept into the area. Benoit Assou-Ekotto was in unfamiliar territory as a left footer at right back and was completely caught out, bringing down the United left back and giving referee Andre Marriner no option but to award the penalty.
Nani has taken penalties for United in the past; Berbatov was probably angling for it, while Scholes too has hit them before, but it was Ryan Giggs who assumed the responsibility for his first ever league penalty.He had missed the only ever other penalty he had taken in front of the Stretford End in the FA Cup against Southampton right at the start of his career but converted this kick with immaculate precision.
It was unclear whether it was the number of kicks Valencia was receiving or if he too was feeling under the weather, but he was replaced by Michael Carrick. Tottenham too changed their shape, moving Bale more advanced and bringing on Aaron Lennon after several months out. The tactical shift changed the game and suited Tottenham, who really grew in confidence with their positions more familiar. And ten minutes after conceding, their positive response got a reward, when Ledley King headed in Bale's corner to equalise. King did use Carrick as something of a jumping aid so it would be unfair to blame the ex-Spurs midfielder, but Rafael did move slightly off of the post to punishing effect. He swung out a boot to try and stop the header but the damage was done.
It could have been much worse 5 minutes later when Modric set up ex-Chelsea player Eidur Gudjohnsen – the Iceland striker beat Evans but Nemanja Vidic brilliantly blocked the shot to keep United in the game.
Sir Alex Ferguson then called on his final substitute – having brought off Evra just before for O'Shea – when he introduced Federico Macheda. The Italian was instrumental at a similar stage last season and his contribution once on the pitch demonstrated just why he is so highly thought of. Just two minutes after coming on, he was pivotal to the defining moment of the game. Nani picked up the ball just inside the Spurs half and played it to Darren Fletcher. Fletcher's pass inside to Macheda didn't really give the youngster much room to do anything, but Nani was already making that decision for him, running forward into space. Macheda's ball was perfectly weighted but the Portuguese winger had a lot of work to do.
Despite the constant accusations that he would never be Cristiano Ronaldo or that he was too inconsistent, Nani has shown incredible inner strength to become a vital player in this United set up. It was incredible to think that despite his brilliant contribution in the second part of the season he had not scored in the league since last August – but he showed composure and arrogance to defy the occasion when he first took a perfect touch to beat Ledley King and then the most perfectly executed, and arrogant, chip over Gomes and into the middle of the goal. Old Trafford erupted as Nani celebrated a moment that could yet become an iconic chapter in the illustrious history of the club.
He wasn't about to rest on his laurels, though, and in the 85th minute, won a second penalty – a mazy run was illegally interrupted just inside the area from Tottenham's second makeshift right back of the day, Wilson Palacios. Giggs stepped up again and changed sides – once again, Gomes guessed right, but once again, the kick was perfectly placed into the corner.
United were able to see the game out and go back to the top of the table – Chelsea's game in hand against Stoke is tomorrow – even if there was still time for Nani to throw up as well. Sir Alex said after the game that Rooney could miss the rest of the season with a groin injury – 2 to 3 weeks, his estimate – but that the bug that affected Evra and Nani should clear up before the next game. Even if the Champions have to play out the remaining 180 minutes of this season without their top scorer, there is an inner belief that exists around the likes of Valencia and in particular Nani, as well as Macheda's bullish atttitude that seems to scream that he is not only ready but that he feels he can take games at this level by the scruff of the neck. That kind of attitude may be needed at Sunderland; if not, United know that they have an experienced core in the brilliant Giggs and Scholes.
Ratings : van der Sar 7, Rafael 7 (Macheda), Evans 8, Vidic 8, Evra 8 (O'Shea 6), Valencia 7 (Carrick 6), Fletcher 7, Scholes 8, Giggs 9, *Nani 9, Berbatov 7