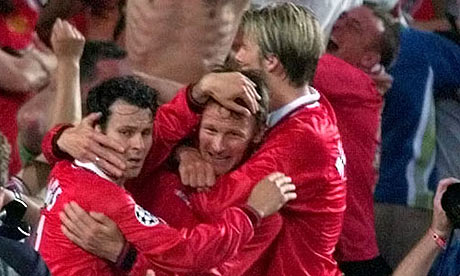 Teddy Sheringham was born in April 1966 and his career in England saw him have start out at Millwall and have contracted spells at Nottingham Forest and Tottenham Hotspur before signing for Manchester United in the summer of 1997. It's safe to say that at £3.5m, the forward represented one of the best value for money purchases of Sir Alex Ferguson's reign at Old Trafford.

His arrival at the club understandably drew comparisons with Eric Cantona, given that he arrived immediately after the Frenchman had announced his shock decision to retire. United were linked with all kinds of playmakers with the strongest rumour being that they would sign little Brazilian Juninho from recently relegated Middlesbrough; but instead, Ferguson turned to Spurs and paid £3.5m. In hindsight it looks a bargain; at the time eyebrows were raised. At 31, Sheringham was almost two months older than Cantona and it seemed a big gamble.
Sheringham didn't inherit Cantona's shirt but he did assume penalty taking responsibility, missing from the spot on his debut, ironically at White Hart Lane. His first season was considered somewhat of a disaster despite scoring 14 goals in all competitions – his relationship with the fellow senior striker who he was bought to play alongside, Andy Cole, had been lukewarm to be kind after Cole considered the veteran had snubbed him when he was making his international debut. That relationship totally broke down in the first season when Teddy blamed Cole for his part in a goal conceded against Bolton at the back end of that first season, which saw United end up trophyless.
As a result of that and the arrival of Dwight Yorke the next season, Sheringham saw his opportunities limited, playing under half the league games. Sheringham scored just 5 goals in the 98-99 season but his contribution would never be forgotten. He came on as a substitute in both the FA Cup Final and the Champions League final to score United's first goals in both games – the first, the eventual winner against Newcastle, and the second, a crucial injury time equaliser against Bayern Munich. The treble that season represented the first major trophies of Sheringham's career, and after being abused by merciless Arsenal fans for his Tottenham connections, he took great delight in reminding them that he now had quite a handsome collection.
Teddy, like Ole Solskjaer, became a dream to manage for Sir Alex Ferguson – both strikers giving something that neither Cole or Yorke had. On the one hand, when Cole and Yorke were on song, they were unbeatable, but both were susceptible to dips in form. The other two were waiting in the wings knowing that while they may not be as prolific when on song, they gave what Cole and Yorke couldn't – and in Sheringham's case, it was timing and intelligence that never seemed to suffer from loss of consistency.
United had planned to move the forward on after the 1999/2000 campaign – no real issue with the players form, but Ferguson felt that more of a cutting edge was needed up front in Europe and had identified Ruud van Nistelrooy to come in. Ruud infamously broke down injured in his medical and although he obviously ended up at United 12 months later it did hand Teddy a reprieve, a chance for a golden swansong, and he grabbed that opportunity with both hands.
Undoubtedly the beneficiary of a United midfield of Beckham, Scholes, Keane, Butt and Giggs that was at its energetic peak, Sheringham's sense of timing and moment had never diminished and moving into his 35th year he managed to score an impressive 15 league goals in 29 games, earning him the PFA player of the year award and a third consecutive league title medal. It would be fair to say that despite that recognition from his fellow pro's, even that would have come second to the feeling of scoring the final goal in the last minute of a 6 goal hammering of Arsenal in his final season at United.
Some of his goals and overall contribution that season was a real joy to watch and although it could be accepted he was never the genius that Cantona was, he wasn't a bad replacement and indeed, looked twice the player that Dimitar Berbatov, a fellow Spurs-Utd mover at almost ten times the cost, ever has.
van Nistelrooy's recovery facilitated Sheringham's return to Tottenham on a free transfer, and although his form in his last season and prompted Sir Alex to offer Teddy a year extension, the player clearly had a renewed (and justified) belief that he could contribute on a more frequent basis than seemed open to him at Old Trafford.
His two year return to White Hart Lane consolidated his place as a legend, or at the very least, above the backhanded compliment of "cult status", at two of English football's most famous clubs, with a very impressive 26 goals in 80 games for a veteran closer to 40 than 30. A year at Portsmouth followed as he helped the South Coast club stay up in their first ever Premier League season with a great return of ten goals, before he signed for West Ham and spent 3 seasons there. The first season in the Championship, he scored 20 leagues goals, and when they returned to the top flight he was still a key performer, notably becoming the oldest outfield player in the history of the Premier League at over 40.
His career ended with a spell at Colchester in the Championship in 2008 where he finished just 2 games short of 900 appearances in his long, storied career.
A player of Sheringham's quality is rare and this can best be proven by his absence – how the current England – and United, for that matter – set up would benefit from a peak Teddy right now.