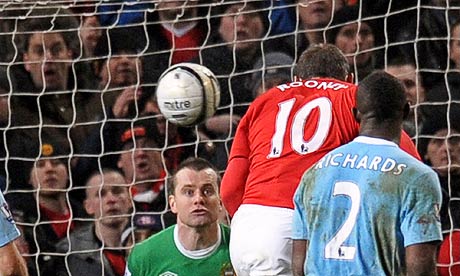 Wayne Rooney's injury time header finally settled this Carling Cup semi final derby to deservedly send Manchester United to Wembley to defend the trophy. Carlos Tevez had scored to level the tie after Paul Scholes and Michael Carrick had put United into a commanding position but Rooney's intervention meant a gruelling extra time period was avoided ahead of the weekend trip to Arsenal in the league.

After a rip-roaring first leg both sides took a while to get going in what was typical of the cat and mouse affairs that personify semi final second legs – both managers however did stick to first choice teams with Sir Alex Ferguson favouring a conservative midfield with ball retention in mind. Of the admittedly few first half chances, Ryan Giggs worked Shay Given into a save from a 20 yard tester and moments later Given had to be alert to block Rooney at the near post. Tevez then had a chance to score at the Stretford End with a header but van der Sar was equal to it.
Perhaps realising that City's set up wasn't likely to change given it was their most potent, the Red Devils came out with one thing in mind though ironically the visitors could have snatched a lead in the opening moments of the second period. Micah Richards advanced and struck a long range effort that van der Sar had to be at stretch to deny; City's short spell of attacking the United goal was punctuated by first a bad Tevez tackle on Rafael that saw the Argentine booked, and second a disgraceful scene where coins and bottles were thrown at Craig Bellamy as he prepared to take a corner. That Bellamy was unscathed was a relief; within the minute he was up and exchanging unpleasantries with Rio Ferdinand for some unknown reason, but neither that or the identical episode with Evra last week justifies the appalling crowd behaviour.
Thankfully it was all good news from thereon; United broke almost immediately when Rooney's sublime long ball was controlled and wisely used by Giggs when the temptation to shoot on his right may have been unbearable; instead he used all of his experience to tee up Nani. Nani was blocked and the loose ball was stabbed by Carrick back to Scholes who was on the edge of the area. Scholes has made a career out of scoring in such circumstances and didn't disappoint here, to the delight of the Stretford End. Four minutes later it could have been two – the ball seemed to pinball around the box with half shots that weren't connecting, the clearest being a Darren Fletcher effort that actually hit Giggs before diverting away.
That second goal was always on the cards and it arrived on the 71st minute. A throw in found Fletcher whose pull back teed up Carrick; his finish in these scenarios is usually unerring and so it was here to put United firmly in the driving seat. Had Rooney been more alert he could have put the tie out of sight moments later – Giggs brilliantly played in Evra who in turn brilliantly set up United's leading scorer but he couldn't sort his feet out and the shot was horribly miscued.
The miss looked to be costly as Tevez flung himself at a cross to divert the ball in 3 minutes later. It was great invention from the ex-United player even though a pedant may argue the goal may have been ruled out for the extremely high boot.
The goal meant the tie was perfectly balanced – United didn't let the goal get them down and almost restored their two goal advantage when Carrick's two shot attempt from Giggs' pass screwed wide. At the other end it was City's fans turn to have their heart in their mouth when Adebayor headed horribly wide when challenged only by Evra. Three minutes of injury time were on the clock as United pushed in search of settling the game before extra time; they thought they were going to Wembley when Fletcher got on the end of Giggs' corner, but the Scot was denied sensationally by the Irish keeper.
It was Giggs' short corner that was returned to the Welshman that proved the telling ball; his cross into the box was fabulous and arched perfectly for Rooney to rise and thump the header in. He denied it later saying he was always confident he'd get another chance but the forward must have felt slight relief following his earlier miss – not that he had anything to prove after another performance where he led the line brilliantly.
With no time to respond, like the league game here, City were exposed to a familiar heartbreak as Manchester United were able to bask in the sweetest way to return to Wembley.
Ratings : van der Sar 7, Rafael 7 (Brown 7), Ferdinand 7, Evans 8, Evra 7, *Fletcher 9, Carrick 8, Scholes 8, Nani 7 (Valencia), Rooney 8, Giggs 8