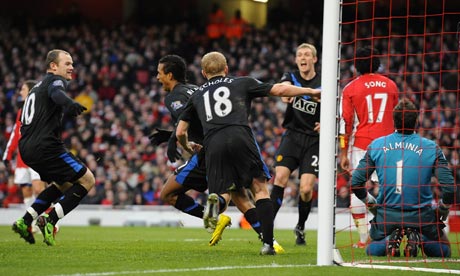 In a carbon copy of last season's Champions League tie at the Emirates – almost down to the goals and the style they were scored – Manchester United destroyed Arsenal in a performance that demonstrated the difference in class between the Champions and the pretenders.

The selection from Sir Alex hinted at something of a containment tactic – with Park deployed against Arsenal's right hand side and a retention-based midfield of Carrick, Fletcher and Scholes, unusually starting for the third game in a row. It was certainly effective as the only real outlet Arsenal could expose was Arshavin's determination to expose Wes Brown's constant indecision.
In the bigger games Ferguson has started to favour the 4-3-3 formation and his players seemed to respond to the familiarity of it – though Nani, the one player who is used to sitting out these occasions, was the seperating factor, particularly in the first half. His opposing full back, Clichy, is often lauded as one of the greatest but he was unable to cope with the Portuguese star.
The combination of Nani and Fletcher caused problems as early as the 7th minute, with Gallas at full stretch in the 6 yard box to deny Rooney a certain goal. The winger's corner a minute later was headed ferociously at his own goalline by Denilson but cleared off it by Nasri. Arshavin then took advantage of Brown's reluctance to commit by advancing into the penalty area, but his shot curled wide of the target,
Nani then took advantage of a defensive slip to sneak in but his shot with the left foot went wide – a minute later he found himself in an identical position on his right side but that effort was blocked out by Vermaelen who had apparently recovered from a broken leg in the space of three days. This was just the second of a trilogy of Nani based attacking moves in a five minute spell and fortunately it was third time lucky – after extravagantly embarrassing two markers with an unreal piece of skill, he ghosted past Denilson and crossed the ball with velocity and swerve to the extent Almunia was simply unable to do anything but palm the ball into the top corner to register the own goal with Park and Rooney waiting to pounce.
Neither were going to leave empty handed, however, and less than 5 minutes later, the Champions had doubled their advantage with a goal that was a replica of their third on this ground in May. Park, under pressure on clearing a corner, cleverly found Rooney, who shifted it to Nani. In games gone by the winger may have chosen the wrong or quick pass but this time he waited until Rooney had found himself a pocket where he could not be picked up in time – the striker made no mistake, coolly slotting home first time to give the Red Devils a two goal lead.
It was a goal that nobody would have cause for complain if it won the Premier League goal of the season award and was probably the defining glory of Ferguson's tactical shift – having started the game with legend Scholes monitoring Fabregas', with concerns over the pace of the two players, he made the right switch in moving Carrick to the responsible position and allowing Scholes more freedom. The move was clearly of benefit as Carrick went on to give his best performance against a top rival and Scholes was afforded more freedom.
The superior level of United's performance was not reflective of Arsenal's effort as they played their part for the full 90 minutes but were just unable to cope – never more better illustrated than in the 52nd minute when on a swift counter attack Carrick's pass over the defence to Park gifted the South Korean with acres of space. With unselfishness on his mind the understated midfielder paced forward looking for the pass, when the shot presented itself, he almost apologetically but comfortably finished off the contest. It was 3-0 but could have been more severe even at this stage as early second half chances for Rooney – fashioned first by a knee high challenge from Sagna that, in World Cup year, should have every England fan up in arms, and second, with a 20 yard curler – could have done so a little earlier.
The third goal killed the contest and although Arsenal's spirited reprieve brought a series of half chances, they never really threatened van der Sar's goal, and United's counter always looked more penetrative. Out of the blue Vermaelen did pull one back when his half volley from the edge of the box was deflected in cruelly by Jonny Evans – by a distance the best defender on the pitch – though that blemish on the scoreline barely mattered nor did it mask the fact that further goals could have followed on the always available lightning counter even as Arsenal pressed to restore some respectability to the scoreline.
Arsene Wenger was as always completely ungracious in defeat but Sir Alex's post match plea for the Gunners to batter Chelsea in their fixture next week was probably as close to a declaration that the Premier League has two powerhouses and 18 also rans as he could have said. Certainly, such an exhilarating domination of a team hyped to be "possibly the best of its generation" has at least laid a contemporary reminder that they are a long way from being contenders yet.
Ratings: van der Sar 7, Rafael 7, Brown 6, Evans 9, Evra 8, Fletcher 8, Scholes 8 (Giggs), Carrick 9, *Nani 9 (Berbatov), Rooney 8, Park 8 (Valencia)