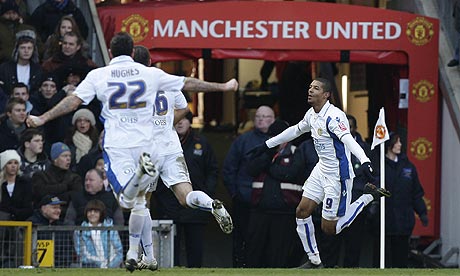 Manchester United suffered arguably the most embarrassing result in the Sir Alex Ferguson era as Leeds United from League One won at Old Trafford in the third round of the FA Cup – embarrassing in terms of the opposition, and embarrassing when considering the Premier League Champions' Yorkshire rivals thoroughly deserved their victory.

42 places in the English league seperate these two United's and indicate what a dramatic change there has been across the Pennines since the start of the last decade. Leeds were playing Champions League football 10 years ago; later this month they play a JPT tie against Carlisle. However, Leeds were by far the better side on this showing and could have inflicted a more embarrassing scoreline.
A defence more or less all returning from injury supported a young midfield and the team was spearheaded by almost £60m worth of strikers. Wes Brown however was only named as a starter after a late withdrawal from Nemanja Vidic.
It was through exploiting Brown that the visitors took their shock lead, a long ball towards Jermaine Beckford was horribly misjudged by United's international defender, and the Leeds forward finished cutely past Kuszczak in the 19th minute. Becchio and Johnson almost – and perhaps, should have – added to Leeds' score as the home United seemed almost reluctant to exert any real pressure.
Wayne Rooney and Danny Welbeck both fashioned similar shots from uninviting angles, both flashing their shots wide, and it was Rooney who had the hosts' best chance in the first half just 5 minutes after the goal – the one flash of brilliance in a linkup between himself and Berbatov saw the number 10 race away and clip a shot towards goal that squirmed under the keeper but was cleared from Jason Crowe as it crept towards the line.
Sir Alex had not lost an FA Cup tie against lower opposition in his spell in charge of Manchester United but it was painfully clear that was about to change.
The second half descended into something of a physical battle with both sides guilty of cynical challenges. Despite ringing the changes, the home side struggled to create anything that would severely threaten the scoreline. When they did break through, Leeds stopper Ankergen was always more than equal, and once all energy had been reduced from the spine of the side after Anderson had been replaced by Owen and Rooney shifted wide, it was actually no surprise that the visitors had by far the better of the chances.
Beckford shot wide and then Snodgrass cracked the bar with a free kick – when the extraordinary 5 minutes added time came up even the home fans were a little incredulous (even though Leeds had time wasted, it still seemed a bit extreme), but still, it only inspired one half scramble which Ankergen once more dealt with as Rooney had the resultant shot and Leeds more than comfortably saw the game out.
So where did it all go wrong? Of course credit should go to Leeds for their fine performance but even an under strength United side should have been able to deal with them, with all due respect. A rusty defensive line up was thoroughly put under the cosh by Leeds aggressive front line but Brown should have been sent off anyway; Gibson's form indicates that his goals mask his inconsistency, while Berbatov and Owen continue to prove that despite their reputation they're painfully easy to mark out of the majority of the game. Antonio Valencia, in his half an hour, offered at least an outlet but the service to him was erratic, and the finishing from the chances he created was always wayward.
The Red Devils have been linked with January swoops for Di Maria and Benzema; these are the kind of names that Ferguson needs to make serious moves for while keeping his fingers crossed for a quick and injury free return for Ferdinand and Hargreaves, if he is to keep United in the hunt for trophies this season.
Ratings : Kuszczak 6, Neville 4, Brown 4, Evans 4, Fabio 5, Obertan 5 (*Valencia 6), Gibson 4, Anderson 5 (Owen 5), Welbeck 5 (Giggs 5), Rooney 6, Berbatov 5.