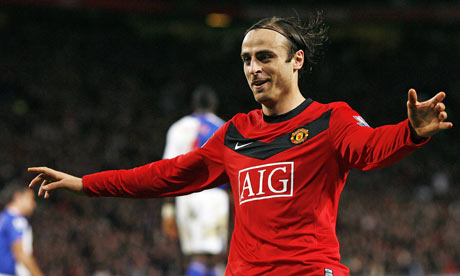 There is no doubt that Dimitar Berbatov is a fine footballer who is capable of genius at times.  However, there is no doubt that there is an element of frustration around Old Trafford when Bulgaria's top  goalscorer ever gets into a strop and throws his hands up in the air.  His hefty price tag hasn't helped, considering we would have got him for around £10 million less had Manchester City not come in for him – but I think we'd all agree that we all gawped at the £30.75 million fee was a tad too much.  This blog looks at his movement, passes and goals against former United strikers.

As I said in the intro, I think Berbatov is a superb footballer who is capable of doing things some players can only dream of. Watching from the east stand against Wigan last Wednesday, I saw him knock a ball towards the Stretford End with the outside of his boot for Valencia to run onto. A brilliant pass that highlighted his flair, creativity and grace as a the talented number nine we all know he is. Five minutes later he blazed a cross into the crowd when under no pressure – "you don't get much for thirty million these days!" I heard an older Red say.
As a forward in European football, all of the top clubs look for a striker that is versatile, a player who can drop deeper for either a tactical shift (and allow midfielders to bomb on) OR a player that offers defensive qualities that an out and out striker (or fox in the box) doesn't. He performed exceptionally out in the San Siro last February – leading the line with Ryan Giggs playing off him. Internazionale fans were used to watching a skillful maverick terrorising defences with his artistry, sublime goals and ability to hold the ball up (Ibrahimovic). For all the criticism 'Zlatan' receives – there is no doubting the quality he has. The same can be said for Berbatov in my book, but something is missing from his game at the moment. Could it be that he is still recovering from injury? Or could it be that he isn't getting the service?
Since he made his debut in the 2-1 defeat to Liverpool last season he has found the back of the net 19 times in 64 games (fourteen as a sub) – which constitutes to a 0.30 goals per game ratio. Not bad, but £30.75 Million worth? In the 23 games he has played this season, he has notched up six goals (all in the Premier League), which works out at 0.26 goals per game. Compare that to Rooney's record of 0.63 goals per game or Michael Owen's 0.30 goals per game (with fourteen of those twenty four appearances as a sub) – it is clear to see that Berbatov's goal scoring isn't the stand out record you might expect from a £30Million striker. Now, I fully realise that goals aren't everything from a forward these days but we hardly building all of our attacks around Berbatov's ability to hold the ball up with runners off of him. Are we expecting too much from Berbatov?
So to compare him to former United strikers over recent years – Louis Saha (0.34 goals per game United career – 48 as sub), Henrik Larsson (0.23 goals per game United career – 3 as sub), Carlos Tevez (0.36 goals per game United career – 26 goals per game). I've grabbed a couple of screenshots highlighting some statistics from the three very different forwards over the past four years.
First up Louis Saha against Fulham in 2006 in the opening game if the season:
Passes:

Shots:

Compared to Berbatov's performance against Birmingham this season:
Passes:

Shots:

Firstly, I fully realise that one game doesn't define a player. We should use these stats over a period of time, but to be totally honest – I don't have the capability to analyse stats like that. However, taking a look at the above stats – we can draw the following conclusions:
Louis Saha made himself available all over the pitch, both attacking and defensively. Berbatov on the other hand didn't pass anywhere near as many balls as the Frenchman and was generally restricted to the attacking third.
Saha was more prolific in front of goal scoring a goal from his four shots on goal. Berbatov failed to hit the target with his three shots (whilst strike partner Wayne Rooney managed ten in the game and netted our winner in the first half)
Carlos Tevez against Portsmouth in 2007/08:
Passes:

Shots:

Tevez was more busy around the pitch, although was generally restricted to the attacking half (Rooney was injured that game so he was the main striker).
Shot weren't impressive with both efforts off target.
As I said, these screenshots do not capture the whole picture – although in my opinion, sums up the performance of Berbatov since his move to Old Trafford. This season he has notched up six goals and three assists. Compare that to Samuel Eto'o (a player I thought we should have taken a gamble on) who has scored eight goals in sixteen games in Serie A (0.5 goals per game ratio) and two assists or Zlatan Ibrahimovic who has scored eleven goals in fourteen games (0.78 goals per game) and has four assists. Closer to home – we've gone through Wayne Rooney's scoring ratio – Defoe and Drogba have fourteen goals in eighteen games (0.77 goals per game) whilst former United strikers Saha (0.47 goals per game) and Tevez (0.45 goals per game) have scored ten and nine goals respectively. Compare those to Berbatov's 0.26 goals per game – and we can clearly see that so far this season the Bulgarian isn't replicating his impressive scoring rate for his country.
So to conclude – Berbatov is a fine footballer, a graceful forward that is capable of producing moments of magic – either in the form of a well crafted pass or a sublime piece of skill. However, his statistics aren't too impressive for a £30 million forward and although our style of play has changed over the past two seasons (which i'm sure Craig Mc will remind me!) – you would expect more from a player that oozes class. His penalty against Everton in the semi-final last season was embarrassing and his reaction annoying. He did miss the whole of November through injury and i'm fully aware that it takes time to get your match fitness back, but I think we'll all agree – we expected a little more from our number nine this term.