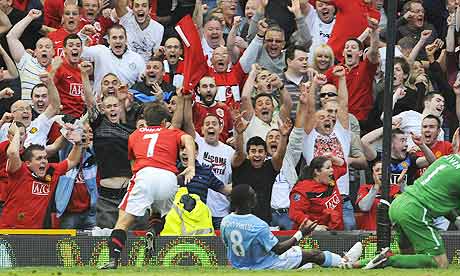 Don't you just hate it when you predict something, whether it be the ability of a future international defender such as William Prunier (just for the record – I didn't do that) to whether your attire on a night out is considered a serious lady magnet (ripped jeans and pulled up socks – always a winner), and it goes horribly wrong? You may recall my foolish write off of Michael Owen last week – indicating that his style of play was from another era that was no match for the 'technical superiority' of today's modern game and even had the cheek to bring Didier Drogba into the equation – good grief. This blog looks at my week in Cyprus, delirious celebrations at Michael Owen's goal and my groveling explanation of my original comments.

The week started in watching Arsenal's diabolical display against an awful Standard Liege team. The resulting victory was met by a laughable, languishing and quite lame applause led by an old Gooner in the back. My brother and I spoke long into the night over a few Keo's about the up the coming derby – although the discussion didn't last as long as expected due to the calling of the other halves.
Saturday came around and back at the same bar watching Arsenal smash Wigan – with the old Gooner looking even more animated this time, even shouting out 'foul' four seconds after the incident took place – he was unfortunately sitting next to me this time. Liverpool West Ham came on with a number of 'Kenny Dalglish? Never heard of him' fans applauding Mr Benitez – however all thoughts were now turning towards the derby the next day (except the wife that is).
I got to the pub early to secure my seat – and not being a regular at the bar I was unsure as to what to expect in terms of fan base. Turns out there were a good couple of reds in there and we talked about previous derby games (with the 3-2 at Maine Road and 5-0 at Old Trafford popping up), the Treble and what the result would be on the day. We all agreed a United victory was on the cards – would there seriously have been any other prediction?
A few United songs came out – mainly concentrated on Citeh- whilst the ABU (anybody but United) brigade were in full swing. I won't concentrate on the details of the game as you can read all about the 4-3 victory over City in Yolkie's excellent write up – however I will focus on the last three minutes. Every other non United fan in the bar was jumping up and down, punching the air and generally feeling good about themselves – United were going to draw a game that they should have won. Two mistakes by Foster and Ferdinand had the pub in roaring laughter – even Arsenal fans who were embarrassed by the same side the weekend previous. The night out wasn't going to be as fun now……until Michael Owen stepped up.
Michael Owen had been on the pitch for fifteen minutes and I immediately thought back to my blog on Owen and debate with Craig Mc. Surely I was going to be proved right here and Owen wouldn't even touch the ball? For sixteen odd minutes – I was proved right until a beautiful ball from Giggs met the right foot of Owen (first touch) which was set for a wonderful finish (second touch). The bar erupted with the minority of United fans going mental. I had to buy a round of drinks in a, embarrassingly, mop up the floor having knocked over three pints – but it didn't matter; United were cruising to a 4-3 victory over City and Owen had scored the winner.
After the match the discussions started as we watched the Chelsea Spurs game (trust me I did spend the majority of time with the missus) and then it hit me – Craig Mc's smiling face at my stuffy comments about Owen a few days previous. For the record you will never hear a bad word from me about Michael Owen on this blog – he has been written into Stretford End folklore after a quite breathtaking climax to the game. Just to point out that I don't know Craig Mc but his comments struck a cord. I never doubted the signing of Michael Owen – but I was merely commenting on the impact I believe Owen would have as our main striker playing in a top European game. I still believe that Berbatov and Rooney should be a front two with Owen being mainly played as an impact sub. I have never liked the media circus that goes with a number of high profiled England players – and the inevitable bandwagon brigade that have already bought his ticket to South Africa.
Owen is an good striker and showed his immense worth with a priceless goal in the last minute of the game. So Craig Mc – i'm opening to the floor for your gloating……