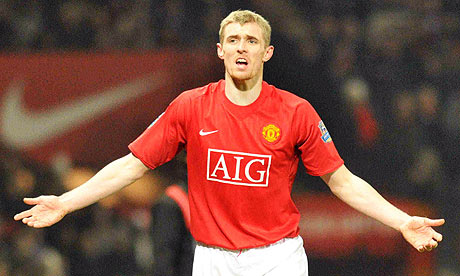 – View 2009/10 statistics for Darren Fletcher
Its quite a remarkable rise from a player who was so widely criticised on the terraces, bars and pubs (and the MUTV studios) – in my opinion rather harshly. Darren Fletcher has always a been a good player – a very good player – however, when he was learning his trade United were in transition and was quite often or not made a scapegoat by fans who didn't appreciate the Scot's quite brilliant closing down of play combined with at times some excellent passing. His performances in the 2004/05 season – helped to free up Roy Keane and gained him a place in the FA Cup final.
The following article hopes to examine the importance of Fletcher in the team today and how he has improved over time. We will be using screenshots from the Guardian's excellent Chalkboard – which I encourage every Red to use. This may go horribly wrong but we'll give it a shot and see what we come up with!
Fletcher made his United debut in March 2003 in the 1-1 draw with Basel. The game was even more remarkable in the fact that Gary Neville got on the scoresheet. Since then Fletcher has made a further 219 appearances (51 as sub) and scored 15 goals. However, it is in the last year that many Reds and other fans have started to take note of his dominate midfield performances.
The earliest chalkboard I can use for a Fletcher performance is against Charlton in August 2006, where it looks like he was playing right midfield in the first half and center midfield in the second. He had a pass completion rate of 87% and had a tackle won rate of 58%. Below is a screenshot of Fletcher's range of passing throughout the ninety minutes he was on the field for:
Looking at a big game that followed – if I remember rightly – Fletcher played really well on the right hand side again Riise in the 2-0 victory over Liverpool (where Paul Scholes marked his 500th appearances for the club). Fletcher versatility down the right hand side allowed him to execute a lower but still impressive pass completion rate of 83% – with most of the uncompleted passes coming from crosses:
Interesting to compare Fletcher's stats to that of Ryan Giggs in the same game on the left hand side. Giggs had a pass completion rate of 69% and I doubt that Steve Finnan and Jermaine Pennant were good enough to close him down all day long. Interesting to note that most of the wayward passes from Giggs happened in the first half and a majority were in the attacking third just outside the box:
Its amazing to think that in such a big important game – still early in his career – that Darren Fletcher would be more conistent with his passing that Ryan Giggs although still fell short of the immaculate 93% demonstrated by Paul Scholes in the same game. Fletcher's pass completion rate was also more impressive than that of the Liverpool captain – Steven Gerrard (but don't mention that) who achieved 72%.
So far – Fletcher's performances have been of a high standard resulting in two wins for United (and Fletcher scoring once – against Charlton). How did he fare in a game in which United struggled you say? Lets take a look.
United only lost five times in 2006/07 – twice to Arsenal, twice to West Ham and away at Portsmouth – we'll take a look at the Portsmouth game. Fletcher's performance was quite restricted – with the Scot being replaced on 59 minutes with Ole Gunnar Solskjaer. Fletcher's pass completion rate was lower with 65% even though he played far less passes than in the previous two games looked at.
Does this mean that when the game isn't going United's way Fletcher didn't turn up? I don't believe – if anything quite the opposite. Fletcher's swashbuckling style and the pressing game allows United to regain the ball. It could be argued that Fletcher's best games have come in Europe – against Roma in the 7-1 mauling he was exceptional but over shadowed by Ronaldo and Carrick's goals. Against Arsenal last season Fletcher was MOTM in both games in my opinion – even though, again, the limelight was on Ronaldo. Did United miss Fletcher in Rome? Of course – he had an exceptional season last season and was the most consistent and best performer in the center of the park. So – back to the chalkboard – how did those performances compare with games from last season.
Unfortunately, European games aren't included within the chalkboard (strange considering the political stance most readers take) and therefore we can't analyse what a colossus performance Fletcher put in against Arsenal. However, we can take a look at the Everton game which finished 1-1 at Goodison. United played well in the first half – however some lackluster defending allowed Everton back into the game for a well earned draw. Fletcher played in the centre of the park and had a pass completion rate of 88%. Looking at the chart though – none of these passes were key – which is reflected in the previous charts – indicating that Fletcher is much more comfortable deeper allow more creative players on the ball – higher up the pitch.
One surprising stat is the defensive qualities of Darren's game in this match. Fletcher attempting two tackles – losing both – and made one interception. However, he did make two blocks close to the United goal – two more than dogged midfielder Anderson did. Interesting when you compare that tackling stat to the next game (2-0 victory over West Ham) – with Fletcher making three tackles (winning all of them), two interceptions but no blocks (hardly surprising considering Everton were at home the previous game and you would expect more shots on goal).
Fletcher was again an extremely important part of the side that beat Manchester City 1-0 at Eastlands (Wayne Rooney scoring the vital goal) as demonstrated by his interceptions:
All of these interceptions were made in the second half – highlighting the stamina and determination of Fletcher (not to mention the anticipation) even though United were down to ten men. Again Fletcher's passing was high – 83% – although again his main strengths aren't in opening up defences – with only two passes looking like they were of any real attacking intent. Keeping the ball deep is fine, especially if you are winning, and based upon these stats Fletcher keeps the ball very well and most of the time under pressure from a three man midfield. Fletcher won yet another Championship (three all in all) last May and played a significant part in the clubs quest to win back to back European trophies – something never achieved in the current format. Sadly – as we all know – Fletcher wasn't available for the final and United were outclassed by a midfield consisting of Xavi, Iniesta and Busquets.
To this season – Fletcher has scored two vital goals against Manchester City and played in every winning performance in the league this season so far. It is no surprise that his exclusion against Burnley in the 1-0 defeat didn't help matters. Fletcher also demonstrated his versatility yet again, putting in a very good performance against Spurs on the right of midfield nullifying the impact of captain Robbie Keane. Fletcher also demonstrated his creative side with a superb through ball for Wayne Rooney to score.
Conclusion
Darren Fletcher was harshly criticized in his early years at United – even by club captain Roy Keane. Keane's comments struck a cord with United fans, following the 4-1 defeat at Middlesbrough, in the realisation that we weren't quite as good as we once were. The manager brought in players who simply weren't good enough for Old Trafford whether it was cultural surroundings (Forlan and Kleberson), style of player (Seba Veron) or simply lack of ability (Liam Miller, Bellion and Djemba Djemba). Fletcher was caught up in this mix compared against the likes of Scholes, Beckham and Giggs from ten years previous. The emergence of another youngster – that was never good enough for United- in Kieran Richardson didn't help matters as it looked like, at the time, United could only buy in young talent in the form of Ronaldo and Rooney.
Some of Fletcher's performances weren't good enough – but then again so were Ronaldo's, Rooney's, Giggs, Cantona and Best -t it happens to all players but some get criticised more harshly than others – with Fletcher being a prime example. His rise to the top of the United ranks isn't surprising considering the potential he demonstrated at a young age – the thing with Darren was to turn that potential (extreme levels of stamina, good retention of the football and driving runs) into performances consistently. It is no surprise that the opposition that Fletcher has started against most is Arsenal and Chelsea – teams that can over run you in midfield. These teams are world class – not some relegation battling team. We're all in agreement that on his day Darren Fletcher is pivotal to the United cause and is one of the first names on the team sheet, far cry from the MUTV studios some five years ago.