You may also find these links interesting: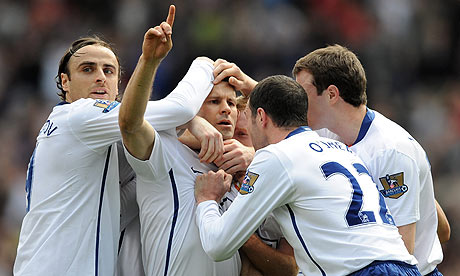 Champions Manchester United opened up a (temporary) 6 point gap at the top of the Premier League with a comfortable victory achieved with an under strength side at the Riverside.
Similar goals in terms of execution were scored by Ryan Giggs and Ji-Sung Park in each half, ensuring Sir Alex Ferguson's team selection was justified, but relegation threatened Boro rarely even mustered a meaningful attack let alone a shot that tested Ben Foster.
The opening goal came after Dimitar Berbatov played a ball in the direction of Federico Macheda who was making his first start in the league – the youngster couldn't control it, and the ball rolled instead to Giggs, who used all of his experience and ability to drive home magnificently from 20 yards. The goal instantly drew eerie similarities to the one he scored in the same venue almost 13 years ago when United clinched the title in 1996, and it was his 98th Premier League goal, and 149th overall for the club.
Giggs used the goal as inspiration for another stellar performance in the middle of the park alongside fellow legend Paul Scholes – but try as they might, the visitors could not penetrate for a second goal in the first half. The second half was a different story however and both Macheda and Rooney went close in the opening moments – a move involving both the players, as well as Giggs and Berbatov, culminated with Rooney finding Park with a sensational through ball, and the South Korean smashed home on the run from 20 yards with his weaker left foot.
The game took a settled tone after the second goal as Boro looked powerless and United looked to pick them off on the break, with Wayne Rooney in particular eager to add more goals to the tally. It wasn't to be, but Sir Alex took advantage of the relaxed pace of the game to make all three changes while ensuring that the likes of Carrick, Fletcher, Anderson and Ronaldo were all completely rested for Tuesday's massive clash with Arsenal.
The result means the champions need just 7 points to ensure a third successive championship which would draw them level on 18 titles a piece with Liverpool.
Source: (Yolkie)