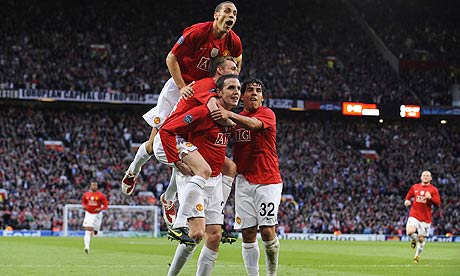 Manchester United 1-0 Arsenal
Manchester United will take a 1 goal lead into the second leg of the Champions League semi finals after the first leg with great domestic rivals Arsenal finished 1-0.
The holders made a rip roaring start and with a Wayne Rooney and Bacary Sagna combined header, and a Carlos Tevez point blank strike, could have been two up if not for the heroics of Manuel Almunia. But it was the corner resulting from Tevez's effort that brought the opener, as John O'Shea converted with more than just a little aplomb.
United pushed for a second before the break as Arsenal struggled to get to grips, with a couple of Rooney efforts – one from fully 50 yards – and a Cristiano Ronaldo header that was well saved again.
Arsenal had difficulty establishing themselves but after the break managed to break up most of the home sides possession, making for an unpleasant spectacle in the second half, save for two major moments – Ronaldo hitting the bar from 30 yards with a superb effort and Ryan Giggs being adjudged offside (replays suggested unfairly) before skinning the keeper and rolling the ball in.
The visitors' one big moment came when substitute Bendtner rose for a header but was unable to make a clear connection.
Ultimately Arsene Wenger will be the more relieved manager, being able to regroup his side with only a goal deficit after a tie when they could have been put well and truly out, but Sir Alex Ferguson will be optimistic with the opportunity to remind his team just how much they controlled this first leg.
Ratings : van der Sar 7, O'Shea 7, Ferdinand 8 (Evans), Vidic 8, Evra 8, Fletcher 8, Carrick 8, *Anderson 8 (Giggs 7), Ronaldo 7, Tevez 8 (Berbatov 7), Rooney 8.
Source: (Yolkie)