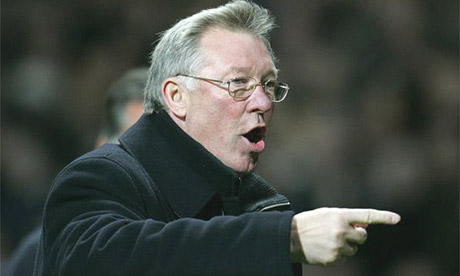 2008 has been an amazing year for the club, the manager and the players that played such an epic part in the double winning year.  However, World Soccer magazine has announced that Cristiano Ronaldo is their World Player of the year, Sir Alex Ferguson is World manager of the year whilst Spain are given the award of team of the year for their exploits at the European Championships this summer.
Maybe a tad biased but surely United should have been awarded this?  Yes it is a democracy and people can vote for who they want – but surely a season long campaign outweighs a brilliant summer performance?  I would be fine with Spain winning the award and considered the best team of 2008, after all I thought they were a joy to watch and proved that you can have four very technical players operating in the midfield and it was certainly a victory for possession football, but they won with nearly half the votes!  I would argue it should have been much closer than that!
Anyhow – here are the votes and who won what.  A mention for young Anderson who featured in the young player of the year award – as soon as he gets that first goal they'll be flying in!
World Player of the Year 
Cristiano Ronaldo 48.4%
Lionel Messi 15.1
Fernando Torres 13.6%
Iker Casillas 5.7%
Xavi 5.1%
David Villa 2.1%
Andrei Arshavin 1.4%
Marcos Senna 0.7%
Franck Ribery 0.6%
Zlatan Ibrahimovic 0.5%
Others 6.8%
World Manager of the year
Sir Alex Ferguson 37.8%

Luis Aragones 28.8%
Dick Advocaat 17.1%
Hassan Shehata 3.5%
Guus Hiddink 2.8%
Cesare Prandelli 1.4%
Faith Terim 1.2%
Muricy Ramalho 0.9%
Phil Brown 0.8%
Roberto Mancini 0.5%
Others 5.2%
Team of the year
Spain 41.1%
Manchester United 29.2%
Zenit St Petersburg 9.1%
LDU Quito 5.8%
Egypt 4.4%
CFR Cluj 1.2%
Argentina 1.1%
Hoffenheim 0.9%
Russia 0.8%
Anorthosis Famagusta 0.6%
Other 5.8%
Young Player of year
Lionel Messi 44.2%
Sergio Aguero 20.1%
Karim Benzema 10.2%
Cesc Fabregas 5.3%
Anderson 2.8%
Pato 2.1%
Bojan Krkic 1.4%
Theo Walcott 1.1%
Sebastian Giovinco 0.9%
Carlos Vela 0.6%
Others 11.3%
So there you have it!  The World Soccer player of the year awards place United as the 2nd best team of 2008 with Ronaldo and Fergie top in their categories.  Was pleased to see exciting youngsters such as Aguero and Benzema in the young player of the year awards and I think that Aguero has a bright, bright future ahead of him…..considering he will soon have Diego Maradona as his father in law!